[et_pb_dcsbcm_divi_breadcrumbs_module hide_homebreadcrumb="off" homebreadcrumbtext="Home" separator="sep-raquo" hide_currentbreadcrumb="off" homebreadcrumborientation="left" _builder_version="3.8″ fontsbreadcrumbs_font="Lato||||||||" fontsbreadcrumbs_text_color="#000000″ fontsbreadcrumbs_font_size="15px" fontsbreadcrumbs_line_height="16px" fontsseperator_font="||||||||" fontsbreadcrumblinks_font="||||||||" fontsbreadcrumblinks_text_color="#2567cf" custom_margin="25px|||" custom_margin_phone="30px|||" custom_margin_last_edited="off|desktop" custom_css_main_element="font-family: Helvetica Regular;" global_module="3641″ saved_tabs="all"][/et_pb_dcsbcm_divi_breadcrumbs_module]
Pittsburgh Steelers vs Atlanta Falcons Pick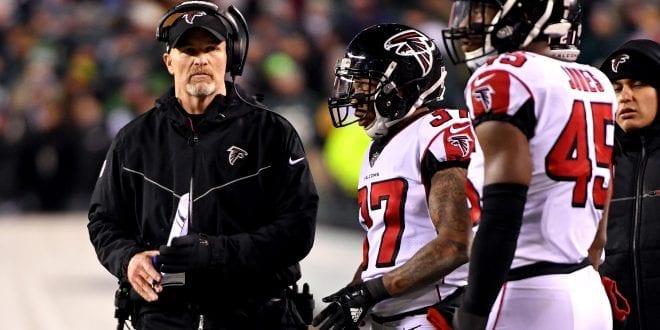 Atlanta Falcons (1-3 SU, 1-3 ATS) vs. Pittsburgh Steelers (1-2-1 SU, 0-0 ATS)
NFL Football Week 5
When: Sunday, October 7th, 1:00pm EST
Where: Heinz Field – Pittsburgh, PA
TV: FOX
By: Bob Clark, NFL Football Handicapper, Predictem.com
Point Spread: ATL +3 / PIT -3
Over/Under Total: 57.5
WHAT'S AT STAKE?
This Sunday there is an AFC/NFC showdown of two teams that came into 2018 with the absolute highest of expectations, now both teams are entering this game in desperate need of saving their season. This weekend, the 1-3 Atlanta Falcons will come into Heinz Field and take on the 1-2-1 Pittsburgh Steelers. Atlanta finds themselves in dead last of the NFC South while the Steelers sit barely in third place in the AFC North Division.
As of Tuesday, the Steelers were your typical three point home favorites over the Falcons while the total points are set at a high 57.5 combined between the two. So far the betting public actually likes the Falcons to get the cover on the road. Approximately 63% of the action is on Atlanta while just 37% likes Pittsburgh. As for the total points, 55% thinks that this game will go over the posted total.
HOW CAN ATLANTA COVER?
This is easy…Play some damn defense! The Falcons defense is banged up, yes, we get that, but Dan Quinn came out two weeks ago and stated that he trusts the guys in the locker room and there is no need to go out and bring in any more talent although the Birds lost both safeties and two Pro Bowlers. Ok Dan… we are trying to trust you, but c'mon, the defense is TRASH. The Falcons just have to make plays on defense. Since allowing under 20 points in week one, the Falcons have given up 24, 43, and 37 points on their way to a 1-2 record in that span. At some point if Atlanta wants to get themselves back on track, they have to make plays.
Don't Leave Free Money On The Table: Sportsbook Bonus List
Well, yeah, I tore the Falcons defense apart, but let us take a moment to praise the great job the offense has done lately. After 2017 and after week one, many fans were calling for offensive coordinator, Steve Sarkisian, to be fired. Then, in week two, things got back on track. Matt Ryan is looking like the Matty Ice that won MVP just two years ago and rookie wide out, Calvin Ridley, is on a record setting pace. The offense is clicking on all cylinders and is again becoming one of the most feared in the league. So THAT my friends is how the Falcons could cover this Sunday. If the offense stays on track which I believe it will and the defense just comes up with a stop here or there, there IS a chance.
WHY PITTSBURGH MAY COVER:
I see this game being very close and high scoring from start to finish. Both offenses have weapons and both defenses have question marks. While the Steelers are ranked 26th in the NFL in scoring defense, the Falcons are worse at 30th. Pittsburgh has more talent on defense than Atlanta because of the injuries so therefore, the Steelers have the chance to get more stops against this Falcons offense. The key is to get to Matt Ryan and make his scramble. When given time, Matt Ryan is one of the top three to five gun slingers in the NFL. When pressured, mistakes can and will happen. Not only do the Steelers need to play better defense than they have, but the offense, led by Big Ben, also needs to get rolling. So far in 2018, Pittsburgh is averaging almost 26 points a game. As good as that is, they will probably need to score more to get the win and cover come Sunday. Score and get a few stops…Just like I said about Atlanta…if the Steelers can get a few timely stops, they could win and cover this game fairly easily.
See All Saturday Football Picks!
THE OFFICIAL PREDICTION:
Both of these teams are very capable of getting their acts together and turning this thing around. I can see a 34-31 type finish coming down to the last seconds. I could also see a 34-20 type contest if either of these defenses can get their act together come Sunday afternoon. So what do I think will happen? Maybe I am a homer but maybe I just know that this Falcons team is much better than they have shown. Regardless of the records, Atlanta is still the better team on paper and not only that, they are the better team in the locker room. Pittsburgh is an absolute mess and word around the league is that head coach, Mike Tomlin, is losing control of his team. As many problems as the Falcons have with injuries, they are still a very close team and everyone for the most part is still confident and positive during it all. With that said, I think this game starts out as a back and forth shootout but as the game winds down, the Falcons make a few extra stops along the way. I can see Atlanta escaping Heinz Field with a 33-27 win over the Steelers. I can also see this being the loss that sends the Pittsburgh fan base into a frenzy that puts Mike Tomlin's job in danger.
DEPOSIT $100 AND GET $100 FREE AT GTBETS!
Your Name's Pick to Cover the Point Spread: TAKE THE ATLANTA FALCONS +3 POINTS AGAINST THE STEELERS AND TAKE OVER THE POSTED TOTAL OF 57.5 POINTS COMBINED! BEST OF LUCK!
<aside><!-- [et_pb_line_break_holder] --><div class="widget105"><!-- [et_pb_line_break_holder] --><h4 class="cash">Best Sportsbook Bonuses</h4><!-- [et_pb_line_break_holder] --><div class="widgetlist"><!-- [et_pb_line_break_holder] --><div class="col1"><!-- [et_pb_line_break_holder] --> <a href="https://www.predictem.com/out/IntertopsB"><img src="https://www.predictem.com/wp-content/uploads/2018/04/intertops.png" width="" alt="Bovada" /></a><!-- [et_pb_line_break_holder] --></div><!-- [et_pb_line_break_holder] --><div class="col2"><!-- [et_pb_line_break_holder] --><span class="list"><b>50% Cash</b></span><br><!-- [et_pb_line_break_holder] --><span class="list">4x Rollover</span><!-- [et_pb_line_break_holder] --> </div><!-- [et_pb_line_break_holder] --> <div class="col3"><!-- [et_pb_line_break_holder] --><a href="https://www.predictem.com/betting-sites/intertops/"><button class="btn-widget">Review</button></a><!-- [et_pb_line_break_holder] --></div><!-- [et_pb_line_break_holder] --></div><!-- [et_pb_line_break_holder] --><div class="widgetlist"><!-- [et_pb_line_break_holder] --><div class="col1"><!-- [et_pb_line_break_holder] --> <a href="https://www.predictem.com/out/BovadaB"><img src="https://www.predictem.com/wp-content/uploads/2018/04/bovada.png" width="" alt="Intertops" /></a><!-- [et_pb_line_break_holder] --></div><!-- [et_pb_line_break_holder] --><div class="col2"><!-- [et_pb_line_break_holder] --><span class="list"><b>50% Cash</b></span><br><!-- [et_pb_line_break_holder] --><span class="list">10x Rollover</span><!-- [et_pb_line_break_holder] --> </div><!-- [et_pb_line_break_holder] --><div class="col3"><!-- [et_pb_line_break_holder] --><a href="https://www.predictem.com/betting-sites/bovada/"><button class="btn-widget">Review</button></a><!-- [et_pb_line_break_holder] --></div><!-- [et_pb_line_break_holder] --></div><!-- [et_pb_line_break_holder] --><div class="widgetlist"><!-- [et_pb_line_break_holder] --><div class="col1"><!-- [et_pb_line_break_holder] --> <a href="https://www.predictem.com/out/GtbetsB"><img src="https://www.predictem.com/wp-content/uploads/2018/05/gt-bets.png" width="" alt="GtBets" /></a><!-- [et_pb_line_break_holder] --></div><!-- [et_pb_line_break_holder] --><div class="col2"><!-- [et_pb_line_break_holder] --><span class="list"><b>100% Cash</b></span><br><!-- [et_pb_line_break_holder] --><span class="list">20x Rollover</span><!-- [et_pb_line_break_holder] --> </div><!-- [et_pb_line_break_holder] --> <div class="col3"><!-- [et_pb_line_break_holder] --> <a href="https://www.predictem.com/betting-sites/gtbets/"><button class="btn-widget">Review</button></a><!-- [et_pb_line_break_holder] --></div><!-- [et_pb_line_break_holder] --></div><!-- [et_pb_line_break_holder] --><div class="widget-footer"><a href="https://www.predictem.com/best-sportsbooks/bonuses/">See all sportsbook bonuses</a></div><!-- [et_pb_line_break_holder] --> </div></aside>
<h4 class="widgettitle">NFL Picks</h4><!-- [et_pb_line_break_holder] -->
<div style="width:340px; margin: 0 auto;"><!-- [et_pb_line_break_holder] --> <a class="twitter-timeline" data-width="340" data-height="500" data-link-color="#008156" href="https://twitter.com/PredictemPicks?ref_src=twsrc%5Etfw">Tweets by PredictemPicks</a> <script async src="https://platform.twitter.com/widgets.js" charset="utf-8"></script><!-- [et_pb_line_break_holder] --></div>