San Francisco 49ers vs. Chicago Bears Odds & Pick ATS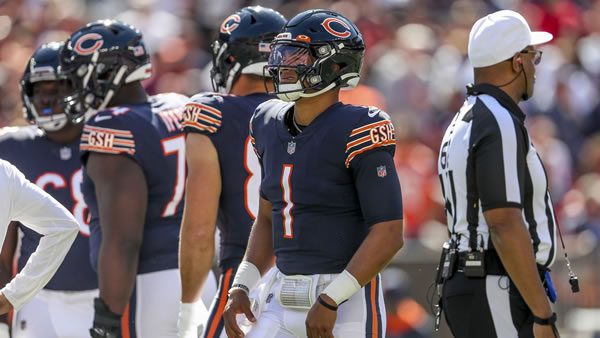 San Francisco 49ers (2-4 SU, 1-5 ATS) vs. Chicago Bears (3-4 SU, 3-4 ATS)
Week 8 NFL
Date/Time: Sunday, October 31, 2021 at 1PM EDT
Where: Soldier Field, Chicago, Illinois
TV: Fox
Point Spread: SF -3.5/CHI +3.5 (Bookmaker - The BIGGEST bookie online and one of the oldest; in business since the 1980's!)
Over/Under Total: 40
The San Francisco 49ers come to Soldier Field on Sunday for an NFC showdown with the Chicago Bears. It didn't work out for the Niners on Sunday Night Football, falling in heavy rain to the Colts, 30-18. Coming off the bye and losing their fourth straight finds them in some dire straits facing a tough road task against the Bears. On Sunday, it didn't work out at all for the Bears, as they were sparring partners for the champion Bucs on the road, losing 38-3 to fall to 3-4. Can they thrive in a more-manageable spot at home or do we see the Niners start to turn the corner?
Setting the Table
Surely after a 38-3 loss where their offense once again stalled, the image of Chicago has soured to an all-time low point this season. Still, they're 3-4 and well within their wheelhouse against other struggling teams like the 49ers. The Chicago defense is a big part of the equation that keeps the Bears somewhat respectable in this context. Their offense is the worst in the league, exacerbated by the absence of their only real weapon in RB David Montgomery. They're no longer able to run the ball with the same umph and the aerial attack isn't so much of an attack at all. Guys like WR Allen Robinson have really been rotten and though it's not all their fault with iffy quarterbacking and a poor line, the situation on offense is dire any way you want to cut it.
Against a San Fran team that can still defend against the pass well, this shortcoming might come more to fruition. The Niners were in a tough spot against a surging Indy team on Sunday night and now find themselves on the road in a tough away-game. Still, they won't be going against an offense that figures to really press them. The weak offensive line of Chicago gives the front a chance to shine on the Frisco defense. This is a team that has been decimated once again by injuries. They have depth, but with their offensive backfield torn apart and injuries across all areas, the viability of the 49ers comes into serious question. They just can't catch a break on the injury front this season. They still have Nick Bosa, Fred Warner, and some ballers on defense, along with Deebo Samuel and Jimmy Garoppolo getting back in there. But with no Mostert, Kittle, Lance, and Trent Williams, that offense is really handcuffed.
X-Factors
One would presume that Andy Dalton is ready to return. Does Chicago pull the plug on Fields and get Dalton back in there at some point? The passing-game is dying and the mobility of Fields hasn't really manifested. At 3-4, the cause isn't lost just yet and in order to save the season, maybe they pull the not-ready-for-primetime rookie before things get even more-hopeless on offense. On the other side, do we maybe see Lance get back into the fold this week? It's hard to not notice how Garoppolo is getting diminished returns on this offense and maybe his tenure has run its course. Or do they play it cautious with their high draft pick, who is recovering from a strained knee? With Williams and Lance getting back into the fold possibly this week, can the Niners get some better results on offense?
Barring any changes on offense, however, this Bears team will need to be in very specialized situations to see any success. With Montgomery in there breaking off runs and keeping defenses focused on him, the still-useful Dalton could sling it around a little bit and give this offense some hope. Against the Niners, that could work. But with the Bears working with backup running backs, a hodgepodge line, and Fields back there on newborn deer legs putting up Pop Warner passing stats, it's a disheartening situation. Even a diminished San Francisco defense can shine in this context, while hoping what's left of their offense can take it to a Chicago defense whose resistance might be waning in light of the collapsed state of the offense.
MORE PREDICTIONS: NOW OFFERING DAILY NBA PICKS!
Hope for the Bears at Home
While in-conference, it's a sort of out-of-the-way spot for the Niners in Soldier Field. We saw Chicago fall flat on their face against Tampa, but the Buccaneers have done that to a lot of teams the last two seasons. San Francisco lacks the broad scope of offensive weapons the Buccaneers wield. Their offense is much narrower, running through their run-game with Deebo Samuel getting the bulk of targets. In a less-demanding spot at home, maybe the Bears' defense can reclaim some of its form. And while they will still be without Montgomery, maybe they can make it work against a compromised SF defense with RB Khalil Herbert, who has been a rare bright spot the last few weeks on the Bears' offense.
Take the Home Team
This is a hard click to make for anyone who has seen this Bears team put up 26 combined points in their last three games. It's almost impossible to forecast success in these conditions. I just think the 49ers are starting to really show the effects of all the personnel setbacks. It's not really even their fault, as they try to soldier on at reduced power. I just see the combination of the Bears' run-game in conjunction with their defense being enough to get through a grind of a game with their nose ahead at the wire. I'll take the Bears.
Loot's Prediction to Cover the Point Spread: I'm betting on the Chicago Bears plus 3.5 points. Question: Have you educated yourself about reduced juice and the benefits of having it? The savings are mind-boggling and require you to do NOTHING more than you already do each week!  Check it out!