San Francisco 49ers vs. Los Angeles Rams Pick 10/13/19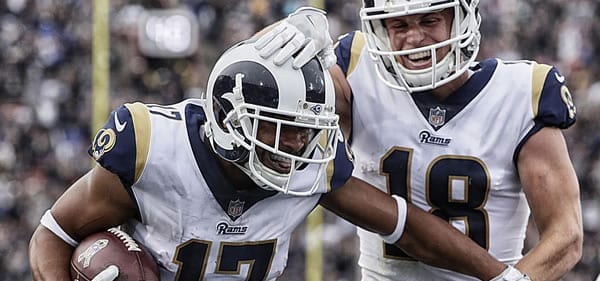 San Francisco 49ers (4-0 SU, 3-1 ATS) vs. Los Angeles Rams (3-2 SU, 4-1 ATS)
NFL Week 6
Date/Time: Sunday, October 13, 2019 at 4:05PM EDT
Where: Los Angeles Coliseum, Los Angeles, California
TV: Fox
Point Spread: SF +4 / LAR -4 (Bovada)
Over/Under Total: 50.5
The San Francisco 49ers come to the Coliseum in LA to take on the Los Angeles Rams in an NFC West battle on Sunday. Contrary to what some may have thought before the season, it is the Niners who are unbeaten, with the Rams a little bit on the skids after two straight losses. On MNF, the 49ers hammered the Browns, and they'll look for another defining win this week on the road. The Rams really need a win and have recently had the 49ers' number, but this is a different 49ers team, looking good through four games. The Rams fell to the Seahawks, 30-29, last Thursday and look for better at home this week.
Food for Thought
Looking at the 49ers, it sure looks like everything is in order. Garoppolo is 10-2 as a starter now and is getting back to having this team cruising along as he did two years ago. If you were looking for a different angle on the story, the Niners have beaten the Bucs, Bengals, Steelers, and Browns. Those teams represent all teams who are under .500, a few of those teams mired in utter dysfunction to start the season. They get another opponent this week who appears to also be in a funk, but maybe a little bit of judgment should be withheld. Still, those who are optimistic about the 49ers aren't without cause to feel that way. They look outstanding so far in 2019 on both sides of the ball.
What's Going On With the Rams?
One one hand, teams lose games. Granted, the Rams went from a defending conference champion that was humming along seamlessly to a team that seems to be leaking gas. But last week's loss, a great 30-29 game where they got the short end of the stick, came against a legitimately-good team in the Seahawks in a really tough place to play at CenturyLink. The previous week, allowing 55 points to Tampa, was more curious, perhaps, but it may be premature to abandon ship just yet. Adversity will pop up during a season, but make no mistake, falling to 3-3 this week would qualify as a really bad development. And it won't be easy against a San Fran team feeling pretty good about themselves. At home and coming off the long week, maybe things set up a little better for the Rams this Sunday.
More Picks: SNF Pick: Steelers vs. Chargers >>>
The Rams have had some issues all along that was just better camouflaged. Their pass defense, despite abundant star-power with Aqib Talib, Marcus Peters, and Eric Weddle, has given up gobs of yardage through the air the last few weeks and eight TDs in their previous two games. Giving up 85 points in their past two games has made it, so an off-rhythm offense hasn't been able to keep pace. While the front-seven isn't playing badly, it hasn't been enough to stem the tide of the opposing offenses they've been seeing. Against a smooth-running Niners offense that can do a little bit of everything, what will happen this week?
The Rams didn't get to where they are from defense, however. The defense needn't be great; it just needs to be okay to give rise to a great offense that hasn't been great of late. One thing that hurts is the curious depreciation of Todd Gurley as a valuable weapon to wield on opponents. Without him delivering regular big games on the ground, it has muted the entire offense. QB Jared Goff has been putting up yards in big chunks, working well with a great receiver package of Brandin Cooks (questionable), Robert Woods, and Cooper Kupp, who has returned in great form and is 4th in the league in receiving yards. But Goff has been a bit off-kilter lately, and his 7/7 TD-to-INT ratio speaks volumes, with six picks in his last three games, even coughing up the ball once with it being brought back. He just hasn't looked solid back there under pressure, and this looks like a tough spot to make things right.
A Rising San Francisco Defense
When watching San Francisco struggle so massively the last few seasons, there were still glimpses of a defense that could be really good if they could just stay healthy and get a little support on the other side of the ball. With Jaquiski Tartt, Richard Sherman, Jimmie Ward, Richard Sherman, and others, the pass-defense has been superb through four games. For example, the same Jameis Winston-led Tampa pass-attack that torched the Rams couldn't get 200 yards against Frisco and got picked off three times. And on MNF, we saw a front-seven where there is no falloff, as they apply pressure and stand out against the run. That line with Nick Bosa, DeForest Buckner, and Arik Armstead is turning into a real monster. Putting Cleveland's offense in its place is nice, but can they replicate that type of form on the road against what is undoubtedly an urgent Rams team?
Take the Home Favorite
Admittedly, it's going to be hard to justify this if I'm wrong. After all, there are signs the Rams are in a state of some disarray. Which is in direct contrast to a San Francisco team that is cruising and coming into this with a good headspace. A team like that with some long sought-after success isn't likely to let their foot off the gas. But if one were to isolate the most-urgent regular season juncture the Rams have faced in the last few years; this week would appear to be it. I see Goff and Company putting everything into this, with their superior firepower on offense being the determining factor in this game. I'm picking the Rams.
Loot's Pick to Cover the Point Spread: I'm betting on the Los Angeles Rams minus 4 points.