San Francisco 49ers vs. Tampa Bay Buccaneers Pick 9/8/19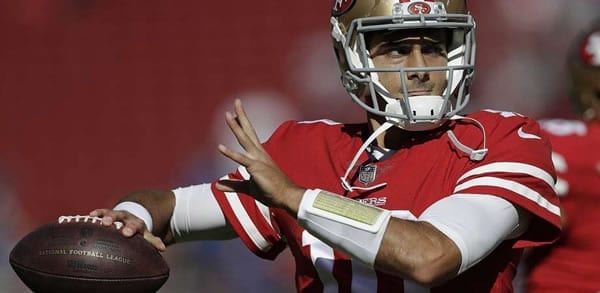 San Francisco 49ers (0-0 SU, 0-0 ATS) vs. Tampa Bay Buccaneers (0-0 SU, 0-0 ATS)
NFL Football Week 1
Date/Time: Sunday – September 8th – 4:25 EST
Where: Raymond James Stadium – Tampa Bay, FL
TV: FOX
Point Spread: SF +1 / TB -1 (BetNow)
Over/Under Total: 50
SAN FRANCISCO VERSUS TAMPA BAY MATCH-UP: This Sunday, there will be an east coast game in the NFC that will not be played until the 4:25 pm time slot. The San Francisco 49ers will travel into Tampa Bay to take on the Buccaneers. Both teams have lots of question marks coming into 2019, but both sides also feel their futures are bright. In 2018, both of these teams thought they were contenders, especially San Francisco. Heading into last season, the Niners fans were very high on quarterback Jimmy Garoppolo who finished the season the year before on absolute fire. Well, as we all know, Garoppolo went down early and the rest of the season was just a mess with San Francisco finishing with a record of 4-12 and going 0-8 on the road. Across the country though, in Tampa Bay, things were not much better. The Buccaneers started the season on fire behind the "magic" of Ryan Fitzpatrick, but as always by week four, things cooled off. After bringing back Jameis Winston, who many Tampa fans hoped a few years ago was going to turn the franchise around, things just fell apart. Tampa ended the season on a four-game losing streak and finished 2018 with a record of 5-11. This Sunday, the bookmakers have this game as pretty much a toss-up. I have seen this as a "Pickem" at some books and the place in which I lay my bets, has the Buccaneers as a slight one-point favorite at home. Both of these teams are desperate for a great start in 2019, and a win out of the gate would set them off in the right direction.
HOW THE PUBLIC IS BETTING SAN FRANCISCO AND TAMPA: In the mid-afternoon on Wednesday, I dug into the numbers and saw that the Tampa Bay Buccaneers are getting the slight edge over the 49ers among the betting public. 54% of the action likes Tampa to get the cover at home over the Niners. As for the total points of 50, the public is playing this game to go under. 59% of the action is on this game to stay lower scoring, and perhaps this is due to the many question marks that both teams have at the quarterback position. Games of this nature are usually hard to predict, and I typically lean towards the home team, however in this case, I kind of like the San Francisco 49ers simply because I trust their staff just a tad bit more.
HOW SAN FRANCISCO CAN AND WILL WIN THIS GAME: Just from what I know about both of these teams, I feel much more confident in the fact that San Francisco can come in and get an early-season win. Not only do the 49ers have the better overall roster, but they also have the better coach, the better quarterback, the better defense, they are just a BETTER TEAM. I am in no way saying that the Niners are going to take Tampa Bay to the woodshed, but let's just take an unbiased look at this game. Do you trust Jameis Winston at this point? We all know against an average or good defense he is good for a couple of interceptions. Not only that, but Tampa Bay will be coming into this Sunday with a head coach in Bruce Arians who was begged to come out of retirement, an unproven defense, and an offensive line that gave up 15 sacks in just three preseason games this season. As for San Francisco, many, including myself, feel that last season would have been much different had Garoppolo not gone down. Of course, no one can know for sure, but a blow like that to a team so reliant on their QB can take a huge mental toll throughout 16 games. This Sunday the 49ers will prove with their starting quarterback healthy, they are MUCH BETTER than what they showed in 2018.
More Picks: Bob's Ravens vs. Dolphins Pick Against the Spread>>>
WHAT HAPPENS ON SUNDAY? Sunday, the San Francisco 49ers will come into Tampa Bay with an offensive game plan to keep the Bucs defense off balance. Kyle Shannahan has been the master of that, especially when he has a legit quarterback that can run his system…Garoppolo is that guy. Not only will the Niners offense give the Tampa D fits, but the San Francisco defense should also be much improved as well. I see a convincing 24-13 win for San Francisco over Tampa Bay this Sunday in Raymond James Stadium…Take the Niners and take them BIG!
Bob's Pick to Cover the Point Spread: TAKE THE SAN FRANCISCO 49ers TO BEAT THE TAMPA BAY BUCCANEERS BY A SCORE OF 24-16 THIS SUNDAY.
100% Free Play up to $1,000