Baltimore Ravens vs. Miami Dolphins Week 1 Pick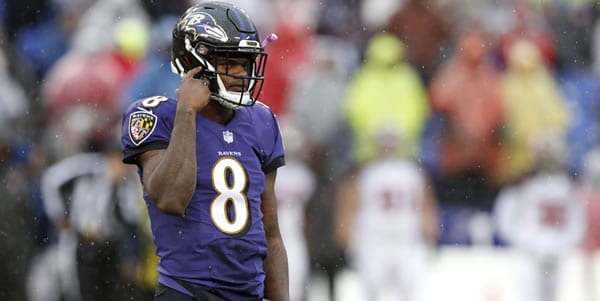 Baltimore Ravens (0-0 SU, 0-0 ATS) vs. Miami Dolphins (0-0 SU, 0-0 ATS)
NFL Football Week 1
Date/Time: Sunday – September 8th – 1:00pm EST
Where: Hard Rock Stadium – Miami Gardens, FL
TV: CBS
by Bob, NFL Football Handicapper, Predictem.com
Point Spread: BAL -7/MIA +7 (BetOnline)
Over/Under Total: 37.5
THE MATCH-UP:
This Sunday in Miami there is an AFC showdown with two teams who are headed in opposite directions. The Baltimore Ravens believe that quarterback Lamar Jackson is the one to lead them back to the success they had a few years back. Miami, on the other hand, is looking like they are preparing for the greatest tank job in the history of football. The last time these two teams met was back in 2017 and Baltimore went home with a huge 40-0 win over Miami. Also in this series, the Ravens have managed to take seven of the last eight head to head. Of course, these two teams have much different looks now that Baltimore has gone all-in with Lamar Jackson and let Joe Flacco go and Miami, as I mentioned earlier, is more excited about stockpiling draft picks than getting wins.
HOW THE PUBLIC IS BETTING BALTIMORE AND MIAMI:
Of course, the Baltimore Ravens are pretty heavily favored on the road. Opening as a 3.5 point favorite has now jumped to a full touchdown spread with the Ravens as road faves over Miami. Not only did the public action move the line nearly four whole points in favor of Baltimore, but the betting action STILL likes them to cover, even at a seven-point spread. As of early Wednesday morning, 60% of the betting public was still on Baltimore to get the win. As for the posted total of 37.5 combined, the masses seem to be torn with 51% liking the under and 49% on the over.
WHAT ARE THE MIAMI DOLPHINS DOING?
Like I have mentioned a couple of times already, the Miami Dolphins appear to be tanking…in a major way. This offseason they traded for Arizona quarterback and a first-round pick, Josh Rosen, but now just a week or so ago they made the announcement that Rosen will not be the primary signal-caller for the Fish, but Ryan Fitzpatrick will be the team's starting quarterback. This sounds awful, but as we all know, Fitzpatrick is always good for a little early season "Fitzmagic" til it all comes crumbling down by week four or five. It is also safe to say that this time next season, the Dolphins will be boasting a rookie quarterback, whether it be Tua Tagolhoweveryouspellit, Jacob Eason, Jake Fromm, or whatever college quarterback shines at the combine and the rest of the 2019 college season. Not only have the Dolphins made no major QB moves, made no major defensive upgrades, but they also recently traded their best and only "good" offensive lineman in Laremy Tunsil. Tunsil was the biggest name in a blockbuster trade that moved defensive end Jadaveon Clowney out of Houston, the only problem is, Clowney is now in Seattle…not Miami. While we are talking all this Miami mess, let me give you some advice before we move forward: Bet the UNDER the total number of wins for the Miami Dolphins in 2019. Anything set at four or over…go UNDER!
More Picks: Bob's Falcons vs. Vikings Pick Against the Spread>>>
IS BALTIMORE FOR REAL?
As I have sat here and blasted Miami all article long, I am not going to let Baltimore off the hook either. The Ravens fanbase and much of the media thinks that Lamar Jackson is the guy to get them back in the AFC title hunt. I do not. Jackson is a great athlete, but as we saw in the playoffs last season against the Chargers, if you take away his ability to run, Jackson is really just an average passer in this league. Many people are still in love with his college highlights, especially in his Heisman Trophy run a few years ago, but this is not the ACC, and this is not college football. The NFL defensive coaches WILL find a way to make this guy beat them with his arm; the only question is…Can he? Lamar Jackson is not the only person I will call out here, though. Hell, maybe I am wrong, perhaps Jackson IS THE guy that can get this team back on the map as a legit AFC contender, but he will need some help. Baltimore will be going with running back, Mark Ingram, to start the season but the question about Ingram is at 29 years old does he still have anything left in the tank? This Baltimore team, in my personal opinion, has many more questions than answers in 2019. Could they return to the playoffs? Yes. However, with an improved AFC North Division, the road there could be a huge challenge.
PREDICTING THIS SUNDAY:
I don't even need to say this, but I will, the NFL is a strange league. EVERY SEASON, a heavy contender ends up winning five or six games all season and every season a team that no one gave a second look makes a run. This is one of the things that makes the NFL so amazing. It is not the NBA where every year anyone with any NBA knowledge can pick the three of four teams that have a shot to win the title. With that said, I refuse to take a road favorite with a touchdown spread in week one. We can talk all day about who is tanking, who is a contender, etc. but the reality of it is we have no clue…no one does. I have a feeling this Sunday in Miami is going to be a very sloppy game, and I think that will be the case for both teams. If I was betting straight winner, yeah, of course, I am all over Miami, but as a touchdown underdog, I will take my chances with the Dolphins getting points. I think Baltimore ends up winning this game 23-20 on a late field goal, but obviously, that will not be enough to cover, and the betting public will owe the books on this one!
Bob's Pick to Cover the Point Spread:As bad as Miami is, I still like them to cover the spread and keep this game within the touchdown. Take Miami +7 points.