Seattle Seahawks vs. Indianapolis Colts Pick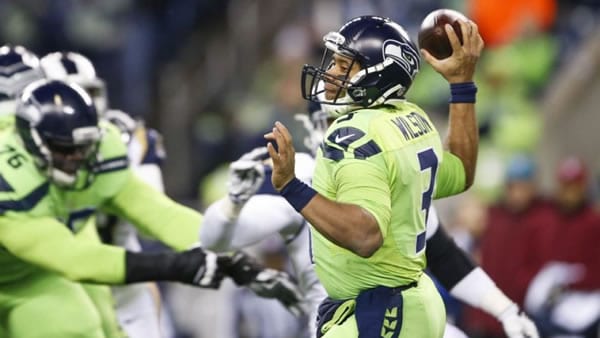 Seattle Seahawks (0-0 SU, 0-0 ATS) vs. Indianapolis Colts (0-0 SU, 0-0 ATS)
Week 1 NFL
Date/Time: Sunday, September 12, 2021 at 1PM EDT
Where: Lucas Oil Stadium, Indianapolis, Indiana
TV: Fox
Point Spread: SEA -3/IND +3 (Betanysports.eu - "Home of SWEET -105 Odds Betting!")
Over/Under Total: 48.5
The Seattle Seahawks take on the Indianapolis Colts at Lucas Oil Stadium on Sunday, kicking off both team's 2021 regular seasons. We have two contenders from different conferences, each looking to take the next step to become legitimate Super Bowl contenders. Still, each team faces a lot of questions heading into 2021, particularly for teams coming off such good seasons, with the Colts 11-5 and Seattle 12-4. For Seattle, there seemed to be some brewing rancor between the organization and their franchise QB Russell Wilson, while Indy will be doing another about-face at quarterback. A lot remains unsettled heading into the new season. Who can kick the year off on the right foot?
Can Wentz Step In
After an offseason injury to his ankle, Carson Wentz had surgery, but it is anticipated he will begin week one under center for the Colts as he looks to resurrect his career. It's been a rough go for Wentz, and his effectiveness as of now is rightfully questioned. He will be reuniting with the offensive coordinator who oversaw Wentz' best period in current Colts' head coach Frank Reich. The Colts have been long-mired in a pattern where a QB can't get cemented. Even under the injury-plagued era of Andrew Luck and onto the one-and-done tenure of Philip Rivers last season, finding a steady force has been elusive. That doesn't reflect some of the benefits of being the Colts' quarterback, chief among them a dynamic O-line that looks to catch a better break on the injury front this season. Unfortunately, with Eric Fisher and Sam Tevi out, they're a little light at left tackle. There are still worse situations one can step into, but the jury is out on Wentz, especially in comparison to the ever-steady quarterbacking force on the opposite sideline in this game.
Indy has an offensive system where you can plug a guy in and watch him thrive. A lot of Wentz' issues came from a lack of protection and a cast of skill players around him that got worse and worse throughout his tenure in Philly. The problem for Wentz is that he doesn't have a ton of great stuff around him aerially, looking for Michael Pittman to take over lead duties, with Zach Pascal and Parris Campbell rounding out the receiver rotation. Jack Doyle and Mo-Alie Cox offer sound tight end play, but it's not a wealth of riches for Wentz to exploit. But he has a nice run-game upon which to lean, with Jonathan Taylor and Nyheim Hines able to do a lot of damage.
More Picks: Philadlphia vs. Atlanta Pick >>>
Can Colts Put Up Enough Points?
Wentz will be getting his feet wet in a new setting. He will be doing so with an offense that doesn't have many stars. Against Seattle's defense, it's unclear to know what you will be getting. Last season saw a tale of two different defenses—the readily-exploitable "D" we saw in the first half of the season and the stout unit we saw over the second half of 2020. They are trending in the right direction, and with Jamal Adams (out) now cemented in the secondary, along with the growth of young studs like Jordyn Brooks, the youth movement in Seattle seems to be taking hold. Corner play and finding a consistent pass-rush remain outstanding issues. It seems to be a practical entrance exam for Wentz, who will likely see tougher units down the road.
Seattle's Scoring Outlook This Week
Russell Wilson will be in foreign territory out of conference and in Indy. There was a fair amount of preseason drama, which attests to some of this unit's issues, namely among the offensive line. Duane Brown is holding out, and it remains a possible sore spot, even if they were actually a little better than usual last season. Still, they are already a little banged up along the front. Still, if Chris Carson can stay healthy, Wilson has some nice tools, especially with DK Metcalf and Tyler Lockett heading the receiving corps. Against a good but not great Indy secondary, they could make some noise in this area.
Indy made the pass-rush a major offseason concern after seeing the lack of it play a role in their 2020 postseason exit. They've added some pieces around DeForest Buckner and look for some younger prospects to start showing their teeth. They are tough in the middle, with the best player on this unit in Darius Leonard, a player whose presence is enough to lift this unit. It's a good defense, but certainly not anything beyond what Wilson has exploited previously.
Identifying X-Factors
There are a lot of dots to connect in this one. You wonder if there is more stink in the Seattle locker room than what's being revealed. Not that Wilson's heart won't be into this, but friction from within is seldom helpful. With the Colts, you have an offense now led by what has strongly appeared to be a waning force in Wentz, who may be a bit ginger coming off an injury in camp. His return is ahead of schedule, his weapons are thin, and he's coming into a new situation facing a team coming off a 12-win season. Where the Colts end up this season is anyone's guess, but is there not some extra comfort more or less knowing what you get with Seattle?
Lay the Points
With the Seahawks, you can count on certain things. This looks like a spot where they could put up 24-28 points rather easily. It could be more and would be a surprise if it were markedly-less. With that good Indy line, combined with some potential pass-rushing issues for Seattle, it's not hard to envision Wentz getting untracked with the run-game making an impact, but the Seahawks' recipe for success seems a bit more reliable, even in this tricky spot. I'll take the Seahawks.
Loot's Prediction to Cover the Point Spread: I'll take the Seattle Seahawks minus 3 points. Note: We have arranged a SPECIAL 100% signup bonus on your first deposit up to $300 at MyBookie Sportsbook! All you have to do is use bonus code PREDICT100 when you register and you'll qualify for the special increased signup bonus! Click here to get it now!