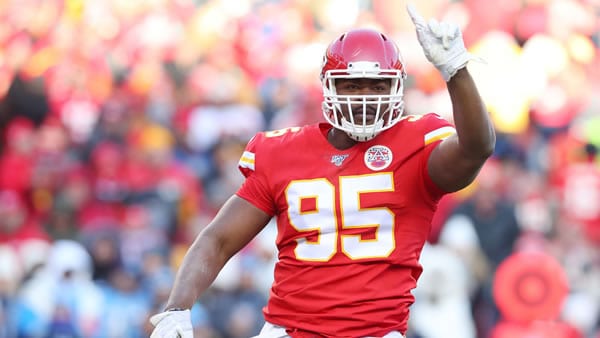 Kansas City Chiefs (16-2 SU, 7-10-1 ATS) vs. Tampa Bay Buccaneers (14-5 SU, 11-8 ATS)
Super Bowl LV Preview
Date/Time: Sunday February 7th, 2021. 6:30PM (EST)
Where: Raymond James Stadium Tampa Bay, FL.
TV:CBS
Point Spread:KC -3/TB +3 (MyBookie - Sign up through our link, use promo code PREDICT100 and receive a 100% real cash bonus on your first deposit of $100 to $300!)
Over/Under Total: 56.5
In just one year, Tom Brady has turned the Tampa Bay Buccaneers into a championship-caliber team, and despite what many stated could not be done in such a short time; the Tampa Bay Buccaneers will become the 1st team in NFL history to participate in a Super Bowl at their home stadium when they host the Kansas City Chiefs at Raymond James Stadium this Sunday. While Brady and the Buccaneers' surprising NFC Championship run has captivated most major storylines, the Kansas City Chiefs are looking for the rare opportunity to become repeat Super Bowl Champions for the first time since the Patriots accomplished the feat in 2003 and 2004.
When you breakdown Super Bowl LV, there are so many interesting angles to pursue. The Chiefs appear to be the new dominant dynasty with QB Patrick Mahomes that, despite being in just his 4th season in the NFL, Mahomes seems to be destined to be among the all-time greats in the league. The Chiefs have been the dominant team in the NFL, on the heels of their Super Bowl LIV win, with a 16-2 SU record and will enter as the betting favorites for the 22nd time in the last 24 games. Meanwhile, the rising legend of Mahomes and the dynamic Chiefs offense will face off against an equally talented Tampa Bay Buccaneers offense led by the consensus G.O.A.T in Tom Brady, who will be making his 10th Super Bowl appearance while attempting to extend his record-setting ring collection to number 7. While I am going to stay away from predicting the outright winner of this highly entertaining showdown, I do want to shed some focus on the illustrious 56.5 total and breakdown some expectations based on this intriguing Super Bowl LV match-up.
Super Bowl LV 56.5 Total Nearing Historic Mark
It does not take much effort to realize that both the Chiefs and Buccaneers are loaded with talent on the offensive side of the football. Behind Mahomes, Kansas City is loaded with superstar talent in the receiving game led by WR Tyreek Hill and TE Travis Kelce, who are undoubtedly among the best in the NFL at their positions. I remained convinced that Hill cannot be guarded in man-to-man situations and will need to draw consistent help over the top from Buccaneers' safeties Jordan Whitehead and Antoine Winfield, who have both been bothered with injuries in recent weeks. In fact, Whitehead's availability for Super Bowl LV is appearing more doubtful with each passing day. Despite the injury concerns, the Chiefs offense already provides an extremely difficult match-up for the Tampa Bay pass defense, especially when you throw-in the speedy threat of WR Mecole Hardman into the picture.
On the other side of the ball, Tampa Bay's offense presents similar numerous challenges for opposing defenses. In all honesty, QB Tom Brady has not been razor-sharp in the postseason. Brady completed just 55% passing against Washington and New Orleans. After coming out strong in the 1st half against the Packers, Brady tossed three interceptions (with three touchdowns) while hanging on in a 31-26 victory in the NFC Championship Game. Even with Brady not playing his absolute best, the Buccaneers have posted consistent scoring totals of 31, 30, and 31 through their three playoff games. Like the Chiefs, the Bucs offense has numerous weapons to create match-up advantages with arguably the best receiving group in the NFL led by Mike Evans, Chris Godwin, Antonio Brown, and TE Rob Gronkowski. However, it is worth noting that Brown's status remains questionable ahead of this week's big game. Still, the Buccaneers have plenty of options, with Leonard Fournette and Ronald Jones helping out of the backfield.
In both situations, the offenses will have the advantage over each opposing defense in this Super Bowl LV match-up, and this will be the 2nd meeting between both teams this year. Back in week 12, the Chiefs pulled out a hard fought 27-24 victory over the Bucs in Tampa behind an enormous season-high performance from Mahomes, who threw for 462 yards in the victory. In this Sunday's rematch, the betting total has been posted at a lofty 56.5 points, which is nearing the highest mark in Super Bowl history. The highest closing total previously was 57.5 in Super Bowl LI (2017) between the Patriots and Falcons. Despite the high mark, Draftkings has reportedly fielded 78% of their betting action on the "over" 56.5 mark, with other sportsbooks fielding considerable action on the "over" as well. If those trends continue, the total could be pushed into the historical territory as the highest Super Bowl mark in history.
More Picks: Loot's Top Super Bowl Prop Bets >>>
Super Bowl LV Total Betting Prediction
I completely understand the reason that this total is pushing the boundaries of the highest mark in Super Bowl history. The Chiefs averaged 29.6 points per game during the regular season for the 6th best mark in the league and are coming off an AFC Championship Game where they exploded for 38 points against a really stout Buffalo defense. Meanwhile, the Buccaneers averaged 30.8 points per game during the regular season (3rd in NFL) and have eclipsed the 30 point mark in each of their three playoff appearances thus far. Just on those averages alone, casual expectations would put this in the range of a 60 point total.
However, I believe the sharp money should be on the "under." Call me crazy, but I believe the higher probability is a play on the "under" which we have witnessed throughout Super Bowl history. In fact, if you look at the table below, the under has cashed in the last 5 out of 6 Super Bowl games with 50 point totals or higher over the last 15 years. There are multiple reasons for this that should not be ignored. While I don't want to spend excessive time laying out all the reasons, just look back at the week 12 match-up for reference. Mahomes threw for 462 yards, and the Chiefs still only produced 27 points. I would easily argue that the Buccaneers defense is playing their best football of the season, which was proved in the NFC Championship Game where they held the Packers to just 26 points despite a desperate game flow from the Green Bay offense. If we see Kansas City's offense have any difficulties or Tampa Bay's turnover issues continue, this will be a very difficult total to reach on those premises. As a result, I believe the sharp money resides with the under.
| Super Bowl | Score | Betting Line | Betting Results |
| --- | --- | --- | --- |
| LIV (Feb 2, 2020) | Kansas City 31, San Francisco 20 | KC -1.5 (53) | Favorite (UNDER) |
| LIII (Feb 3, 2019) | New England 13, Los Angeles 3 | NE -2.5 (55.5) | Favorite (UNDER) |
| LI (Feb 5, 2017) | New England 34, Atlanta 28 | NE -3 (57.5) | Favorite (OVER) |
| XLVI (Feb 5, 2012) | N.Y. Giants 21, New England 17 | NE -2.5 (53) | Underdog (UNDER) |
| XLIV (Feb 7, 2010) | New Orleans 31, Indianapolis 17 | IND -5 (57) | Underdog (UNDER) |
| XLII (Feb 3, 2008) | N.Y. Giants 17, New England 14 | NE -12 (55) | Underdog (UNDER) |
Jay's Pick to Cover the Point Spread: Under 56.5. Bet your Super Bowl pick at reduced odds -105 (and all your sports bets every day of the year) at the web's best sportsbook: BetanySports! Making the switch to -105 odds will save you THOUSANDS of dollars over the long haul!
Football Betting Guide
New to football betting? NFL point spreads can be confusing at first, but our how to bet on football article help you bet like a seasoned pro! You'll also learn how to wager on teasers, parlays, over/unders, prop bets, futures and how point buying works.