Super Bowl LV Best Prop Bets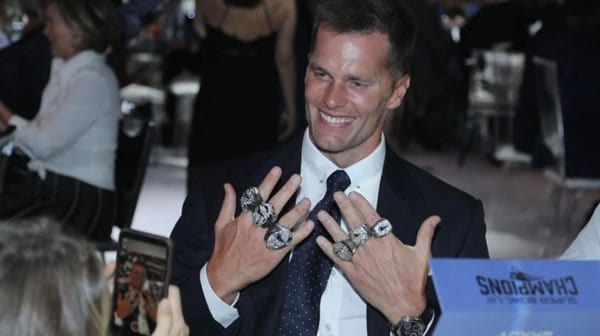 Chiefs vs. Buccaneers Super Bowl LV Prop Bets at MyBookie.ag
If there is ever a time that calls from swinging it from the hip the little bit, it's the Super Bowl. Prop bets can enhance the entertainment value of the Super Bowl, whereas a bet on the mere result of the game can be a bit ponderous. Prop bets are unfolding with almost every drive, as you're more invested, pulling for details within the game to unfold. Simply put, the Super Bowl is supposed to be fun, and throwing up a couple of prop bets is more or less in the spirit of the festivities.
Obviously, it can go too far. Some of us have been at Super Bowl parties where a guy yells out profanities after losing his third straight bet on the result of the coin-toss. It's a little too stressful to be invested in every twist and turn within a game, but some well-placed props can really pay off. And in this particular battle with the bookies, we are going to opt for things that can actually be analyzed. In other words, we want to focus on actual game-related propositions.
Not that there is anything wrong with having some fun. But after honing our football-related observations all season long, now would be a strange time to bet on things like the color of the celebratory Gatorade, the number of outfit changes by the halftime performer, or the number of times Tony Romo will utter the term "A-gap." Prop bets are problematic enough without having to take a leap into the totally unknown.
This game also seems conducive to a lot of different things happening. You have two teams that put up a lot of stats. On the Chiefs' offense is the most prolific QB in the game in Patrick Mahomes, a dynamic number-one receiver in Tyreek Hill, a record-setting tight end in Travis Kelce, and at least 4-5 other guys who can do serious damage. On the other sideline is Tom Brady and the most-stocked offense that he has enjoyed in a while. Between Mike Evans, Chris Godwin, Antonio Brown, Leonard Fournette, Ronald Jones II., and others, they can put up scary numbers too. And while neither defense is considered a tip-top unit perhaps, they do make a lot of plays and, therefore, can make a lot of noise on the stat-front.
Listed below are some of the better props we saw for Super Bowl LV, courtesy of MyBookie.ag.
Total Points Scored in the Game: 57-63 Points (+325)
Sure, it's hard to take a game that promises a lot of offense and boil it down to a short window like this. But this is the most-favored range for Super Bowl LV, and for a good reason. Think about all the final scores that would fall into this range—31-28, 41-21, 34-27, 35-24, 48-14, 30-27, 32-30, and on and on it goes. For the +325 payout, a lot of scenarios shake out well for this prop.
KC Chiefs by 13-18 (+700)
For potential bettors of the Chiefs, why not take a more-extreme stance. Sure, there have been some highly-competitive Super Bowls in recent years. But oftentimes, the game isn't coming down to the end. And with the Chiefs having gotten their act together in the AFC title game against Buffalo, a good Chiefs showing in this game could land in this range for the handsome 7-to-1 return.
TB by 7-12 (+650)
Well, if it's good enough for Chiefs backers, then perhaps a Bucs supporter could extract some value from a similar stance. A win by 7-12 points can yield an enticing +625. If you like the Bucs, why not add a more extreme position to your list of picks for the big payout?
Patrick Mahomes Over 18.5 Rushing Yards (-115)
On the one hand, the Chiefs won't be too eager to turn loose their star QB on runs, especially considering his injury history this postseason. But this is the Super Bowl, where you see players taking more risks than normal. And there should be more than a few opportunities for Mahomes to stretch outplays or go for the markers on broken plays, at least to the extent where he picks up 19 yards rushing.
BET THESE PROPS FOR FREE! DEPOSIT $100 TO $300 AND MYBOOKIE WILL MATCH YOU WITH A 100% BONUS WHEN YOU USE PROMO CODE: PREDICT100
Game MVP: Tom Brady (+200) and Patrick Mahomes (-115)
Granted, this is the chalkiest of bets. And if you bet both, you may very well just break even if it's Mahomes who comes out on top. But this game features two of the biggest-name quarterbacks in the sport, and in a category that is utterly dominated by quarterbacks already, it's hard to imagine a scenario where the award doesn't go to the winning QB.
First Half Point Spread: Tampa Bay Buccaneers (+130)
So far this postseason, we haven't seen the Chiefs falling behind like they did last year, only to come storming back with an offensive detonation. Maybe they're due for that kind of first half, where things don't all go their way. Definitely, the most-hunch bet of the lot, something tells me Tampa gets off to a fast start in the Bowl.
Tom Brady Interceptions Over .5 (-170)
With three picks in his last game, Brady is not typically an interception-machine in the Big Game, but between Kansas City's playmaking defense and the number of pass attempts he figures to put up, it's hard to imagine this all coming off without a hitch. Between the regular season and postseason, the Chiefs have 18 picks, and I think they'll make it one more on Super Bowl Sunday.
Patrick Mahomes Interceptions Over .5 (+140)
The Bucs have picked off twenty passes this season, postseason included, and with a recent rash of picks, look for the Bucs to register at least one in this game. Tampa might not have the tightest secondary, and that should lead to an even heavier dose of aerial offense from the Chiefs. But the Bucs make a lot of plays on this side of the ball, and with their fierce pass-rush, they force opposing quarterbacks into a lot of mistakes.