[et_pb_dcsbcm_divi_breadcrumbs_module hide_homebreadcrumb="off" homebreadcrumbtext="Home" separator="sep-raquo" hide_currentbreadcrumb="off" homebreadcrumborientation="left" _builder_version="3.8″ fontsbreadcrumbs_font="Lato||||||||" fontsbreadcrumbs_text_color="#000000″ fontsbreadcrumbs_font_size="15px" fontsbreadcrumbs_line_height="16px" fontsseperator_font="||||||||" fontsbreadcrumblinks_font="||||||||" fontsbreadcrumblinks_text_color="#2567cf" custom_margin="25px|||" custom_margin_phone="30px|||" custom_margin_last_edited="off|desktop" custom_css_main_element="font-family: Helvetica Regular;" disabled="on" global_module="3641″ saved_tabs="all"][/et_pb_dcsbcm_divi_breadcrumbs_module]
Super Bowl Over Under Total Pick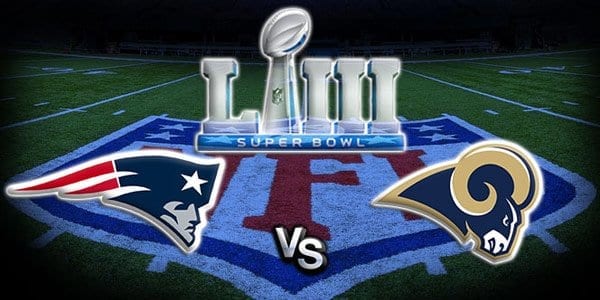 New England Patriots (13-5 SU, 7-11 O/U) vs. Los Angeles Rams (15-3 SU, 9-9 O/U)
Super Bowl LIII
Date/Time: Sunday, February 3, 2019 at 6:30PM EST
Where: Mercedes-Benz Stadium, Atlanta, Georgia
TV: CBS
By: Loot Levinson, Expert Football Handicapper, Predictem.com
Over/Under Total: 57 (MyBookie Sportsbook)
Over or Under?
One of the toughest Super Bowl picks this season is the total. As of press time, it's 57 points. It's a bet given to many different forms of analysis. And to be frank, a position on either the "over" or "under" can be justified on many different levels with coherent reasoning. On one hand, the total is high. When you see an NFL game with a total hovering near 60 points, it's hard to go "over." But then you see the fact that these two teams don't combine for a ton of defense, while making for an abundance of offense, the "over" doesn't seem too far out-of-reach. Still, when we weigh all the factors, a position on "under" seems to be the wisest move. Let's break it down as to why…
A Look at the Total
We've seen totals like this and even higher, but 57 is a big number for an NFL football game. Even in a game where scoring can sometimes be prevalent, the number of 57 doesn't leave much room for error in the event that game hits a lull in the scoring department. It's a number more associated with a college football matchup of offensively-geared teams. When looking at common perception and the public's natural leaning on the "over," it's safe to say that the betting value would tend to favor the "under," at least at first glance.
Perception Versus Reality
The perception of this game is that it's a lot of offense and not a lot of defense. But a guy who barely watches football would be able to tell you that. That's not to imply that you have to be a casual fan to see this as being a potentially high-scoring affair, but let's just say it's not a terribly original piece of insight. Noticing that neither defense is all that rigid and that both offenses have ample firepower and different things to like isn't an observation that one is going to wield successfully against a bookie. In a one-game window, it very well could end up holding water, but it's almost too obvious in a lot of ways.
For this number to go over, you need thirty-point halves basically. That's two touchdowns a quarter and maybe a field goal thrown into the mix. A lot can happen to make that very difficult and have people who bet "over" having to come from behind. You get a couple long drives that end up in turnovers. A few long drives end in field goals. Someone misses a field goal. And next thing you know, it's not looking good for the "over." These teams both run the ball a lot, which can eat up a lot of clock. When taking the over or under, you're looking for some level of comfort. When both teams need to maintain such a high clip of scoring, it's not easy to get that feeling.
Rams' Offense Less-Explosive at this Level
While not calling the power of the Rams' offense into question, they're not infallible. Toward the end of the season, they combined for 29 points in consecutive weeks against the Bears and Eagles. Against an inept-looking Cowboys' defense in the divisional round, they did put up 30 points. In the NFC title game, however, they needed overtime to get to 26 points, relying on a strong second half after struggling early. For all their reputed firepower on offense and issues on defense, taking the "over" in their games hasn't been profitable, as they've gone over nine times in 18 combined games this season. When the total is set this high, slow starts or stretches of lethargy in the middle of the game can be real murder for positions on the "over." While New England didn't really have an answer for the Chiefs, especially late, something tells me they will dial up the right answers for Super Bowl Sunday—at least enough to thwart a full Rams' explosion of offense. There are many prop bets for those interested on betting on Jared Goff and the Rams offense. 
Patriots' Track Record
On one hand, the Patriots' recent Super Bowl track record indicates some pretty high scoring, as their last two games against the Eagles and Falcons went considerably "over." In addition, their two postseason games this season combined for a robust 137 points. That would all appear to be pretty damning evidence for a position on the "under," wouldn't it? But even with both of their playoff games having gone "over," they have still seen only 7 of their 18 games this season go above the projected point-total. And of all their Bowl appearances, their games have gone "over" just three times. So there's plenty to latch on to there for those thinking "under."
Defenses Not as Bad as Advertised
The AFC Title game failed to paint the New England defense in a good light. And as of now, when people analyze the Patriots, the defense is an afterthought. But something tells me this will be considerably less-testing than trying to stop the Chiefs at Arrowhead, the most-potent offense in the NFL. Granted, on paper, the Rams aren't far behind the Chiefs in terms of overall offensive horsepower, but this is a spot where they can bank on more success. Their weaker secondary was chewed up by the mobile Mahomes and his slew of aerial talent, but maybe the New England run-defense can manifest here against the Rams' backfield, with CJ Anderson and the struggling Todd Gurley. With the lack of continuity on the LA run-game, maybe that's an area where the New England "D" can shine some. And when the total is 57, that's all it's going to take.
Throughout the entire season, the "book" on the Rams was that their offense was Super Bowl-caliber, while their defense lagged far behind. And while the Rams' "D" doesn't elicit a ton of confidence, there is more to it than just a notion of them being a "bad defense." They are actually in pretty good form, with their big-money signings finally delivering on their promise. They were able to keep a Dallas offense under wraps for most of the game in the divisional round. And in the NFC title game, they hung in there admirably against the Saints, even when they were allowing big plays. When they needed to tighten up, they generally were able to. And to give up just 23 to a home Saints squad was pretty darned good—all things considered.
Take the "Under" in the Patriots-Rams Super Bowl
Again, even if you like the "under," it's hard to argue too hard against a position on the "over." I just think there will be enough lulls, big stops, turnovers, and a few long drives that don't go for touchdowns. And when you get a little bit of that action, it makes it hard to go "over" with a number this big. When the total is this high, you need a fairly-uninterrupted stream of scoring to get it to go "over." I see a game with ample scoring, but one that falls short of being a full offensive free-for-all. I'm going "under" in Super Bowl LIII.
Loot's Pick to Cover the Point Spread: I'm betting that the Patriots vs. Rams game goes "under" 57 points.
TIRED OF YOUR CREDIT CARD NOT WORKING AT SPORTSBOOKS? IT WILL AT MYBOOKIE+ GET a $1000 Free Play!