Jared Goff Prop Bets: Super Bowl 53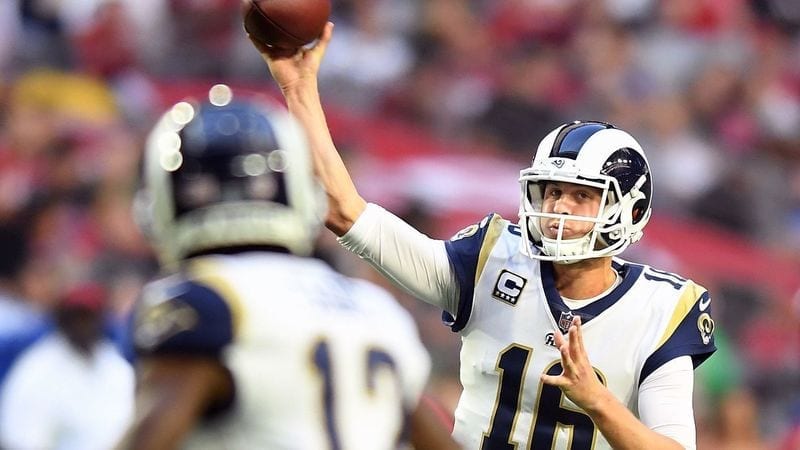 In the Super Bowl betting landscape, there are any number of bets you can make, including the ability to focus in on one lone performer. Today we'll take a look at Los Angeles Rams quarterback Jared Goff. The third-year player from Cal has seen his stock rise dramatically in the last two seasons, as the pairing with head coach Sean McVay has turned out beautifully. After going 0-7 in his rookie season, he has since gone 24-7 with a 2-1 postseason mark. This past season was his best, as he threw for 4688 yards and 32 touchdowns, leading his team to a chance to win the Super Bowl.
This is the biggest game of his life, taking on the signature team of this era in his first Super Bowl. He was very impressive in overcoming a tough start against the Saints in the NFC title game, as he ended up with almost 300 yards in an exciting comeback win. The Patriots are tougher generally against the run than they are against the pass, which could lead to some nice numbers for Goff. Let's look at some of his props and see what we can come up with! All of the prop bets below are offered at Bovada Sportsbook.
Super Bowl MVP: +225
Pick: This is one prop bet where you really have to think about the game from a simple standpoint of who you think will win. And if you in fact do like the Rams' chances, Goff for MVP deserves a hard look. The most-visible position on the field, the QB of the winning team is always a compelling choice. Going back to when the Pats won their first Bowl with Brady (against the Rams), a QB has taken this honor 12 times in the last 17 seasons. Surely, there are enough other stars on the offense and even the defense of the Rams who could have a great game, but the QB just has to have a good game to get in this discussion. With Goff's arm a big part of the offense, a Rams win could sew this up for Goff, with decent +225 odds—far better than what his counterpart Brady is getting.
Total Passing Yards: 289.5 (Over -115, Under -115)
Pick: It certainly seems doable. He has the weapons at his disposal with a pair of 1000-yard receivers in Brandin Cooks and Robert Woods. With Josh Reynolds and Gerald Everett, that's two more big-body ball catchers to wield on a New England secondary that has been below-average all season. His backs, namely Todd Gurley, could give him a boost in this category. Even if you still favor the Pats, it's not that hard to envision Goff reaching this number. Not every quarterback that has played New England has thrived aerially, but enough of the better ones have to warrant Goff belonging in that company.
Total Passing Attempts in the Game: 36 (Over -115, Under -115)
Pick: Again, your view of the game as a whole could come into play here, namely, if you feel the Rams will be ahead, playing from behind, or more or less in standard formation. In Goff's games, we've seen this total all over the place, even in the postseason. Against Dallas, he was far underneath this total, throwing just 28 balls. Against the Saints, in more of a struggle, he threw 40 balls. I think 36 is a bit of a high-ball number, as Goff has thrown more than 36 balls in a single game just six times in 18 combined games. I'll go "under" in this one.
Total Touchdowns Passes: 2 (Over -115, Under -115)
Pick: A pretty tough call. When one thinks of his available artillery, over two touchdowns almost seems to be a lock. Then one reflects that even in getting to the Big Game, Goff has thrown only one TD in the whole postseason. And he has thrown over two touchdowns just 6 times in 18 games this season. The Patriots have allowed just two aerial TDs in this whole playoffs, though they did allow 29 in the regular season. I'm still going "under" in this one too.
Total Completions: 23.5 (Over -115, Under -115)
Pick: Let's face it, the Patriots' secondary hasn't been that great this season. Opposing quarterbacks haven't had much trouble completing passes in masses against the New England "D." In a game that was immediately noncompetitive, the Chargers' Philip Rivers still only threw 25 completions in over 50 attempts, while Mahomes only completed 16 balls against the Pats in a game that featured 68 points. Goff has completed 40 passes in the two games this postseason and I see this one going under.
Total Interceptions Thrown: 0.5 (Over -140, Under +110)
Pick: Goff's only pick of the postseason was on a mishandled ball, as he's been really accurate in these heightened conditions. His pick total went up this season—rising to 12 after throwing 7 the previous season. Still, if you take away the four picks that he threw against Chicago in early-December, he has thrown only three picks in his last 8 games. New England corners JC Jackson and Jonathan Jones are a pair of ball-hawks, while S Duron Harmon has four picks on the season. Stephon Gilmore already has a pick in the postseason. It's not unheard-of for this defense to register the big plays in the Super Bowl. I just see this one going either way without anything really separating the two choices, making me inclined to take the underdog—no picks thrown at +110.
Total Rushing Yards: 8 (Over -115, Under -115)
Pick: Running the ball is dangerous, especially for quarterbacks like Goff where it's not really their bread-and-butter. He ran for touchdowns twice this season, but was below 8 yards rushing even in those games. He's more prone to take his medicine in the midst of a broken play, rather than letting it fly with his legs. Still, he was over 8 yards on the ground in both games this postseason and all we need are a couple runs maybe in a scramble to hit this number. I see it going over eight yards.