TNF Pick: Cards vs. Seahawks 11/19/20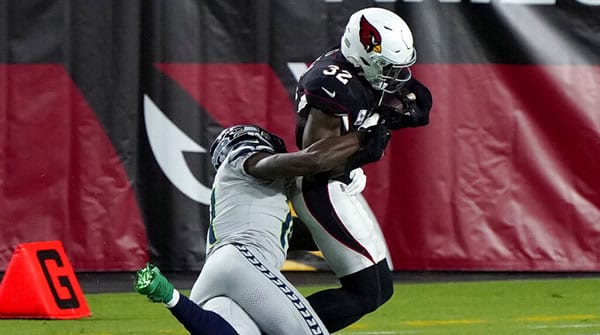 Arizona Cardinals (6-3 SU, 5-4 ATS) vs. Seattle Seahawks (6-3 SU, 5-4 ATS)
Week 11 NFL
Date/Time: Thursday Night Football, November 19, 2020 at 8:20PM EST
Where: CenturyLink Field, Seattle, Washington
TV: Fox/NFL
Point Spread: ARI+3/SEA -3 (Find the Best Sportsbooks)
Over/Under Total: 58.5
The Arizona Cardinals come to CenturyLink to take on the Seattle Seahawks on Thursday Night Football. The stakes are high in this NFC West battle, as the Seahawks and Cardinals are part of a three-way tie atop the division. The Cardinals are flying high after a hail-Mary from Kyler Murray to DeAndre Hopkins enabled them to snatch a win from the Bills, 32-30. They now head north to take on a suddenly sideways Seattle team that has lost their last two games, including a costly one to the Rams on Sunday, 23-16. They look to make it right, albeit against a team that has already beaten them. Who can come out ahead in this NFC West slugfest?
Hints From Game One?
On October 25, these division rivals played in one of the better games of the season, an Arizona 37-34 overtime win that featured a little bit of everything. Seattle built up a lead, only for Arizona to take the Seattle defense to task, mounting a comeback and evening matters at the end with a furious finish and two scores in the last 2:28 to send it to OT. A Zane Gonzalez field goal in overtime cinched it. And the game really unfolded as many would suspect. Arizona had to deal with a Seattle offense that is among the best in the league and predictably has some problems. Russell Wilson threw for 388 yards and ran for another 84. But as some anticipated, the Seattle defense was pushed to its limits. Kyler Murray had a similar day, passing for 360 and running for 67 yards and a score. So which offense can replicate the performance of a few weeks ago, and which defense can maybe step it up a notch?
Is Seattle OK?
Starting with their OT loss to Arizona, the Seahawks are 1-3 in their last four games and, in a month's time, have gone from one of the top contenders in the conference to a team with a lot of questions. After a while, they stopped being able to withstand their many deficiencies on defense. A problem that was somewhat camouflaged by a high-power offense has come into full view. The offense stopped being so powerful, and a defense that was like a pipe ready to bust, gave way even more, and now we have a team that has a lot on their plate heading into week 11.
More Picks: Bookmark to get all of our Week 11 NFL Picks >>>
Still, last week may have been more of an aberration, and I would expect to see a Seattle team that is really shot from a cannon this week at home. Russell Wilson turned the ball over three times on Sunday and was sacked six times by a Rams' defense that looked as good as it had all season. The Seattle pass-defense yielded yet another 300-yard game, but allowing 24 points to a home Rams team wasn't so bad overall. For once, the offense was more to blame. They're getting healthier at running back and look to see some backs make an impact, as Wilson is their leading rusher, which isn't the best formula. Then again, this offense will be up against a team where they had a lot of success, even in losing fashion, several weeks ago.
Arizona Headed in a Better Direction?
With their fourth win in five games and in a first-place tie headed into week 11, this current incarnation of the Cardinals is seeing its first real success and what happens now is critical. Teams like this can start to wane a tad or take the bull by the horns. The win on Sunday, a last-second mini-miracle, might lend some life to a team that was coming off a tough loss the previous week to Miami. With recent wins over teams that look to be playoff-bound like Buffalo and the Seahawks, the Cardinals are starting to take on an air of quality. Another critical element for success, in addition to success in betting, is a team that sees the late-game action start to break their way. It didn't happen a few weeks ago against Miami, but for the most part, it has gone their way this season.
The development of Kyler Murray has been fantastic this season, and he is developing the knack for pulling out wins now that he has his feet under him in his young NFL career. On Sunday, he threw for 283 yards and three touchdowns, while also running for 106 yards and a TD. Having a player like that who can be a great QB and RB at the same time can really pay off. He has a nice cast around him, and they run the ball well, in addition to being able to make noise through the air with an improved aerial cast. The addition of Hopkins has really paid off great. This part of the equation appears to be solid.
The Main Drawback in this Spot for Arizona
When a young team is coming around ahead of schedule in many people's minds, it rings a little hollow to take shots. But against a Seattle home offense that is looking to not only atone for the previous loss to the Cardinals but also looking to right the ship after a tough recent patch overall, the Cardinals' defense will be up against it, to say the least. On the one hand, they've been making plays. On Sunday, both Patrick Peterson and Dre Kirkpatrick had picks on Josh Allen, and they have a lot of energy. But with 100 combined points allowed in the last three games, they are going to need to see their defense come around to what the offense is doing to really push it far this season.
Take the Home Team
This may very well be another shootout. When the Seahawks first took on the Cardinals, they were 5-0, and I think the heightened headspace could resonate this week. An ultra-urgent Russell Wilson is a dangerous thing, and against a team where they already had some success, I think being in a slightly higher gear will allow the Seahawks to get the win and cover at home.
Loot's Prediction to Cover the Point Spread: I'm betting on the Seattle Seahawks minus 3 points.