Week 7 Value Pick: Tampa Bay Buccaneers vs. Carolina Panthers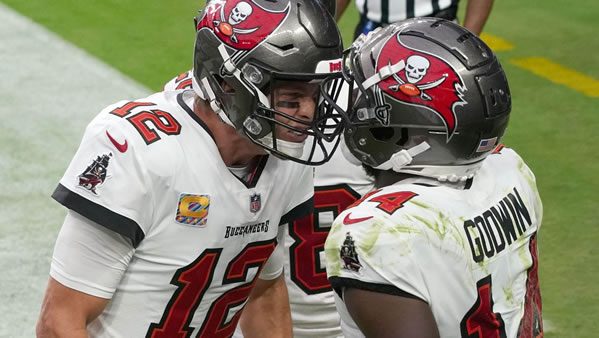 Tampa Bay Buccaneers (3-3 SU, 2-4 ATS) vs. Carolina Panthers (1-5 SU, 1-5 ATS)
Week 7 NFL
Date/Time: Sunday, October 23, 2022 at 1PM EDT
Where: Bank of America Stadium, Charlotte, North Carolina
TV: Fox
Point Spread: TB -10.5/CAR +10.5 (Bovada – The best football betting site for NFL props! They have TONS!)
Over/Under Total: 40.5
The Tampa Bay Buccaneers come to Charlotte for a week 7 NFC showdown with the Carolina Panthers. Things didn't get much better for Carolina on Sunday, as the struggling Rams put it on them, 24-10, on Sunday to send the Panthers reeling at 1-5. At least they get to return home, but it might not be a picnic with the Tampa Bay Buccaneers coming into town. Following a disheartening 20-18 upset loss to the Steelers on Sunday, the 3-3 Bucs are back on the road this week, looking to kick-start their season in what seems like a doable spot. Who can get us the cover on Sunday?
The Problem with Carolina
In a word—it's offense. Anyone who had the misfortune of having Carolina last Sunday will attest that it can be a real grind. Granted, they might get a new look behind center this week, with PJ Walker doing nothing on Sunday to stop the return of Sam Darnold. Somehow, that doesn't foster much optimism, though it's likely not going to get worse than last week, when they managed a defensive TD and a field goal's worth of scoring. You'll also notice that in their five losses, they haven't covered the spread. At some point, you're going to need points. You're going to need more than Christian McCaffrey. The receiver crew is in the toilet, with DJ Moore having gone silent. The QB play they've gotten up to this point might be the worst in the league.
Can Tampa Snap Out of It?
Perhaps they are victims of their own and Tom Brady's standards, as a 3-3 six-game window would likely not cause much alarm with most teams. Still, their last four game stretch is disconcerting—an ugly 14-12 loss to the Packers, giving up 41 to KC in a loss, a 6-point win over Atlanta, and then the loss to the Steelers playing as ten-point favorites on Sunday. Brady is starting to look his age. We see a wealth of offensive weapons more often than not producing point-totals of teams who have very little going for them on that side of the ball. And lately in spots where it's time to show some clutch, we see the Bucs coming up short.
Still, a lot of teams would like to see their bottom-out sequences result in a .500 record. With Brady still a candidate to turn it on as the season goes on, maybe the concern is warranted, but inevitably misplaced. He didn't make his bones shining in September and the first half of October. With Leonard Fournette, Mike Evans, Chris Godwin, and a defense that is holding it together well despite the offense underperforming, they can still turn this around. And what better time to get their offense clicking than against a Panthers team where they can relax and pick their spots, knowing the Panthers are unlikely to put a ton of pressure on them?
How Solid is Carolina's Case This Week?
Without getting into how specifically bad the Panthers are, and they are bad, getting double-digit points at home against a team that is at least a little on the rocks isn't such a horrible proposition. And not that this has helped them cover any spreads this season, but their defense has just enough star-power on it to possibly keep the Bucs on the struggling path offensively, especially if the offense can keep them off the field a little bit for a change. Brian Burns is a handful up-front and getting CB Jaycee Horn back this week would go a long way to putting a crimp in a Tampa air-offense that can still sting. If it is Walker in there, maybe he do a little better sparking this Carolina offense and if you're going to have only one weapon to regularly surface, McCaffrey isn't a bad one to have. And if it's Darnold, you'd figure he'd get a little out of the aerial offense, though that can come at a price with the mistakes we've seen him make so far in his career.
More Picks: Get Jay's Falcons vs. Bengals O/U Bet 10/23/22
While projecting improvement on Carolina might be a foolhardy endeavor at this point, there are other things at play. Again, those who have recently witnessed the Carolina offense stagnate will find it hard to bet on them this week and understandably so. But has there been anything on the Tampa side recently to suggest a team taking to the road and blowing out opponents? If anything, they've been a grind-it-out and hope for the best team lately. They've managed to get some wins and have the potential to morph into the Bucs team that we're more used to seeing. But to take Tom Brady after a bad game and turn him around on the short week for his second straight road game doesn't seem to set up for a vintage Tampa performance—at least not on the surface.
Take the Points
Both the current state of the Panthers and the possible resuscitation of the Bucs should elicit concern with those taking the points on Carolina this week. To get nearly blanked by a Rams' defense that hadn't been in top form last week was a bad look, but maybe this is a good spot to buy low. I think there is some value on a Panthers team that is maybe due for something good to happen against a visiting opponent that doesn't appear to be in a mode where they're dependable to run over opponents. I'd take the Bucs straight-up, for course, but I look for the Panthers to have their defense hang in there enough for the Panthers to keep pace and get the cover at home.
Loot's Prediction to Cover the Point Spread: I'm betting on the Carolina Panthers plus 10.5 points. Did you know that you can bet on games at -105 odds instead of -110? Imagine how much money this would save you! Find this beautiful money saving offer at BetAnySports Sportsbook!
10* CONF CHAMP TOTAL - 7-3 (70%) NFL PLAYOFFS
AAA Sports has hit BOTH their Wildcard Round and Divisional Round TOTAL OF THE YEAR, meaning you simply CAN NOT afford to miss out on their CONFERENCE CHAMPIONSHIP TOTALS WINNER! Now an ABSOLUTELY ELECTRIC 7-3 (70%) in the NFL Playoffs, this is TRULY the BIG PLAY that you've been waiting to just UNLOAD on!