Week 8 Picks: Bengals vs. Jets Best Bet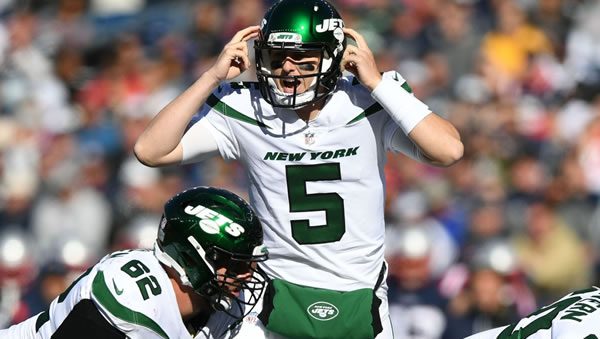 Cincinnati Bengals (5-2 SU, 4-3 ATS) vs. New York Jets (1-5 SU, 1-5 ATS)
Week 8 NFL
Date/Time: Sunday, October 31, 2021 at 1PM EDT
Where: MetLife Stadium, East Rutherford, New Jersey
TV: CBS
Point Spread: CIN -10/NYJ +10 (Bovada - They offer live lines on games 100% of the game; not just during commercial breaks like most books!)
Over/Under Total: 43.5
The Cincinnati Bengals come to East Rutherford on Sunday for a week 8 faceoff with the New York Jets. It seems like the Bengals have stumbled onto a nice formula this season and on Sunday, they moved to 5-2 with a thoroughly-impressive 41-17 road-win over the Ravens. Now facing their third straight road-game, they have a good opportunity to sweep this section of their season and return home heroes the following week. Other than possible road-weariness for the Bengals, it's hard to find a positive angle on a Jets team that was embarrassed, 54-13, against the Patriots on Sunday. Can they put up any resistance against a surging Cincy squad? Or do we see a deflated Bengals team this week? Let's break it down!
Cincy Hard to Stop This Week
This season represents a coming-of-age for the Bengals. The young incoming talent has paid off. Joe Burrow is connecting massively with former college teammate Ja'Marr Chase, who had 201 yards on Sunday. Joe Mixon can get you. The myriad of receivers in Tyler Boyd or Tee Higgins can make it happen. We also see the occasional big spurt from CJ Uzomah this season and he had 2 TDs on Sunday. Behind it all is a growing force in Burrow, who is efficiently running this offense and gaining in comfort and confidence.
Only four teams are yielding fewer points than the Bengals. The high point-output against them this season was the Packers at 25 points in overtime three weeks ago. We're seeing signs of that old Cincinnati defensive front where establishing a foothold with the run-game is difficult. If it's hard for Baltimore, Dalvin Cook, and D'Andre Swift to move the ball on the ground, what chance does the dilapidated Jets' run-game have?
Bad Signs for the Jets
To be a team working things out with a new coaching regime and a bunch of young pieces is one thing. And these spreads certainly do account for all that. But in the NFL, there is extra consideration given when a team begins to truly bottom out and hit a wall. With Zach Wilson going down for the Jets on Sunday, we saw former fifth rounder Mike White get his first NFL snaps, with predictably-poor results. It's not all his fault. He has nothing around him—no line, no run-game, and a collection of discarded role-receivers who disappear for long stretches. When Corey Davis is your crown jewel, it speaks volumes. And the idea of soldiering on with Mike White is a daunting proposition.
Giving up 54 points is never good. If it were to one of the more-prolific offenses in the league, you'd be more understanding, but when it's to rookie Mac Jones and the New England offense, it doesn't bode well. We saw Cincinnati running up and down the field last week against the Ravens, scoring in every which way and then we see the Jets give up 551 yards to a bottom-half offense and the storyline starts to form in an unflattering way for the Jets.
What to Expect
You'd almost expect the Jets to possibly make a move to bring someone in at QB. If it's Mike White, it's a tough sell, even with the seemingly-favorable point spread. There is a reason this is the first time he's seeing the field and with 202 yards, maybe a week of practice can help bring him up to speed better. It's just that this would be a spot where running the ball would be advisable and he can't lean on that or a strong line. He might have to take to the air in a game where there figures to be a point-deficit. He is a decent passer, but not as good as the man he's replacing who was getting them nowhere. It's downright difficult to get behind this Jets' offense this week when we see Cincinnati holding their own and then some against completely-functional offenses. What realistic point-output can one depend on this week?
Sniffing their first scent of success, I wouldn't expect Cincinnati to be lax in face of playing the Jets, being that it wasn't long ago that they were the Jets. Winning three in a row on the road would really be a notch on their belts and they get to come home to a fan-base that finally has something for which to be excited. For the Jets to come off the bye and get thumped 54-13 has to be a deflating experience and there's no guarantee that we don't see them start to sag a little bit. Against this Bengals' offense, that could be a disaster waiting to happen.
More Picks: Dallas at Minnesota Pick Against the Spread >>>
Too Easy?
Finding a team overturned on its back and betting on their rising opponent is hardly a shrewd maneuver. It's fairly obvious. And when something is fairly obvious, it's time to consider whether or not it's a setup. This has all the earmarks of a blowout, from the trajectory of both teams to the various personnel problems. It's still the Bengals and a 5-2 start doesn't signal a renaissance. A lot of effort was put into vanquishing their longtime division tormentor Baltimore last week. Maybe there will be a letdown against a sideways Jets team. Or maybe losing Wilson doesn't set the Jets back as much as it would seem. In any event, these surefire slam-dunks can often backfire.
Lay the Points
Despite smelling faint scents of a rat, I find it hard to get behind this Jets operation at this point in time. It could come up soon and it might even be next week. But even if you take last week's meltdown out of the equation, this doesn't shake out as a great spot for the Jets. I see the Bengals even at a notch below their best more or less being able to cruise against the Jets. In the second half, they will get the separation they need to get out of East Rutherford with the win and cover.
Loot's Prediction to Cover the Point Spread: I'm betting on the Cincinnati Bengals minus 10 points. Note: You'd be doing yourself a HUGE favor if you took a couple minutes to educate yourself about the benefit of betting on games at reduced odds! It's so simple and saves you so much cash!
100% REAL CASH up to $300

USE BONUS CODE:
PREDICT100