[et_pb_dcsbcm_divi_breadcrumbs_module hide_homebreadcrumb="off" homebreadcrumbtext="Home" separator="sep-raquo" hide_currentbreadcrumb="off" homebreadcrumborientation="left" _builder_version="3.8″ fontsbreadcrumbs_font="Lato||||||||" fontsbreadcrumbs_text_color="#000000″ fontsbreadcrumbs_font_size="15px" fontsbreadcrumbs_line_height="16px" fontsseperator_font="||||||||" fontsbreadcrumblinks_font="||||||||" fontsbreadcrumblinks_text_color="#2567cf" custom_margin="25px|||" custom_margin_phone="30px|||" custom_margin_last_edited="off|desktop" custom_css_main_element="font-family: Helvetica Regular;" disabled="on" global_module="3641″ saved_tabs="all"][/et_pb_dcsbcm_divi_breadcrumbs_module]
Which NFL Team Will Le'Veon Bell Play For in 2019?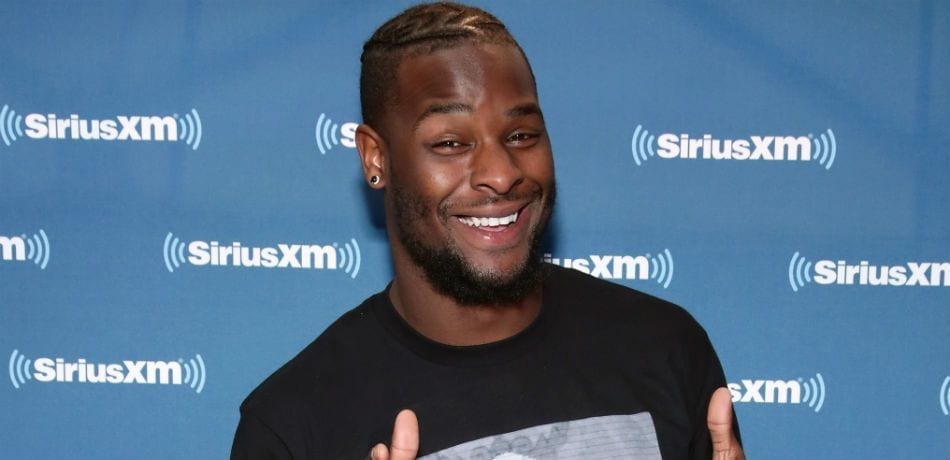 By Loot Levinson, Predictem.com
The idea of forfeiting 14.5 million dollars might seem kooky to us and maybe it is, but that's just what Le'Veon Bell has done by not reporting to the Pittsburgh Steelers by Tuesday. He will sit out the rest of the 2018 NFL season and presumably part ways with the team where he made his bones. Bell will be 27 in February and when he's in there, he's perhaps the biggest offensive difference-maker in the league. He's always at the top of the league in rushing, with ball-catching stats that would be the envy of a lot of receivers. So he won't come cheap.
Books are starting to put up prop bets for which team Bell will sign with for the 2019 NFL football season. Let's take a look at each team on the board, the odds, and how likely it is for each team to land the dominant back:
New York Jets (+300): A lot of things line up to make the Jets the top-favored destination for Bell. One is that it makes sense. Sam Darnold needs help and would get a ton of support from the versatile Bell. The Jets also have abundant room under the cap to make a big move like this. They're in a big media market, have been struggling for years and need a boost, and they have to give Darnold some weapons to use at some point.
Oakland Raiders (+500): While Al Davis is gone; his son Mark has inherited his pop's tendency to make big headline-grabbing moves. One thing about this pick that makes it appealing is that it's really easy to picture Le'Veon in silver and black, isn't it? It just seems like a good fit and the Raiders are also devoid in the area of big offensive weaponry. Could Bell be the foundation of the big rebuild in Oakland? And will leaving to Vegas a year later also be a consideration?
Tampa Bay Buccaneers (+700): They might not have the cap space, but that can be worked out. Granted, the Bucs might need to throw some money at their quarterback problem, but where there's a will, there's a way. They are pretty hopeless at the position, so it makes sense from that standpoint. Still, seems a bit random for just +700 odds.
Philadelphia Eagles (+700): We heard rumblings that the Eagles were trying to work out a trade for Bell and they certainly could use a running back. But signing a free agent at this price is not characteristic of GM Howie Roseman. As the Eagles are sliding following their Super Bowl run, it would be the type of big move that could reverse momentum. With all their needs and a lack of salary space, it doesn't seem all that likely.
FIND THESE LE'VEON BELL PROP BET ODDS ONLY AT BETONLINE!
Green Bay Packers (+750): Well, if Aaron Jones keeps running the way he has been, that would make the Packers a non-factor in this discussion. But with Aaron Rodgers' prime probably down to its last small handful of seasons, this move makes sense on some levels. With some maneuvering, they could make salary cap space. Then again, they could do a lot of other good things with that money.
San Francisco 49ers (+900): The one upside to having no big-name talent is an abundance of cap space. They threw some money at Jerick McKinnon, who will return next season and Matt Breida is having a pretty good season. Still, neither back is good enough to make this move completely unlikely and it's the type of acquisition that could upgrade the Niners immediately.
Indianapolis Colts (+900): On one hand, they haven't been getting horrible back play from Marlon Mack, among others. Still, with Andrew Luck not having the weapons to make the Colts a real threat, this seems like a good move to make on certain levels. You can't have a QB that good just wither on a vine with substandard weaponry around him forever. And it's not like they won't have the money to do it. It's just not that easy to picture Bell in Indy.
Baltimore Ravens (+900): This could be an interesting possibility, especially with how much salary space the Ravens will have next season—more than enough to make a move even of this magnitude. The idea of Bell back there with Lamar Jackson at QB is tantalizing. Whether Bell considers this a possible destination remains to be seen.
Houston Texans (+1200): Another team where a lot of the conditions line up favorably. They have a rising offense with Deshaun Watson at quarterback, a corps of good receivers led by DeAndre Hopkins, but without a standout back. With over $60M in salary cap space that they should have next season, it also seems like a good fit from a financial standpoint.
Seattle Seahawks (+1600): It seems like it would be a big waste if they signed Bell. First of all, they have a ton of other issues to address and won't have the abundant salary space without it coming at a cost personnel-wise. While no game-changers have emerged perhaps, they now have a pretty deep rotation of backs, with Chris Carson, Mike Davis, and a perhaps-blossoming Rashaad Penny.
Pittsburgh Steelers (+1600): Anything can happen in this league, but one would generally like better than 16-1 in a scenario as hopeless as this. This is a bet riddled with issues. Both parties seemed eager to turn the page, with the Steelers quick to clear out his locker, while Bell took anything having to do with the Steelers off from his social media accounts. I wouldn't bet on it—at least not at these odds.
New England Patriots (+3300): It seems unlikely, hence the Pats being the team with the longest odds on the board. This isn't a team that typically goes after the big-ticket free agents. In addition, during Belichick's tenure, their run-game usually has more of a cabaret-approach and not just one dominant back getting all the carries. Still, you can't rule out the Pats making a crazy move like this.
Picks and Final Thoughts
The Raiders and Jets are in fact good picks, with the value being a little better on the Raiders at +500. If forced to pick the other most-likely landing spots for Bell, Houston and Baltimore stand out to me as the best picks, going off at +900 and +1200, respectively. If Bell is smart, he'll sign with the Indianapolis Colts, who in my opinion, have the best offensive line in football.
One thing about this bet is that he could end up on a team not covered by these odds. The Redskins have money to spend and could use a player like him. Don't the Dolphins like to spend money and have a void at RB even with Frank Gore still performing well? Still, we think it would be a mild surprise if he didn't end up on the Jets or Raiders for the 2019 season.
<h4 class="widgettitle">NFL Picks</h4><!-- [et_pb_line_break_holder] -->
<div style="width:340px; margin: 0 auto;"><!-- [et_pb_line_break_holder] --> <a class="twitter-timeline" data-width="340" data-height="500" data-link-color="#008156" href="https://twitter.com/PredictemPicks?ref_src=twsrc%5Etfw">Tweets by PredictemPicks</a> <script async src="https://platform.twitter.com/widgets.js" charset="utf-8"></script><!-- [et_pb_line_break_holder] --></div>