Columbus vs. New York City Predictions 8/24/20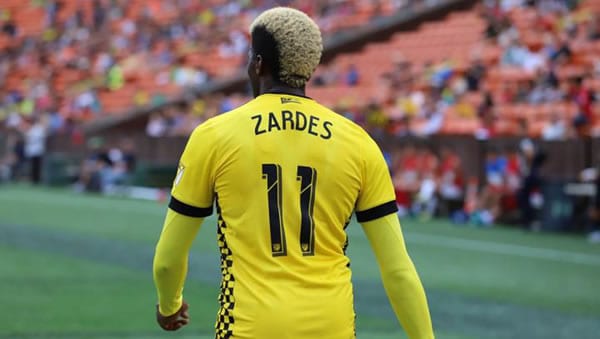 Columbus Crew (5-0-1, 16 points, 1st place East) vs. New York City (1-5-0, 3 points, 14th place East)
When: Monday, August 24, 7 p.m.
Where: Red Bull Arena, Harrison, N.J.
TV: ESPN+
Point Spread: Columbus +0.5/New York City -0.5
Moneyline: Columbus +185/New York City +130/Draw +240
Total: Over 2.5 (-139)/Under 2.5 (-125)
(Find the best sportsbooks to bet on soccer)
Last Time Out:
Columbus handled Chicago 3-0; New York City lost to the New York Red Bulls 1-0.
Previous meeting:
Columbus defeated New York City 1-0 on March 1 at Mapfre Stadium in Columbus, Ohio.
About the Matchup:
Columbus appears to be an early contender for the top spot in the Eastern Conference, while New York City looks like it will be lucky to even contend for a playoff spot. Things now get even worse for NYCFC because not only do they have the likely best team in the East coming in, but they won't even get to play in their own stadium. Thanks to their shared stadium situation with the New York Yankees, NYCFC instead has to share Red Bull Arena, home to their archrival, the New York Red Bulls. Why is that a problem? Two reasons: One, NYCFC, just played at Red Bull Arena as the visitor and left with a 1-0 loss. Two, that's now five straight matches where NYCFC has played at Red Bull Arena and left without a win, with four of those being losses. In short, Columbus is absolutely not the team they need to see right now in a building where they've had virtually no success in the past.
Scouting Columbus:
After a disappointing end to its time in Florida, Columbus picked up where it left off against Chicago, getting a first-half goal and then opening up the Fire twice in the final 10 minutes to finish off the match. Columbus has made it clear that it's a legitimate contender for the Eastern Conference crown, and coach Caleb Porter has to be pleased about the fact that his team didn't even need a goal from Lucas Zelarayan to earn a comfortable win. But that said, Columbus is at its best when the Z Train — Zelarayan and fellow scorer Gyasi Zardes — is finding the net. At least one of the Z Train has scored in all but one of the Crew's matches, and lately, it's been Zardes doing most of the scoring. Zelarayan hasn't scored in the past three games, which has to concern Porter at least slightly. Still, this is definitely a good problem to have, as Columbus has yet to lose a match in regular time this season. The Crew also aren't just a one-trick pony that can only score goals. In fact, the Crew defense has been the best in MLS, bar none. Through six matches that counted in the standings, nobody has scored on Columbus during the run of play, as the only goal conceded was off a penalty by Seattle.
Scouting New York City:
NYCFC really needs to be ringing the alarm bells, as they're now at four matches overall out of seven where they've failed to put even one ball in the net. Only Nashville, an expansion side who didn't even get to play in the tournament in Florida, has scored fewer goals this season than NYCFC, which has just two goals in six MLS matches. NYCFC has had no issues finding the net in a knockout stage situation, but in a group stage, where teams don't get desperate, it's been a major problem. The offense was again lifeless against the Red Bulls, as NYCFC managed to put just two shots on target in the entire contest and never really came close to pushing for an equalizer. As it's been all season, the plan for New York City seems to be to find Jesus Medina, with no Plan B in the offing. Don't expect that to work against Columbus; the Crew are too well-coached for that.
Dan's Best Bets:
I'm not sure if it's the oddsmakers or the general public who keep waiting for NYCFC to break out, but once again, I think the wrong team is favored for a New York City match. I'm all over Columbus at +185, and I think we can do even better than that. Given that NYCFC has played pretty well on defense, I love the idea of getting aggressive and backing Columbus to win with under 2.5 goals scored, which pays out at an impressive +575. To me, given how these sides have looked and that NYCFC isn't really even playing at home, that's a mind-boggling number. But if you don't want to be that aggressive, I think you'll be just fine backing Columbus to win to nil at +425. Truth be told, that might be the better bet here anyway. With Zardes scoring as much as he is right now, I can easily see the Crew racking up three goals again and blowing up the under. I don't feel the need to get greedy here; I might be leaving money on the table, but I'm perfectly happy to return more than four times my bet and not have to worry about Columbus scoring one goal too many. Finally, here's another large payout bet that I really like: Columbus to win both halves. This bet breaks the match up into two 45-minute games, and Columbus would have to win both of them in order to return money. But if it happens, and it did against Chicago, you'd be looking at a +825 payout. Columbus has been the type of team that's started well and finished strong, and it's very easy to see the Crew getting a 1-0 halftime lead and then finishing the game off with another goal or two in the second half. Plus, New York City has been shut out in the first half in five of six matches, and the one exception came after Orlando had already scored two first-half markers. At that payout, I think this bet is absolutely worth the gamble.
Dan's Score Prediction:
It's tempting to pick another 1-0 match, given that five of NYCFC's games have finished 1-0, and New York City have been on the wrong end of four of them. But I think Columbus' attack is good enough to find the net more than once, and I can't see NYCFC's directionless attack finding much of anything against a side that's looked to be the class of the East this year. I'll gladly take a shot on Columbus to win by a count of 2-0 at +1500.