Inter Miami vs. Orlando City Analysis & Predictions 7/8/20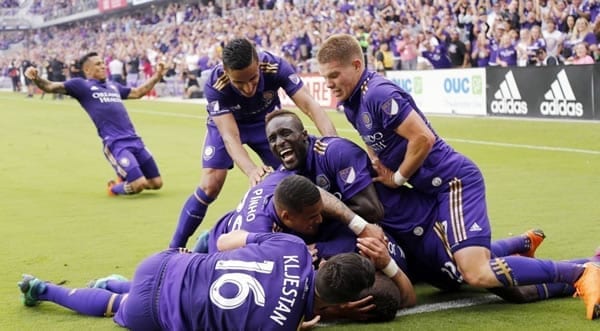 Inter Miami (0-0-0 Group A) vs. Orlando City (0-0-0 Group A)

When: Wednesday, July 8, at 8 p.m.

Where: ESPN Wide World of Sports Complex, Bay Lake, Fla.

TV: ESPN
Point Spread: Miami 0/Orlando City 0

Moneyline: Miami +120/Orlando City +200/Draw +240

Total: Over 2.5 (-139)/Under 2.5 (+105)

To get the best lines visit (5Dimes) - They offer -105 odds instead of -110 like most bookmakers!
Last Time Out:
Miami lost 2-1 to D.C. United on March 8, Orlando City lost 2-1 to Colorado on March 7.
Previous meeting:
The teams have never before met in their history.
About the Matchup:
The one pre-determined match of the MLS is Back Tournament also marks the debut of the league's newest rivalry between its two Florida clubs. Orlando City is technically the host team for this tournament, but the Lions are hosts in name only, as the tournament won't be played at Orlando City's home fields or even in Orlando itself. That makes this an excellent opportunity for the Herons to strike first in this rivalry, as they appear to be the more cohesive side at this point, despite being an expansion team.
Orlando is in the midst of an overhaul after five years as a ship without a port, which has them looking like an expansion side themselves. Even though the Herons have only played two matches, they do look like a side that's going to be tough to break down and could be a real threat to come out of Group A and reach the knockout stages.
Scouting Inter Miami:
Outside of the NHL's Vegas Golden Knights, please take what you know about expansion teams in other sports and toss it out the window. Because soccer features so many outlets to get talent, expansion teams have commonly been competitive in MLS, as Atlanta United won the title in its second season, and Los Angeles FC had the league's best regular-season campaign in its second year. Of course, it can go the other direction, as FC Cincinnati put together a wretched expansion campaign that saw it concede 75 goals.
Miami's likely to look more like Atlanta than Cincinnati, as it's got more than its share of talent, and it's built around Mexican midfielder Rodolfo Pizarro. Pizarro is no stranger to quality competition, as he's helped Monterrey win the CONCACAF Champions League in 2019 and has regularly featured for the Mexican national team. He scored Miami's only goal in its two matches before the pause, and if you're looking for someone to make something happen for the Herons, he's probably going to be the one.
Besides Pizarro, this is a side that values good defense and sticks to its plan. Miami didn't try to do too much in its first two matches, and that's a sign that this side knows what it's doing and will play smart soccer.
Scouting Orlando City:
Orlando decided to press the reset button in the offseason, bringing in veteran MLS man Oscar Pareja to try to get the Lions into the playoffs. Orlando City expected to be much further along by now, but the Lions haven't really gotten much from anyone except their stars in their five-year history.
Nani remains the main threat for Orlando City and is every bit the player he was when he starred for the Portuguese national team at the World Cup. But outside of him, Orlando City really needs Chris Mueller to take a step forward in his third year in the league and become a significant attacking threat. Having Mueller as a key attacker would take a lot of pressure off Nani and Dom Dwyer, who hasn't gotten nearly enough help from a defense that was third-worst in the Eastern Conference last season.
That's the reason Pareja was brought in, but it's going to take him some time to fix the defense. Orlando City remains an offense-first side in 2020, and that might not be the best thing to be right now.
Dan's Best Bets:
Miami needs this match a lot more than Orlando does. Because of the unique nature of Group A, the top three teams from this group will automatically reach the knockout stages, and not every team will play every other team. That means the schedule is critical, and Orlando has a forgiving final fixture against offensively-challenged Nashville. Miami, on the other hand, has to finish with a challenging matchup with Philadelphia Union, so getting points from their first two matches with Orlando and Chicago are critical for the Herons.
Because of that, I want Miami in this matchup, and I favor placing the Herons to win to nil at +280. Any team that can hold LAFC to a single goal at Banc of California Stadium knows how to play defense, and Orlando City just doesn't pose the same kind of attacking quality that LAFC does. If you're feeling daring, I think there's a world of value in backing Miami to win and under 2.5 goals for a couple of reasons.
First, this will be the first kick of the ball in four months for these teams, and as we've seen in England and Germany, it takes time to get back in shape. I think the effects will be even more drastic in this match because Orlando is much warmer and humid than London or Munich. The games will be played at night, but the average evening temperature in July is about 20 to 25 degrees warmer in Orlando than it is in London. Second, even though the group stage counts for the regular season, this is part of a tournament. Goal difference matters in the standings, doubly so if you finish in fourth in Group A and have to battle for one of the three wild card berths.
Because of that, I think the most conservative way to play this match is either to take the under at +105 or to back a "No" on both teams to score at +120. Either option gives you plus money and makes a lot of sense given how much we don't know here.
Dan's Score Prediction:
I trust Miami's defense more than Orlando's offense, and in the heat of Florida, I think the defense is going to be ahead of the offense. I believe Orlando City is going to take time to sort things out, which opens the door for Miami to get the start they need in Group A. I'm going to take Miami to get its first-ever victory here, and I'll go with the Herons to do it by a 1-0 count, which is paying out at +875.