Covington vs. Masvidal Fight Analysis & Predictions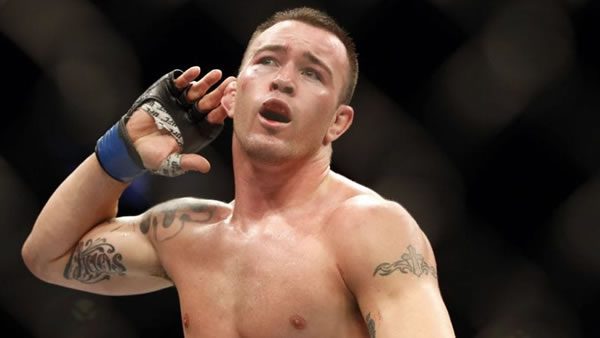 UFC 272: Covington vs. Masvidal Picks
When: Saturday, March 5, 2020
Where: T-Mobile Arena, Las Vegas, Nevada
TV: PPV
UFC 272 features a big-name grudge match, as welterweight contenders Colby Covington and Jorge Masvidal do battle in the main event from T-Mobile Arena. Former teammates who had a falling out over the last few years, this grudge match carries with it a lot of feelings and resentment, wrapped up in a crucial 170-pound bout where the winner can go on to big things, with the loser going to the back of a growing pack. Let's break it down!
Fight Analysis
Colby Covington, 16-3, 4 KOs, 4 Submissions), (-335) vs. Jorge Masvidal, 35-15, 16 KOs, 2 Submissions), (+255)—Odds Courtesy of Bovada
Welterweight contenders Colby Covington and Jorge Masvidal will get it on in the UFC 272 main event on March 5. Both men are at an interesting time in their careers. Masvidal, a 37-year old veteran, had a great late-career renaissance, but two lopsided defeats to champion Kamaru Usman have him looking to get back into the win column again. Covington, 33, also coming off his second loss to Usman, is also looking to pick up the pieces. It should be a high-impact matchup in a crossroads 170-pound bout.
Granted, both men are prone to having beefs with just about everyone they fight. But this one goes beyond marketing or trying to stir up some contention. As former American Top Team teammates, these two worked with each other extensively. Masvidal, who felt he had gone out of his way to help his former teammate felt betrayed when Covington started taking to Twitter to publicly cultivate a beef with Masvidal. There are elements of betrayal and resentment here that surpass most fights. And with two bombastic personalities like this involved, it's rightfully a fight people are looking forward to seeing.
Based on recent performance, one can see Covington having an edge. It could be faulty to overly-judge either man based on how they fared against the champion, a man who could end up being the best welterweight ever for all we know. But Covington, while not victorious, was more competitive against Usman, getting to the fifth round in both fights and being competitive in spots. Masvidal, meanwhile, suffered a lopsided decision loss before getting stretched out in the second round in his last fight against Usman in April.
I think it's fair to ask some tough questions of Masvidal. His rise over the last several years was as mesmerizing as it was violent, with a string of positive developments that took him from perennial division also-ran to a multi-time title challenger. It's just that you have to wonder where the trajectory goes now after working so hard to build his brand, only for it to culminate in a pair of bad losses, including one that shut his lights off. And at his age, coming off the most emphatic loss of his career, you have to wonder if he has another career push within him. Or does the makeup of this particular fight make it, so it really doesn't matter, knowing he's going to show up ready to do damage against a hated rival? After all, Masvidal is a fighter who has thrived on bad blood before.
With a dozen fewer losses, more competitive showings against the champ, and advantage of youth, it's not out-of-line to consider Covington the fighter with more upside or at least more of a future. Let's also point out, though, that using that type of common opponent arithmetic often times doesn't hold any water. The texture of this particular matchup is completely different, with Masvidal representing a totally different package of skills than Usman.
There are a lot of psychological elements at play in this fight, not only for the fighters but those betting on it. It's easy to get stuck on who you want to win, who maybe irritates you more as a fan, or who turns you on as a fan. You have the different personalities of the fighters, their performances, and how the whole beef unfolded between the two, and it's hard not to take sides. But remember, we're not voting for class president; we're trying to pick a winner.
The battle lines are clear. You have a fierce striker in Masvidal against a premier wrestler in Covington. Masvidal has thrived against wrestlers before, but Covington has thrived against feared strikers, as well. Masvidal will be looking to land strikes, either with his quick hands or the same knee that short-circuited another wrestler in Ben Askren. But Covington can ride a guy for 25 minutes, he can absorb shots, and his stamina is different-level. Then again, Masvidal isn't a guy who gasses in fights, so this could be a drawn-out battle.
Covington and Masvidal worked together a lot. You wonder if Covington could have gotten some false confidence from those workouts. While Covington was able to bring the full scope of his abilities to those sessions, the striker Masvidal could not. Masvidal was also the 155-pounder who hadn't come into his own during the bulk of his work with Covington. A lot has changed since then, with Masvidal putting together enough big wins to make him a far more robust and confident fighter than the one Covington used to work with in the gym.
If asking who will win this, I don't mind the idea that Covington perhaps has a small edge. The odds of this fight might overstate that edge to a fair degree. It has the looks of a fight that has a toss-up feel to it, but the odds suggest Covington as being a fairly prohibitive favorite with the Bovada odds of -335. The drawbacks to Masvidal, with the notion that he has maybe soured from the setbacks to Usman, is understandable. I just think in a grudge match like this, he can still be exceedingly dangerous and is getting nice value at these odds. I'll take a whirl on Masvidal.
My Pick to Win: I'm betting on Jorge Masvidal to win at +255 betting odds. Putting some troubling recent career trajectory and certain matchup issues aside, Masvidal appears to be a live underdog at the Bovada line of +255 with his striking and previously-proven ability to deal with wrestlers. Even an ardent Covington supporter would have to admit the value isn't great on him in this matchup.