UFC 277: Peña vs. Nunes 2 Picks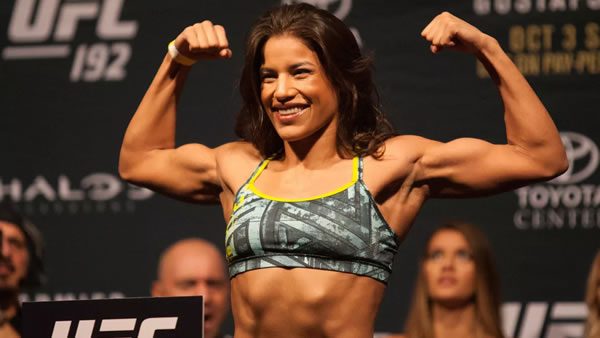 UFC 277: Peña vs. Nunes 2 Picks
When: Saturday, July 30, 2022
Where: American Airlines Center, Dallas, Texas
TV: PPV
UFC 277 features a huge fight in the women's bantamweight division, with a rematch between Juliana Peña and Amanda Nunes. In December of last year, Peña recorded one of the biggest upsets in women's MMA history with a second-round rear-naked choke win over the previously dominant champion Nunes. Can Peña confirm her supremacy in the rematch, or will a more-focused Nunes give way to a better showing from the former champ? Let's break it down!
Fight Analysis
Juliana Peña, 11-4 (3 KOs, 5 Submissions), (+235) vs. Amanda Nunes, 21-5 (13 KOs, 4 Submissions), (-300)
UFC Women's Bantamweight Champion Juliana Peña makes the first defense of her title against the woman she won it from in, Amanda Nunes. This UFC 277 main event carries with it wide implications. Sure, Peña has distinguished herself with the big win over Nunes, but confirming it with a repeat win would bolster her standing immensely. And for Nunes, it's a chance to resume what had been a dominant championship run. There are a lot of moving pieces in this one.
While Peña had certainly distinguished herself as a worthy contender, it surprised many that Nunes lost to a 10-4 fighter who was more or less considered a run-of-the-mill contender in the division who two fights previous had been submitted by Germaine DeRandamie. The notion on the part of many is that Nunes, now knowing what she's up against, will come up with the right recipe this time. One can never be too sure in a sport like MMA
In other sports, a gradual decline is what you see. MMA is a sport where its participants are not afforded a slow coming-down-to-earth period. It can vanish suddenly, and it often does. Granted, MMA is a young sport, so the data might be sparser than other sports like maybe boxing, but one cannot deny the somewhat-rapid turnover in this sport. What was dominant and seemingly unbeatable yesterday might not be tomorrow.
Nunes is now 34, two years older than the new champion. It's not old, but it's not young. She became a pro 14 years ago. Her title-winning triumph over Miesha Tate was six years ago. So you might ask yourself if there is really anything that unusual about what happened to Nunes? After all, how many fighters are still on top after six years as champion? How many can you name that were on top that long? How many fighters are doing their best work in year 15 of their pro career? These are some of the tough questions you have to ask about a former champion looking to get back on top with all this mileage on her odometer.
A fighter like Nunes really had to grind to get to where she ended up. She's a fighter who imposes her will on opponents. Her fights weren't all easy. She can be hit. And after over a decade of taking on a list that reads like the pioneers of women's MMA, one is within reason to start accounting for things like wear and tear as they form their analysis on this fight.
Granted, it was a short window, but there were some alarming things about Nunes in her loss. She seemed a step slow. Her timing was off. She had trouble pulling the trigger and seemed more unsure about herself than normal. And for a supreme striker like Nunes, those things are all sources of concern. And it's no guarantee that the flow, rhythm, and reflexes will return for the rematch.
Whereas some expected Nunes to go out there and bully around Peña, it was actually the challenger who seemed more confident and sharper overall. There was more purpose in her movements. She was able to react quickly to what she wanted to do. She was flowing more freely and seemed more fluid, as opposed to Nunes, who looked almost wooden with a sudden hitch appearing in her movements.
It would be one thing if Peña simply found a way to get Nunes to the ground and then snaked in a choke that ended matters. You could almost justify it as something resembling an aberration at that point. But it was the standup exchanges that allowed Pena to gain the upper hand. This was most surprising against a fighter in Nunes, who is absolutely lethal in stand-up. Unflinchingly, Peña stood in there, relying on her sharpness and edge in quickness, picking Nunes apart en route to the fight-finishing move. Whereas. A lot of previous Nunes opponents were afraid to engage in the pocket, Peña stood in there, using nifty footwork to avoid the big Nunes returns.
The urge when a dominant champion loses is to focus on what they did wrong and how they can correct it in time for the rematch. And while that's part of the equation here, to be sure, it makes it too much about Nunes. Sure, she could see her form return, being that it was a very short window where we saw her not looking herself. That's not something to necessarily etch in concrete. But the things that Peña did right why assume those things are going to go away? Sure, it might be a little different if she tastes Nunes' power this time. But something is telling me that Peña has upped her game and that her fluidity, quickness, powers of anticipation, and fight IQ will be enough for her to navigate her way to the winner's circle again. I'll take Juliana Peña to win.
My Pick to Win: I'm betting on Juliana Peña at +235 betting odds. While the possibility is strong that Nunes can rediscover her form, I prefer to see the first fight being a result of what Peña did right. I think she can do it again at a nice underdog quote from Bovada. Bet your UFC 277 predictions for FREE by taking advantage of a 100% real cash bonus on your first deposit up to $300 when you use bonus code PREDICT100 at MyBookie Sportsbook!