UFC Fight Night – Fight Analysis 8/29/20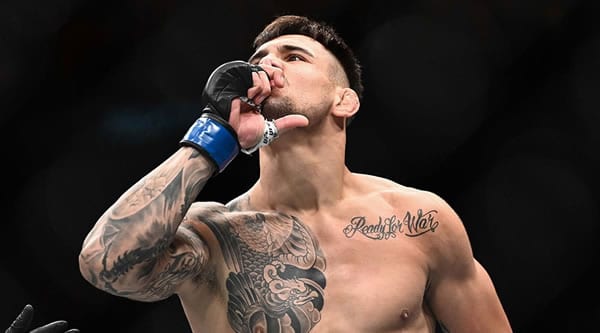 UFC Fight Night: Smith vs. Rakic Picks
When: Saturday, August 29, 2020
Where: Apex Center, Las Vegas, Nevada
TV: ESPN
Fight Analysis:
UFC Fight Night from the Apex Center in las Vegas features a top-heavy bill with two high-stakes fights at the top. In the main event, light heavyweights Anthony Smith and Aleksandar Rakic will battle in a 205-pound fight where the winner will likely land a big fight while the loser goes further to the back of a long line. In the 170-pound co-main event, former UFC Welterweight Champion Robbie Lawler battles Neil Magny. Let's see what we can come up with for UFC Fight Night on August 29.
Anthony Smith, 33-15 (18 KOs, 12 Submissions), (+225) vs. Aleksandar Rakic, 12-2 (9 KOs, 1 Submission), (-305)
Anthony Smith takes on Aleksandar Rakic in a 205-pound bout in the main event from Las Vegas. It's a crossroads five-rounder, with the veteran Smith trying to remain a contender, while the younger and newer Rakic is trying to become one at Smith's expense. Smith is the vastly more-experienced fighter, as he has more losses than Rakic has fights. So who will get the upper hand in this one?
With a lot of high-profile fights in recent years, Smith is the better-known commodity. But Rakic, 28, is a nice prospect whose only loss in the UFC and since his pro debut was a split decision to Volkan Oezdemir in his last fight. He really wants to get back on the winning track with a win over a big-name opponent in this fight. A very angular light heavyweight at six-four, the Austrian is a versatile striker, while also being very skilled in the area of delivering and stuffing takedowns. He really mixes it up, while being very active. In scrambles or other moments of transitions, he is very alert and often very dangerous when he lashes out. A 42-second KO over former top contender Jimi Manuwa two fights ago underlines how suddenly he can end fights.
He has still yet to get to the heights Smith, 32, has climbed in this sport. One of his wins leading up to his gutsy but unsuccessful title bid against Jon Jones was over the very man who beat Rakic in his last fight. And after losing to Jones, he managed a submission win over top contender Alexander Gustafsson. But his last fight in May, a brutal fifth-round stoppage loss to Glover Teixeira, was a taxing loss. A roundly-criticized fight for lasting at least five minutes too long, Smith was beaten down with an almost sickening emphasis.
In other words, it's only fair to wonder about Smith's odometer at this point, especially when juxtaposed against the fresh Rakic. Although not old chronologically at 32, the road to the title was one with many wild turns. These recent drawn-out and punishing five-rounders, particularly his last one, might have robbed him of a little bit of his edge. Sure, he's a hardcore veteran who has shown immense inner-resource to get to this spot. But if someone told you minutes after the Teixeira beatdown that he would be back in August, it would at least raise an eyebrow.
Therefore, despite having failed at this level in his last fight, Rakic is a robust favorite, dare I say too robust. While we want to take note of the wear and tear of Smith in recent fights, he still beat the guy who beat Rakic in his last fight, has succeeded at this level before, and has scaled heights Rakic has yet to show he can climb. Add it all up, and I think you get a pretty decent underdog choice in Smith at these odds.
My Pick to Win: I'm betting on Anthony Smith at +225. The quick turnaround after his loss to Teixeira in May is a concern, but I think it has gone too far the other way in Rakic's favor, giving some real value to Smith at this number. Bet your Fight Night picks for FREE by taking advantage of a 100% real cash bonus where you can deposit anywhere from $100 to $300 and receive a dollar for dollar matching credit/bonus to your account! Find this great offer at MyBookie Sportsbook!
Robbie Lawler, 28-14 (20 KOs, 1 Submission), (+170) vs. Neil Magny, 23-7 (7 KOs, 3 Submissions), (-210)
Former UFC Welterweight Champion Robbie Lawler takes on Neil Magny in a 170-bout in the co-main event. It's a must-win for both men. For Lawler, another loss at this juncture could be it for him. And for Magny, this could be his last chance to make a run. I think the urgency of both men's situations should resonate in a high-energy fight that isn't necessarily that easy to pick.
With Lawler, it's a time in his career where it's right to ask what he has left. He has been a pro since 2001, making his UFC debut just a year later. That's almost two decades at near or at the highest level. He has a ton of mileage on his body. Counting him out has come at an extreme cost before when he was on a big losing run when the UFC absorbed Strikeforce in 2012. He then won 8 of nine, won the belt, fought in a bunch of title fights, and made a lot of money in the process.
With three losses in a row, does Lawler have another run in him? The losses were to good fighters, guys with a higher status than Magny. There isn't anything to suggest he can't still hang in there in this reduced context, but it's fair to say the best Lawler is in the rearview. A career resuscitation seems hard to fathom. But that doesn't mean he can't thrive in this spot.
After all, Magny hasn't exactly fulfilled his promise. At one point, Magny was a heralded prospect—a multi-dimensional six-three welterweight with a seemingly big future. A few losses set him back, but maybe he has turned the corner. Four wins in his last five fights suggest a resurgence. The opposition wasn't great, and whenever he has stepped up, it usually comes with disappointment. He doesn't get a lot of finishes and isn't always the most thrilling 170-pounder to watch. But he won't go away. He has been winning, and his head is filled with recent triumph, while Lawler has tasted victory just once since January of 2016.
Granted, it isn't easy to get behind Lawler at this point, following a long and draining career and three straight defeats. But in a reduced context receiving a favorable betting quote, I think Lawler has shown enough, even in defeat, to suggest he's not out of his element here. The thought of a worn-down slugger catching a mobile six-three opponent might not be that appetizing overall, but I think Lawler might be more in his wheelhouse here and I like him to get the win.
My Pick to Win: I'm betting on Robbie Lawler at +170 odds. Granted, we've arrived to the point of diminishing returns with Lawler at this stage of his career. But the urgency of his situation, combined with the fact that Magny isn't as good as Lawler's recent opponents, makes this somewhat of a toss-up. With Lawler getting a favorable quote, I see the value lying with him. Yes! There are indeed online sports betting sites that still accept credit cards for deposits! You'll also get a 50% bonus up to $250 FREE and they give you rebates on your action! Find all this good stuff and more at one of the web's oldest sportsbooks: Bovada!