Volkanovski vs. The Korean Zombie Picks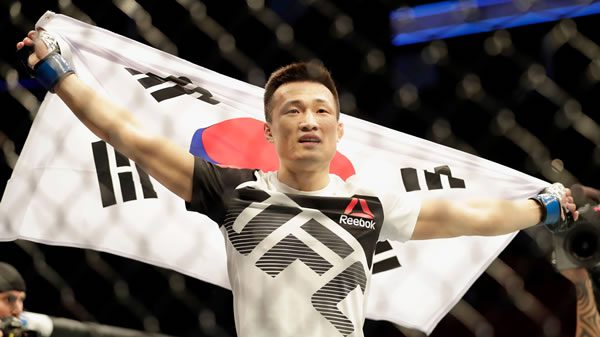 UFC 273: Volkanovski vs. The Korean Zombie Picks
When: Saturday, April 9, 2022
Where: VyStar Veterans Memorial Coliseum, Jacksonville, Florida
TV: PPV
UFC 273 features a big card, headlined by the UFC Featherweight Champion Alexander Volkanovski, as he defends his belt against the "Korean Zombie," Chan Sung Jung. It will be the third defense for Volkanovski since he won the belt from Max Holloway. After a controversial rematch win over Holloway and a decision win over top contender Brian Flores, Volkanovski was going to fight Holloway a third time. An injury, however, forced Holloway out, and in comes the Korean Zombie, a name bestowed on the featherweight contender for his ability to keep moving forward no matter what. Let's break this 145-pound title fight down!
Fight Analysis
Alexander Volkanovski, 23-1, 11 KOs, 3 Submissions), (-400) vs. Chan Sung Jung, 17-6, 6 KOs, 8 Submissions), (+300)
Alexander Volkanovski defends his UFC Featherweight Title against longtime contender Chan Sung Jung. Volkanovski's story is pretty amazing. A former rugby player who clocked in at over 200 pounds turned 145-pound UFC champion. He has not lost a fight since his fourth fight nine years ago when he was fighting at 170 pounds. After beating Ortega in September, he now turns his attention to his next challenger, the veteran contender Chan Sung Jung.
A year older than the champion at 34, the Zombie is getting his second crack at the 145-pound belt, having lost in a 2013 title bout to Jose Aldo. Now nine years later, he gets his second crack. The loss to Aldo led to a hiatus of nearly four years. And since returning, the Korean contender has had his share of ups and downs. He has lost to Ortega and Yair Rodriguez while scoring wins over contenders Frankie Edgar and Dan Ige. With the Korean Zombie, you have a fighter who has won some and lost some but has tangled with top 145-pounders for over a decade.
Some could have difficulty pulling the trigger on this underdog pick, especially when contrasting him with his opponent. While Volkanovski has been winning, and his only loss was out of view and gone from the memory, it's not too hard for a UFC fan to recall a time the Korean Zombie came up short at one point or another. While Volkanovski has been rolling over contenders, his opponent has won some and lost some, establishing himself as a dangerous contender but perhaps not identified as a future champion.
BET YOUR UFC 273 PICKS FOR FREE! SIMPLY SIGN UP FOR AN ACCOUNT AT MYBOOKIE, DEPOSIT $100 TO $300 AND USE BONUS CODE PREDICT100 AND THEY'LL GIVE YOU A MATCHING DOLLAR FOR DOLLAR 100% REAL CASH BONUS!
I wouldn't rely on that when breaking down this fight. Long hungering for a UFC champion, the Korean people are squarely behind the Zombie, who could become a national hero in one fight. I'd imagine the high stakes are not lost on him, nor is the urgency being that this is likely his last chance to make a monumental impact on the sport. I would expect to see the Korean Zombie coming into the ring accordingly, with this being his final big shot. Having a crystal-clear understanding of the situation, I'd expect the Zombie to really go for it.
I'd be a little concerned about a shoulder injury for the Zombie, which forced this fight to be pushed back a month. That doesn't seem like enough time to recover, but one has to imagine he will be good to go. He's a fast and athletic fighter. He has a long reach for his weight, a kickboxing background, and a ground game that could give him the advantage in this fight, at least when it comes to threatening with a submission. He has the ability to play it safe and peck and poke as his skills carry him to a win, but he is a fighter with the spirit of a warrior, and what we end up seeing is usually a lot of aggression.
Volkanovski has been on a rampage, even if you don't think he deserved the second decision against Holloway. His fight of the year against Ortega last year told you all you need to know about the champion. He is proficient in all areas, bolstered by a strong will to win. You really have to beat him, as he won't undermine himself. In this bout, he will be hoping that he's not lost on the ground, hoping to keep the fight standing up, where he could conceivably pick apart the challenger. At the same time, the Zombie won't be out of his element no matter where the fight goes.
The Korean Zombie can be exceedingly awkward. His style can't really be replicated by any of Volkanovski's training partners. It's just that it's not easy to picture Zombie out-striking Volkanovski, as his success in that area could come down to just landing big shots. I don't think he can out-grapple the champion, either, as Zombie's biggest threat on the ground will be his submissions. And Zombie has sunk in some memorable submissions before, but this is Volkanovski. And if the champ proved anything in his last fight, it's that he has great submission defense and what causes other men to tap might not elicit the same resignation from the iron-willed Aussie.
You could do a lot worse than Zombie at an underdog price. He can finish standing up or on the ground. And with his urgency, finishing ability, and experience, blowing off his title-winning prospects in this fight is a fool's game. But I just don't think it's going to happen. I don't think the Korean Zombie will bring anything that Volkanovski hasn't dealt with before. I see the champion having the edge in stand up while being able to neutralize his opponent's game on the ground with his superior grappling. I think a comfortable decision win for Volkanovski is the most likely result here. I'll take the champion.
My Pick to Win: I'm betting on Alexander Volkanovski to win at -400 betting odds. I think the Bovada line of -400 can be exploited here some, with Volkanovski likely needing to commit an uncharacteristic mistake to lose this one against a contender with credentials but also one who has tasted defeat numerous times. Another great sportsbook offering UFC betting an a FAT initial signup bonus is Betnow!