Amir Khan vs. Kell Brook Fight Analysis & Picks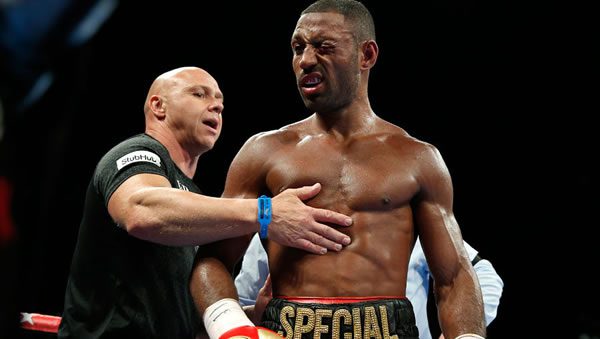 Amir Khan (34-5, 21 KOs) vs. Kell Brook (39.3, 27 KOs)
When: Saturday, February 19, 2022
Where: Manchester Arena, Manchester, England
TV: Sky Sports Box Office
Weight Class: Welterweight
Betting Odds: Amir Khan +135, Kell Brook -175 (Bovada – Offers a 50% bonus up to $250 in free bets! You can bet on the fight live-in-progress too!)
Former world champions Amir Khan and Kell Brook will battle it out in Manchester on February 19 in a welterweight bout. These are two of the more-talented fighters from around this weight to emerge out of England in recent years. Both have scored a slew of wins that captured the attention of fans worldwide. After some ups and downs, they will intersect on February 19 in a fight that should garner a fair amount of interest.
Fight Analysis
I suppose bemoaning fights that didn't happen won't get us anywhere here, but this might be one of the more overdue big-name pairings in recent memory. This is a good 7-8 years past its ideal selling point. Rather than two fighters who are pushing a championship agenda, you have a pair of played-out warriors facing the clear end of their respective careers. Neither man has another run in them, which is a strange thing to say, being that they are not chronologically that old at 35. But sometimes, when you expect less, you get more. This might actually turn out to be a good fight.
The conditions make it hard to gauge each man's respective motivation levels. When you're no longer building a career, and you've mentally already acknowledged that you are at the end, how much are you prepared to endure in the ring to get a win? Is it a money grab? Or will a long-seething domestic rivalry give way to a spirited bout where two proud warriors are committed to going out on a solid note?
The main question for Khan backers is whether or not he's still viable after a long layoff. After losing to Terrence Crawford in April of 2019, he fought in Saudi Arabia a few months later and will come into this fight on the heels of a 19-month layoff. In the last seven years, he has fought six times. Not that Brook has been a ball of fire recently, but he fought Crawford as recently as November 2020 and at least has some recent activity.
It's still hard to break down who has been the more-viable fighter as of late while also considering who may be more spoiled goods. Khan has been stopped, but with that coming at the hands of Canelo and Crawford, you want to maybe give him a pass. Still, his chin has always been an issue. Having now been stopped three times and not having been active, how reliable is his punch-resistance?
Alas, Brook has not gotten off easy in the punishment department. He never seemed to fully bounce back from the 2016-17 losses to GGG and Errol Spence. The Triple-G beating, in particular, was a punishing affair in which facial bones were fractured. Since then, he toned down his schedule, and while scoring the occasional good win and flashing some of that old flair, he has never approached the status he once held. In the end, you have two damaged warriors, but still, ones who have flashed immense talent.
Khan was always a prodigiously-gifted offensive fighter. If he were just blessed with the gift of durability, he'd have been a legend in the ring. Not that he has done badly, winning a silver medal in the Olympics at age 17 and winning world titles in different weight classes. But his punch resistance was always an outstanding issue and prevented him from reaching the top levels of boxing stardom. It's not that hard to envision Khan dazzling Brook with his speed and combinations. But where does Khan stand in the area of accepting returning fire?
Brook may not have possessed the eye-popping offense that Khan had, but he has generally been the more-reliable fighter. And even in his losses, he fought with distinction, having a close fight with Spence before the wheels came off, in addition to giving GGG some anxious moments in their bout. He didn't really show much against Crawford in his last fight, but that can apply to Khan too, being that the supreme welterweight champion is clearly out of both men's wheelhouses at his point in their careers.
One can understand Brook being a -175 favorite in this spot. Those numbers might have been flipped when these fighters were in their prime. With Khan's inactivity, maybe the script has flipped some. Brook would appear to be the better candidate to put on a good performance. With Khan having not shown much recent interest in fighting, only to be lured out of retirement with a big payday against a noted rival, one wonders how close he will be to the Khan we know and recognize.
But perhaps they're closer to each other than what we think. It wasn't that hard for Crawford to repel Brook, whose days as a top battler are finished. And when it's over, it's over. It might not matter how long it has been over for those looking to attach value to the fact that Brook has been more recently viable. I can fathom a situation where Khan's whirlwind offense makes for a difficult night for Brook, who might not have it in him any longer to soldier through tough fights to get the win. In what surely qualifies as a speculative-type wager, I'll take a whirl on Khan in a fight where any number of possibilities seem viable.
My Prediction to Win the Fight:
I'm betting on Amir Khan at +135 betting odds. While his chin is ultra-iffy at this stage of his career, to be getting an underdog quote on a fighter as offensively gifted as he is going against a spent force in Brook could pay off. Bet your Khan vs. Brook prediction FREE by taking advantage of a 100% REAL CASH bonus on your first deposit of $100 to $300 at MyBookie Sportsbook! (Must enter bonus code PREDICT100).