Devin Haney vs. George Kambosos Fight Analysis & Predictions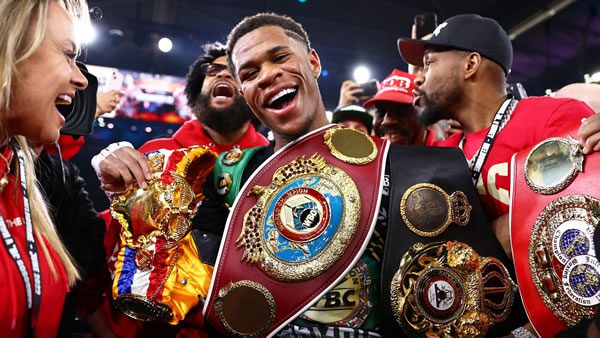 Devin Haney (28-0, 15 KOs) vs. George Kambosos (20-1, 10 KOs)
When: Saturday, October 16, 2022
Where: Rod Laver Arena, Melbourne, Australia
TV: PPV
Weight Class: World Lightweight Championship
Betting Odds: Devin Haney (-800), George Kambosos (+500)—BetOnline
Fight Analysis:
Devin Haney defends his lightweight titles against George Kambosos in Melbourne on October 16. This is a bit of a quick turnaround by modern boxing standards, with Haney coming off a title-unification win over Kambosos in June, also in Melbourne. In a fight that was scored a little closer than it seemed, Haney was largely dominant against the previously unbeaten Aussie, winning a clear unanimous decision where his jab and sharpness prevailed against the dogged ex-champ. Will anything be different the second time around?
With Kambosos losing his belt against Haney, we've seen that belt fall into a cycle of one-and-dones, with it being shuffled from Lomachenko, then Lopez, then Kambosos, and now to Haney. That cycle might end with the gifted 23-year-old Haney, a renowned amateur who has been on an ascent since turning pro shortly after his 17th birthday. He was dominant and thorough in his first fight with Kambosos, and it's not entirely clear if Kambosos can do much about it. The faraway site of the first fight didn't flummox Haney, nor did the dogged and determined style of Kambosos, who is a talented and aggressive fighter in his own right.
The 29-year-old Kambosos, who gives up small advantages in height and reach, is really up against it, almost cornered with this immediate rematch clause. Sure, he gets the rematch back at home. And he now knows what he's up against with Haney. He's not a run-of-the-mill fighter who is going to go through this same exercise again without making adjustments. He knows that it's going to take more than occasional frenetic spurts to tame the lion that is Haney.
That educated style of Haney, however, is a real demon for Kambosos. Haney is deadly-fast, utilizes his jab expertly, and is very accurate and sharp. He controls distance, angles, and overall ring geography with his quickness and the innate know-how developed over a lifetime of boxing. Kambosos, having seen first-hand what Haney can do, does not mean he will come up with the recipe to overcome it.
50% Cash up to $250

In a sport that is less dependent on the overall standing of fighters as it is their individual styles, Kambosos and his backers face the possibility that the champion is all wrong for Kambosos. The Aussie doesn't really have the power to trouble Haney, even if he's able to cut him off at the pass. Kambosos relies on volume, intensity, and aggression to overwhelm foes. Those are things Haney can handle. What you'd want to see with Kambosos is ring IQ, power, and versatility. When you're facing a supremely nimble fighter with several inches in reach who is pumping a jab into your face, it has a way of muting the things you normally do well. And if the first fight was any indication, Kambosos will need to at least partially revamp his approach, and we don't know if he can.
In the first fight, we saw two judges score for Haney only by scores of 116-112, suggesting that home-cooking could be afoot. I didn't see Kambosos winning more than a few rounds, and 116-112 seems a wider score than it really is. If they ramp up the home-country mojo another notch in the rematch, it's not that hard to turn 116-112 into 115-113 for Kambosos. They just couldn't possibly do it in the first fight with Haney so dominant. A score for Kambosos would have been a laughingstock. But you can almost sense that they were trying to steer it that way.
Not that the judges will be dead-set on preserving the power of Aussie boxing. And not to suggest that Australia has done anything to distinguish itself as being abnormally favorable to home champions. But at the underdog price of +500, you're not only getting a deeply-talented fighter like Kambosos, but you're getting a fighter who isn't likely to get knocked down who knows what he's up against fighting with judges who might be more sympathetic to his cause. Maybe if you were an official in Australian boxing, you'd have a similar sentiment, even if it were unconscious—not wanting someone to come to your country, take the shine from one of your only true stars, and then disappear back to the States, never to return again. These things have resonated in this sport before and could again.
It still doesn't speak well of a fighter's cause when his hopes are overly wrapped up in the notion of possible monkey business and home cooking. In a straight-up sense, it's hard not to like Haney along any lines you want to choose. The battle of styles is a pronounced edge for Haney, as is his quickness, ring generalship, and almost everything else. Haney is going to do big things in this sport, and when he does meet his match, it will be against a real monster. And not that Kambosos isn't the real deal, but as time goes on, maybe that one key win against a decidedly-off Teofimo Lopez will look more like a fluke. I'm taking Haney in this one.
My Prediction to Win the Fight:
I'm betting on Devin Haney at -800 betting odds. While the BetOnline line doesn't look terribly appetizing on the surface, it could be easy loot in a fight where almost every scenario shakes out for the reigning champion.