Josh Taylor vs. Jose Ramirez Fight Odds & Picks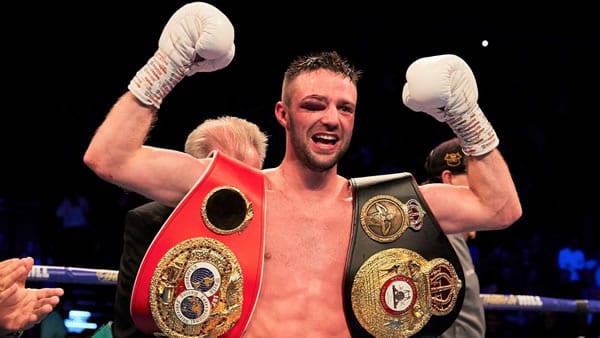 Josh Taylor (17-0, 13 KOs) vs. Jose Ramirez (26-0, 17 KOs)
When: Saturday, May 22, 2021
Where: Las Vegas, Nevada
TV: ESPN
Weight Class: World Super Lightweight Championship
Betting Odds: Josh Taylor (-220) Jose Ramirez (+180)
Fight Analysis:
Josh Taylor and Jose Ramirez will battle it out for 140-pound supremacy in a super lightweight unification bout on May 22 in Las Vegas. With Taylor holding the IBF and WBA titles, with Ramirez holding the WBO and WBC belts, the winner of this bout will become one of the precious few undisputed champions in this era. And while neither Taylor nor Ramirez have achieved much crossover appeal, real boxing fans know what they have in store in a fight for all the marbles between two unbeaten titleholders.
These men have some things in common other than their unbeaten records. Ramirez is 28 and Taylor is 30, and each man is squarely in their prime. Distinguished amateur careers laid the foundation for successful pro careers. Taylor won the Commonwealth Games as an amateur and moved quickly as a pro. Ramirez represented the USA in the Olympics, propelling him to a promising pro career that has culminated in this spot. Both men are also tall for 140 pounds at 5'10."
Taylor has been moved quicker, and being the Ring Magazine champion after 17 fights means a lot. After just ten fights, he stopped former lightweight champion Miguel Vazquez, and just two fights later was beating one of the better men in the division in Viktor Postol. A few title defenses later, he met fellow unbeaten champ Regis Prograis, winning a decision and solidifying his status as the man to beat at 140 pounds.
Ramirez' rise was more typical, a slower build-up process that eventually led to sterner tests. A win over Amir Imam saw him win his first belt, but he didn't really get noticed as a real threat at 140 until beating Maurice Hooker and the aforementioned Postol, his last fight in August. And if using that Postol fight as a barometer, Taylor would have the edge with the more conclusive win, though that type of arithmetic often doesn't play out according to form.
At the same time, there has perhaps been something more impressive about Taylor's work. And it's not just how he took over the division in such a short time. But despite having nine fewer fights, he's been in the tougher spots, being the first of the two to beat Postol, doing it better, and also in beating Prograis. Both men have two world title belts, but something seems more-legit about Taylor's title claim, in addition to his overall body of work.
We'll see how Taylor does against a fighter of Ramirez' caliber who can also match up with him well physically. At the same height and with a several inch advantage in reach, Ramirez won't be picked apart from the outside as some of Taylor's former opponents have. And Ramirez has a certain doggedness, stamina, and resolve that might surpass prior Taylor opponents, as well.
Taylor, however, seems to be the more-explosive guy. His offense resonates with the authority of crispness. There is a certain suddenness to his punches, and it manifests with stunning clarity. Taylor is snaky in the ring, as he slithers in shots while using great footwork to get the most out of his positioning. Compared to Ramirez, his offense registers at a higher frequency. And defensively, he is the more-responsible fighter. Not that defense is an afterthought with Ramirez, but let's say it's an area of his game that lags a bit behind his offense.
DEPOSIT $100 TO $1000 AND GET THAT SAME AMOUNT ADDED TO YOUR ACCOUNT AS A 100% REAL CASH BONUS! FIND THIS KILLER OFFER AT BETNOW SPORTSBOOK!
That does not mean Ramirez is without hope just because he suffers some deficits in the area of offensive crispness and defensive acumen when compared to Taylor. Ramirez fights with a lot of passion. While not a typical one-punch KO hitter, his power has been a factor in some of his biggest wins, namely his demolition of the previously unbeaten Hooker in their unification bout. Still, in two of his last three wins, he won by only majority decision, and as he progresses up another notch here against Taylor, one wonders if he is really cut out for this level. And after nearly a decade as a pro, Ramirez basically is who he is.
That doesn't mean he isn't subtly getting better. He seems to be more-comfortable in who he is—a pressure fighter who might not have the talent of other top fighters but compensates for it with willpower and tenacity. Over a 12-round haul, the pressure he can exert is considerable. He isn't easily discouraged. He has shown himself to be durable, and that trait could come in handy against Taylor, who can really zing a guy.
I just forecast some trouble with the winning case of Ramirez. It's tough when the other guy has the better offense and better defense and is a superior puncher. Other than some vague notion that Ramirez could somehow overcome all this by being dogged and insistent, he might be a bit outgunned. The edges are considerable. Taylor has more power in his single shots. His punches are crisper. He's harder to hit. His movement is more purposeful. His best wins are more impressive. A summary of their respective skills doesn't paint Ramirez in that great of a light.
Still, this is Taylor's first big fight in Vegas. He has fought stateside twice before, but this is a different context. And in a unification title match, one could conceivably make the case that the more-local fighter in Ramirez could be extended the benefit of the doubt in a close fight. It's the same trepidation one would have betting on an American fighting in Wembley, where success is a little harder to come by. I still don't think it's going to be enough, and I favor the crisper, more explosive work of Taylor and see it being enough to get him this big win. I'll take Taylor.
My Prediction to Win the Fight:
I'm betting on Josh Taylor at -220 betting odds. It's nothing against Ramirez, but it's his misfortune to be running into a talent as robust as Taylor. I think Taylor is on his way to some big things and that Ramirez is a solid notch below what he needs to be to take Taylor in this one.