Saul "Canelo" Alvarez vs. Rocky Fielding Fight Analysis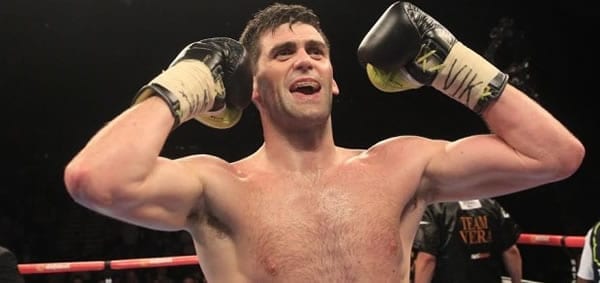 Saul "Canelo" Alvarez (50-1-2, 34 KOs) vs. Rocky Fielding (27-1, 15 KOs)
When: Saturday, December 15, 2018
Where: Madison Square Garden, New York City, New York
TV: DAZN
Weight Class: WBA Super Middleweight Title (168 Pounds)
Betting Odds: Canelo Alvarez (-1200), Rocky Fielding (+600)
Fight Analysis:
Rocky Fielding of Liverpool defends his WBA Super Middleweight title against one of the sport's biggest stars in Canelo Alvarez. The 31-year old Fielding might not be known by fans on this side of the pond, but he's a capable 168-pounder, and if nothing else, the biggest fighter Canelo has faced. Alvarez, 28, is fresh off a September 15 win over GGG, with this being a fight not many expected so soon after such a tough fight against his arch-rival. Can Fielding catch Canelo looking past him or will Canelo overpower and out-skill a fighter in Fielding who might not quite be up-to-snuff for a challenge of this nature?
We more or less know what we have with Canelo. His skills and mettle have been tested against many different types of top opponents. But how good is Fielding? That depends on how you want to look at it. There certainly are some things to like. But is he really a champion? The WBA has descended into total madness with multiple reigning champs within the same division. It has created an indecipherable mess where it's hard to identify who the real champ is and who is second-fiddle. The real WBA title was contested between George Groves and Callum Smith. Smith won by KO and just so happens to be the only man to have beaten Fielding—by first-round KO. That puts Fielding's title claims into a pretty dubious category.
But let's not let that dictate what Fielding is as a fighter. His only setback was to a really good fighter in Smith, who is likely the top 168-pounder in the world. And a first-round KO, while the most-emphatic of wins, can also be the most-misleading. While it might speak to Fielding's limitations at the upper reaches of the sport, he was caught cold, before he had the chance to warm up to the task. A lot of people with negative opinions on Fielding and his chances in this fight will be overly-focused on that result, which could be a mistake.
Physically, there are some things to like about Fielding in this matchup. He will tower a bit over Canelo with his height of 6'1" and a reach of 75 inches. He has nearly half a foot on Alvarez in both height and reach. He's been at 168 his whole career, with Canelo only recently having fought at 160 pounds. So there is a size difference. And that might be the only advantage that Fielding carries into the ring with him. But that doesn't mean he can't fight.
Fielding can vary his attack well, striking with straight and looping punches, while punching in combination. He has nice legs and feet that allow him to reset quickly and punch while in-range. He can work the body. He puts his weight into his shots and has good power. But against a sharp-shooter like Alvarez, some liabilities pose issues. There is a certain ungainliness to his approach. His arms are a lot longer but seem to take a long time to get organized for an offensive attack. It gives his boxing a lack of coordination that you don't see with top fighters at this weight.
Another concern is more a byproduct of Fielding's stature—something for which he cannot be blamed. He's got that tall/narrow-shoulder/long neck problem, which results in his head being quite unprotected. His head sticks up in the air. His chin isn't tucked into his chest and protected by a thick neck or wide rolling shoulders. It even looks easy to hit him, with his head protruding upward like a lollipop. Canelo has been able to land his best punches against guys who can play defense, against guys whose heads are more-protected. Fielding's noggin represents one of the easier targets presented to Alvarez in recent memory.
Still, it's a weird fight for Alvarez to take, isn't it? If one didn't know any better, they'd think he was looking for a way to clear the room of whatever lingering stink remains from his second iffy decision win over Golovkin. It's like he's looking for the quick-eraser for that fight, a way to infuse a different topic into his career narrative. The GGG rematch was a punishing encounter, one that resulted in Canelo having a busted-up face and a nice cut, to boot. If looking for daylight for Fielding in this equation, this is where it might lie, other than him simply being the bigger man. It's a random fight to take where Alvarez might not be fully-recovered and totally pumped-up. When a football team has to play the Chiefs, Patriots, and Rams in consecutive weeks, it's hard to get up for the Bills.
But luckily for Canelo, he looks to be in with the right company in the event that he's not 100%. And you don't get to be a boxing superstar by phoning it in and losing to lesser likes. Even if he just shows up, he already has edges in a lot of areas. He is a more "together" fighter. He's simply a better athlete. His punches and body move in a fluid and economical way. He's zero-to-sixty in no time at all, while Fielding has to coordinate a lot of levers and pulleys to launch an attack. His punches arrive with a suddenness that Fielding in incapable of reproducing.
On defense, Fielding does have some reactive ability, as he is adept at getting out of the way of shots. But it's more of a defense based on a shot-by-shot basis, as he's reduced to basically reacting to individual shots as they are thrown. Canelo's defense is more of a system. He isn't squared-up, as he stands to the side and positions himself away from his opponent's shots. And he has that wide frame, with broad shoulders and a squat neck, so that his chin isn't easy to find with the kind of looping shots that Fielding throws for power. And Canelo's wide arms also help cover his body and chin.
At the end of the day, how you feel about Canelo and whether he's more of a manufactured force than a genuine one is irrelevant. That's not the level at which this specific fight takes place. At the very least, he has shown he is elite. How elite he is, remains up-for-debate. In any event, Fielding is not up for this task. In all reality, he's a top-15 super middleweight. And no size advantage or the possibility of Alvarez looking past this is enough to trump the gulf in skills and talent in this matchup—a gap so wide it makes the Grand Canyon look like a sidewalk crack. I'm going with Canelo.
My Prediction to Win the Fight:
I'm betting Saul "Canelo" Alvarez at -1200. Alvarez is far too-talented and experienced for Fielding. He has superior athleticism and an edge in every viable category other than sheer size. As the fight grows closer and a total is posted, a position on the "under" could likely be substantiated, as this has all the earmarks of a mismatch.