Sergey Kovalev vs. Bektemir Melikuziev Odds & Prediction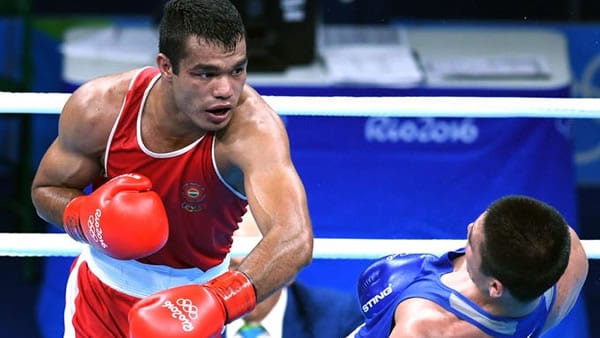 Sergey Kovalev (34-4-1, 29 KOs) vs. Bektemir Melikuziev (6-0, 5 KOs)
When: Saturday, January 30, 2021
Where: Luzhniki, Moscow, Russia
TV: DAZN
Weight Class: Light Heavyweight: 178 Catch-Weight
by Loot Levinson of Predictem.com
Betting Odds: Sergey Kovalev (+250), Bektemir Melikuziev (-300)
Fight Analysis:
Former World Light Heavyweight Champion Sergey Kovalev takes on up-and-coming prospect Bektemir Melikuziev on January 30 in Moscow. This bout will be held at a special catchweight of 178 pounds. For Kovalev, this is a big chance to breathe some life into his career after being knocked out by Canelo last November by beating a rising commodity in Melikuziev. For the youngster, 13 years Kovalev's junior at 24, this would fast-track his career, which is barely 18 months old. It's a classic battle of young vs. old, and in Russia, this will be a high-stakes fight. Who can get the upper hand on January 30?
This fight is very unique on some different levels. You have a fighter in Kovalev who has been at the top of his division for a decade, having made a lot of money in some high-profile fights going back a number of years. He has been in there with the best, and a lot of people still think he beat now-retired and undefeated Andre Ward in their first fight. You don't usually see a fighter with Kovalev's credentials crossing paths with a six-fight pro like Melikuziev. And making the youngster's challenge even more-lofty is that he is a super middleweight taking on a light heavyweight with added poundage at the 178-pound catchweight.
It is a calculated move on the part of the Melikuziev brain-trust. The thinking is that Kovalev still has a big name, one fight removed from a big fight with Canelo. His name still has pop. But he's spoiled goods, on the downside of his career, and not near the force he once was. Kovalev was an assassin in the ring, combining fearsome power and underrated skill to reign terror on the 175-pound division for a long time. But the mileage began accruing, and he became a little more brittle. After being stopped by a smaller fighter in his last fight, Melikuziev is hoping to do it again. But he's no Canelo.
Even if you sign off on the notion that Kovalev is washed up, it's still a massive leap up in class. And let's take a closer look at Kovalev and whether or not he's really through. After a long championship run that culminated with two fights with Ward, he began to fray a bit, winning a few fights before being knocked out by Eleider Alvarez. But it's what happened after that, which shows he still has something to be accounted for. He exacted revenge on the capable Alvarez, winning a decision, before waging war with Anthony Yarde and forging a big late-KO win. And sure, an 11th-round KO loss to Alvarez where he took some punishment and some outside-the-ring legal issues may have him an even lesser version of himself than he was a year ago, sticking a fork in Kovalev could be a bit premature.
Again, the case of Melikuziev jumping in the ring with "The Krusher" in his 7th fight seems curious, but some good things are in place. First off, he's a blue-chip prospect of the highest order, featuring an amateur record that was stellar and included gold medal wins in world championships, as well as an Olympic silver medal in 2016. The Uzbekistani southpaw is now based in the states, and this will actually be his first pro fight in Russia. He has been put on an accelerated track since turning pro, while having not beaten anyone too fantastic yet, the most familiar name on his ledger being upset-specialist Clay Collard.
It's easy to understand the enthusiasm around Melikuziev. A somewhat squat, thickly-muscled aggressor, he lashes out suddenly with quick shots that do a lot of damage. He goes hard to the body, always a concern with Kovalev, but especially in this more-brittle later stage of his career. The concern with Kovalev isn't his offense so much. He can still lash out with hard shots, and his right-hand would theoretically be a good matchup-element against his left-handed opponent. But it's how he takes the punishment, and against Melikuziev, that's the worst shortcoming to have. He really gets after it and punishes his opponents.
Kovalev is bigger and longer than his opponent. His jab is an underrated weapon that can sometimes control distance. His punching power is still a problem for opponents. Melikuziev, with his long amateur pedigree and having been fighting unexceptional 168-pounders, is likely to experience punching power, unlike anything he has experienced. And sure, he looks the part of a durable fighter who can take damage, having not so much as flinched from anything so far. But you just never know.
I think the size will be reason for Kovalev backers to be more confident perhaps, but it might not be the factor they're hoping it will be. In fact, an aggressive smaller fighter who is faster with a higher work-rate might not be what the doctor ordered for Kovalev at this stage in his career. Kovalev needs to fight at a certain pace and dictate the terms. With this smaller fighter attacking quickly, Kovalev really needs to make some big early statements and catch Melikuziev coming in, or he could run the risk of getting run over.
Kovalev is a proud warrior fighting in his home country with his back against the wall career-wise. Expect some resistance. If this turned out to be a terrible miscalculation on the part of Melikuziev and his management, it wouldn't be the first time. Not everyone can make this jump. I just see the conditions being about right. I don't think Kovalev has the stomach anymore for long protracted wars against this level of opponent. I see Melikuziev bringing the curtain down on Kovalev. I'll take youth over experience in this battle.
My Prediction to Win the Fight:
I'm betting on Bektemir Melikuziev at -300 betting odds. At this point in his career, Kovalev might be reduced to having a "puncher's chance." If that power doesn't surface in quick and resounding order, this has the looks of an extreme uphill battle for the old ex-champion. Place your bets for free this week by taking advantage of a 100% real cash bonus offer on your first deposit of $100 to $1000 at BetNow Sportsbook!