Terence Crawford vs. Amir Khan Fight Picks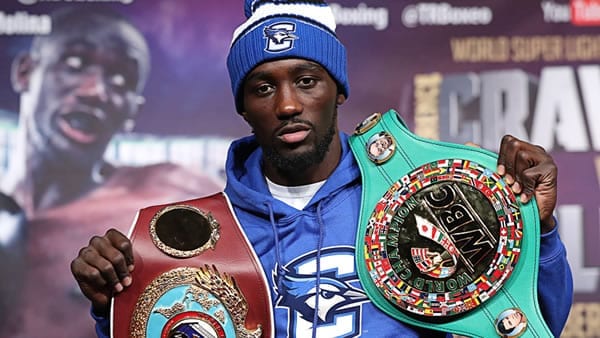 Terence Crawford (34-0, 25 KOs) vs. Amir Khan (33-4, 20 KOs)
When: Saturday, April 20, 2019
Where: Madison Square Garden, New York City, New York
TV: PPV
Weight Class: WBO Welterweight Title
Betting Odds: Terence Crawford (-1200 @ Bookmaker), Amir Khan (+1100 @ 5Dimes)
Over/Under: Over 9 Rounds (+145), Under 9.5 Rounds (-175
Fight Analysis:
Terence Crawford will defend his WBO Welterweight Title against Amir Khan on April 20 at MSG in New York City. It's a big-name fight in the talent-rich waters of 147 pounds. Crawford is 31, an unbeaten three-division champion at 34-0, and considered by some to be the best fighter in the world. Still, his resume lacks a real gem, and that's where Amir Khan looks to step in and score the big win. The stakes are high, and Crawford is a huge favorite. Maybe too big.
Crawford is a tremendous fighter with an undeniable air of extreme quality. He has the perfect temperament and a wonderful combination of pure skills on offense and defense. It very well could be the case that one is about to lose a lot of money if they keep looking for spots to bet against him. He's as smooth as they come and has a great vision of where he stands in the fight. Crawford is not a guy who is going to beat himself.
A lot of top-flight fighters haven't wanted to tangle with Crawford, but as a result, his credentials lack that foolproof vibe that other fighters have. He has beaten a large handful of good fighters and even champions. His opponents have had great records, as he even holds three straight KO wins over fellow unbeatens. But the Nebraskan is fairly advanced in his career as a 31-year old three-division champion, and he's never been in that superstar vs. superstar type of fight yet.
Khan seems older, but in fact, he is less than a year older than Crawford at 32. An Olympic medalist at 17 for England in the 2004 Athens games, his career has seen its share of ups and downs. Of his four losses, three were by violent knockout, leaving a lasting impression. The last one was in 2016 in a lofty challenge of middleweight champ Canelo Alvarez. With two fairly-routine wins in 2018, he at least enters this fight in winning form. There is this feeling that Khan's story is one of unfulfilled promise—a great talent undermined by a weak set of whiskers.
Could it be that Khan's reputation as a guy who has no chin has been overstated some? While one can hardly deny that his chin is pretty bad at this level, let's take a closer look. In his two KO losses since 2008, he was winning those fights until getting stopped. One was to a hard-hitting middleweight champ, and we see Crawford is a guy who has moved up from lightweight. That's not to say Crawford couldn't stop Khan, as that is a big part of sportsbooks made him a -1100 favorite. But if you believe Khan deserved the Lamont Peterson decision, as most do, that's just two setbacks in the last 11 years—one coming well above his normal fighting weight. That doesn't paint such a bleak picture, does it? Khan was perhaps once overrated, but maybe he's actually underrated to some extent at this point.
Adding to Khan's poor reputation at this level was how memorable those losses were. All three of his KO losses are hard images to shake. Those moments can't help but stick out, but does it help overstate the case? Along with some others, I suspect that speed is a possible antidote to Crawford's excellence. When it comes to that category, it's hard to find a better "upset candidate" than Khan. His speed of hand and foot is perhaps without peer. It has allowed him to win some big fights and made him very competitive even in the ones he didn't win. His hands are lightning, and he moves like a ballet dancer around the ring.
Alas, there are numerous drawbacks for Khan, hence the fact he's a major underdog. His results are not commensurate with his talent. Unlike Crawford, his vision of a fight is compromised. He lacks the wherewithal and discipline to carry out the best plan for victory. He has been a pro for 15 years and still sits on the fringes. There's a reason for that. There can be a certain predictability to Khan's game. The top guys he fights go from flummoxed one round to running roughshod over Khan in the next round. And Crawford is most assuredly a top guy—make no mistake about it.
Khan's chin looms as a major obstacle to victory. And it's not just his chin as much as it's what he does that leads to it being so available for big connects. Just the way he's built with his head sticking up a bit with no cover makes it tough, along with a general lack of upper-body movement. For a fighter with such speed, his upper-half is pretty stiff. And with a guy like Crawford zeroing in with the high levels of concentration he brings to the table—that could add up badly for Khan.
Still, this late in the game for Khan, maybe he can put it together. He was the prodigal son at one point before his fragility surfaced. Granted, that's not an easy liability to hide in a boxing ring at this high of a level. But this could very well be Crawford's hardest fight, and it's most definitely his most-talented opponent. It makes +700 hard to pass up. Still, if I'm wrong, I'd like to cover myself some. So I'm going to take Khan at the underdog price, with a hedge on the "under."
My Prediction to Win the Fight:
I'm betting on Amir Khan to win at +700, with a bet on "under" 9.5 rounds at -175 over at MyBookie. The issues with Khan are numerous, but I feel the hopelessness of his challenge is being wildly overstated. Still, there's a good chance this fight won't see the later rounds, so if I'm completely off on Khan, that should help make it a not-so-bad night.