Tyson Fury vs. Deontay Wilder III – WBC World Heavyweight Championship Picks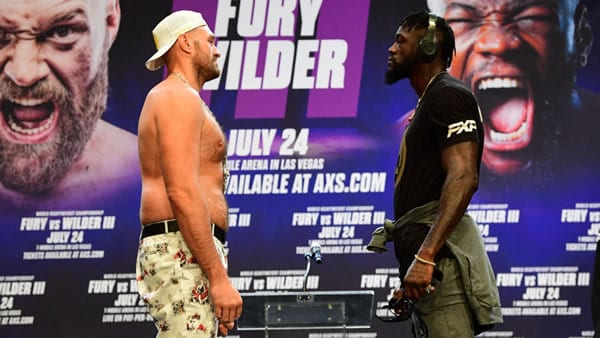 Tyson Fury (30-0-1, 21 KOs) vs. Deontay Wilder (42-1-1, 41 KOs)
When: Saturday, October 9th, 2021 (Fight was originally scheduled for Saturday, July 24th)
Where: T-Mobile Arena, Las Vegas, Nevada
TV: PPV
Weight Class: WBC World Heavyweight Championship
Betting Odds: Tyson Fury (-280), Deontay Wilder (+220)
Fight Analysis:
Tyson Fury and Deontay Wilder will get it on for a third time, as the two do battle at the T-Mobile Arena in Las Vegas on October 9th. The last time either man fought was in February 2020, when Tyson Fury scored a comprehensive 7th round TKO over Wilder. And as negotiations between Fury and Anthony Joshua heated up, Wilder forced the rematch clause, so here we are, getting ready for the third chapter of this rivalry. Will the third time be a charm for Wilder, or will we more or less see a continuation of what we've seen between the two?
A little context is needed here. Their first fight in 2018 was memorable. Fury, not far removed from a two-year run of drugs, soundly outboxed Wilder, who was still able to put across some of his power shots, at least enough to earn a draw, though not many felt he deserved it. But there was no such controversy in their February 2020 rematch, where Fury outboxed Wilder, roughed him up, and took him out midway through the 7th round. In the minds of most, Wilder needs something dramatic to turn the tide in this rivalry.
There are a few hard facts that Wilder and his potential backers in this fight need to start considering. In two fights, Wilder is two landed punches away from having been utterly dominated. No one will be able to convince me Wilder deserved a draw in their first fight, but dropping Fury twice makes it something you can sort of accept on some level. But for him to get schooled like he was in the last fight, we're looking at Fury having dominated most of the action between the two. And whereas he boxed his way to success in the first fight, he outmuscled and banged Wilder around the second time. It's hard to watch the first two fights and emerge with a feeling other than Fury is simply his superior.
I found it really counterintuitive how Wilder dealt with the last loss. It starts to paint an image of a man whose mind might not be as sound as the other aspects of his game. Trainer Mark Breland made the perfect stop, as Wilder was nearing the point of taking permanent damage in a fight that had become a one-way beating with no way out. For Wilder to fire and blame Breland and carry on about some nonsense about "going out on your shield" was really disappointing to hear. And for the prospects of him improving for the third fight, I would have liked to have seen more ownership of what he did wrong and not blaming other people.
DEPOSIT $200 AND GET $200 FREE AT GTBETS SPORTSBOOK!
You have to wonder about a fighter like Wilder at this point. He blew everyone out, showing some of the best power in the division's illustrious history. But something can happen when that surefire route to victory falls flat, as it has in two fights with Fury. When you strip a champion of his main power, he's not the same guy. And that's especially true when you have a fighter who relied on power as much as Wilder did, not really bringing the other aspects of his game up to speed.
This is not to belittle Wilder, a fighter of limited background who became champion and flashed some of the most dangerous hands ever seen. It takes a lot of inner resources to cover that ground. And his reaction to the fight was more in the immediate aftermath, meaning it's anyone's guess what he's been doing mentally for the past year. And even if he is a one-trick pony, that is the best trick to have—fight-ending power that can be dispatched suddenly and violently. He is that guy.
I just think we're seeing what plays out when a fighter who is blessed relies too much on one thing. Again, that one thing can work. And it has worked on Fury before. But at a certain point, other skills are needed, and it's in that area where Wilder is fairly ordinary. The work he does in between the big shots landing was never that compelling. He'd often lose rounds in bunches to ordinary fighters. He doesn't work that well second-to-second in the ring. He's looking to land blockbusters.
It just doesn't work at this level—the level Fury represents. You need something else, and it looks like Wilder doesn't have much else. And even when his power surfaces, it's not the game-ender that is has been against other opponents. Even when Wilder dropped the hammer in the final round of their first fight, it looked like Fury was done, Then he got up and was putting it on Wilder before the round was over. So even if Wilder can come across with his huge shots, that doesn't mean Fury is going to go away.
At 35 and after now having sponged a lot of punishment, I'm not sure we're at a point in Wilder's evolution where a lot of improvement can be forecasted. He's still dangerous and can never be written off. Maybe he managed to make some adjustments. Maybe Fury is looking at this as being easier than it was before. Other than that, I think we're looking at the reality that Fury is the better man. Whatever he has wanted to do, it has worked on Wilder. The opposite cannot be said at all. That's a lot of tides to turn for Wilder, and I just don't think he's up for it. I'll take Fury in this one.
My Prediction to Win the Fight:
I'm betting on Tyson Fury at -280 betting odds. At root, Fury has multiple routes to the winner's circle. He can box. He can rough up Wilder. And it has worked well on both fronts. Wilder relies on power, and Fury has shown he can handle it. Bet your Fury/Wilder pick FREE by taking advantage of a special 100% bonus we've arranged with MyBookie Sportsbook! Simply deposit $100 to $300, enter bonus promo code PREDICT100 and they'll match you dollar for dollar! Free loot is good loot!