Alabama Crimson Tide vs. Arkansas Razorbacks Pick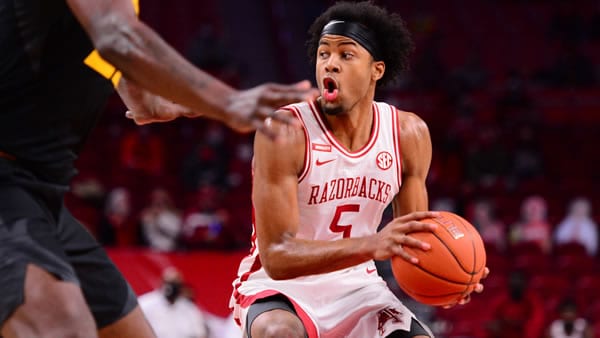 Alabama Crimson Tide (18-5 SU, 13-9-1 ATS) vs. Arkansas Razorbacks (17-5 SU, 13-7-1 ATS)
When: Wednesday, February 24, 9 p.m.
Where: Bud Walton Arena, Fayetteville, Ark.
TV: ESPN2
Point Spread: ALA +1/ARK -1 (Get the best odds >>> Why bet on games at -110 when you could be laying -105? It doesn't make any "cents!")
Total: 155.5
Last Time Out:
Alabama beat Vanderbilt 82-78; Arkansas beat Florida 75-64.
About the Matchup:
With Tennessee's star fading, these have become the hottest teams in the SEC, as Alabama has dominated the league and Arkansas isn't far behind. The Razorbacks have quietly won four straight games overall and now hold second place in the SEC after ripping off seven consecutive wins in league play. They haven't lost to a league opponent since Jan. 16 and have just one loss all season at Bud Walton Arena, which came on Jan. 2 against Missouri.
But that loss on Jan. 16 came in Tuscaloosa in a big way, as the Razorbacks fell to Alabama by 31 points. Since putting the league on notice with a win at Tennessee, Alabama has been the league kingpin, owning a 13-1 record and cruising to the SEC regular-season crown. However, all is not well in Tuscaloosa, as the Crimson Tide appear to be feeling the effects of the pressure that comes with being the team in the top spot.
Alabama now gets everyone's best shot, and unlike the football Tide, the basketball Tide isn't yet used to that pressure. In their past four games, only one has been a truly expected perfor-mance, as Alabama fell short at Missouri before escaping from league also-rans South Carolina and Vanderbilt. In short, this doesn't appear to be the same Alabama team that squashed Ar-kansas five weeks ago. Can the Razorbacks turn the tables at home?
Scouting the Crimson Tide:
Alabama's greatest strength — its ability to create a lot of points and a lot of possessions — can become its greatest weakness when the Tide aren't hitting shots. The problem with Nate Oats' system is that it's predicated on making your shots and ending each possession with a basket. Alabama's style is played at such a high tempo that if they're not hitting their shots, the game turns into a track meet rather quickly because the opponent will also get plenty of looks at the basket.
When John Petty Jr. and Jaden Shackleford are connecting, it's tough for opponents to keep up with Alabama. Arkansas learned that the hard way, as the duo combined for 23 points on 12-for-23 shooting and basically took the rest of the Razorbacks completely out of their game in the first meeting. But when shots aren't falling, Alabama's defense isn't good enough to put the game away, leading to the Tide and their bettors sweating things out down the stretch. That's happened in two of the past three Alabama wins, as the Tide shot less than 42 percent against both South Carolina and Vanderbilt.
Scouting the Razorbacks:
A year ago, Arkansas was a slow-paced, defensive-minded squad. Not this time around. Eric Musselman doesn't have that kind of personnel in Fayetteville, so he's opted to push the tempo and focus on offense. The Razorbacks can still play solid defense, but they're far more likely to trust their fates to the shooting of Moses Moody.
The Razorbacks left plenty up to Moody in the first meeting with Alabama, and the results were less than stellar. Moody ended up scoring 28 points, but he needed to take 25 shots to do it, and the rest of the Razorbacks combined to make 11 shots the rest of the day. Predictably, Arkansas ended up mustering only 59 points with its shooting off, and the result was rather one-sided.
To get a result this time, someone needs to step up. That might be Jalen Tate, who has been one of the main men in the backcourt all year for Arkansas, but one name to remember is JD Notae. Notae doesn't start, but when he does get into the offense, Arkansas becomes a lot tougher to defend. Notae is the second-leading scorer the Razorbacks have, and chances are that Alabama will leave him open early.
X-Factor:
Turning the tables. Just like Kansas a night ago, Arkansas comes in after getting slammed by its opponent in the first meeting of the season. Like Bill Self, Musselman is a strong defensive coach in most seasons, and he's likely got some kind of plan that he intends to throw at Alabama from the opening few minutes.
Beyond that, Arkansas knows that it's got a pretty good case for an NCAA tournament bid al-ready, and one more win over a top opponent will basically lock it down. The Razorbacks helped themselves out quite a bit by beating Missouri and Florida, and a win over Alabama would be huge on the profile.
Alabama will Cover If:
The Tide can knock down shots early. Alabama wants to get out and run, and it's much easier to run when you've consistently got the lead. If the Tide are hitting, they'll dictate the pace of play and make it very difficult for Arkansas to get its tough defense rolling in the early going.
Arkansas will Cover If:
The Razorbacks can cash in on Alabama mistakes, specifically turnovers. Alabama coughed it up 14 times against Arkansas, so playing the turnover battle can be a very effective strategy for the Razorbacks. The one problem is if Arkansas tries to speed things up too much, the Razorbacks could inadvertently leave themselves with no way to defend against easy buckets.
Dan's Pick to Cover the Spread
Much like with Kansas on Tuesday, I'm a lot more comfortable with taking the team that lost the first meeting over the one that won. If Alabama plays to its potential, it's the better team, but Arkansas seems to be on the same page and ready to make life miserable for its opponents.
One note of warning: you might want to pair the under with the result you like in this game, as the under has hit four in a row at Fayetteville. Beyond that, this is a tight one, but I have to give the edge to the team that's playing its best, and that's Arkansas. I'll take the Razorbacks in this one. Bet your college hoops predictions FREE this week by taking advantage of a HUGE 100% real cash bonus offer on your first deposit of $100 to $500 at GTBets!