Alabama Crimson Tide vs. Missouri Tigers Pick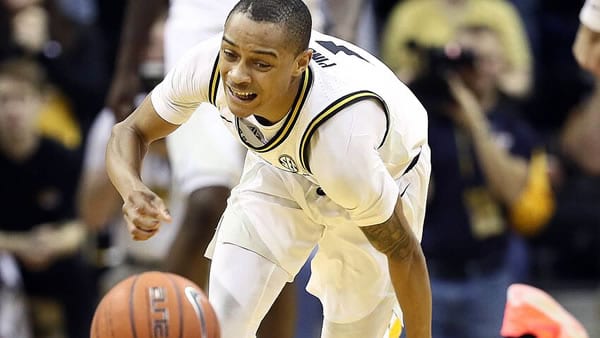 Alabama Crimson Tide (15-4 SU, 12-6-1 ATS) vs. Missouri Tigers (12-3 SU, 9-6 ATS)
When: Saturday, February 6, Noon
Where: Mizzou Arena, Columbia, Mo.
TV: ESPN
Point Spread: ALA -2/MIZZ +2 (GTBets)
Total: 152
Last Time Out:
Alabama handled LSU 78-60; Missouri edged Kentucky 75-70.
About the Matchup:
Raise your hand if you had this game as the most important in the SEC race. If you're being honest, nobody should have their hand up because these two teams have come out of nowhere this season. Nobody expected Alabama to be 10-0 in the league and three games ahead of eve-ryone else on their schedule, but that's what the Crimson Tide have done. Alabama's not just getting rich off weak competition, either; the Tide count both Tennessee and Florida among their victims.
But in Missouri, they might be facing their most formidable opponent yet. The Tigers have proven their mettle all season long and haven't lost at home to anybody but Tennessee. Mis-souri needs one more big win to likely earn itself a top-four seed, and beating Alabama at home would be about as big as it gets in the SEC this season. Can they find a way to break the Tide's hold on the SEC?
Scouting the Crimson Tide:
The Tide's comfortable win over LSU wasn't vintage Alabama at all, as Alabama didn't shoot well from behind the arc and only ended up with 78 points, not quite what's expected from a team that plays as fast as the Tide prefers. But Alabama's defense was excellent against LSU, and the Tide have actually played very well on that side of the ball despite playing at one of the fastest tempos in the country.
However, John Petty Jr. and Joshua Primo still aren't shooting all that well, and that's got to be rectified if the Tide are going to best Missouri. Alabama needs to score against good teams to be successful, and if Jaden Shackleford has to do it all on his own, it's going to be tough against a team that defends as well as Missouri does.
Scouting the Tigers:
Which is the real Missouri? Is it the squad that played an almost flawless first half against Ken-tucky and built a 13-point halftime lead? Or is it the team that looked frightened in the second half and nearly allowed the Wildcats to find their way back into the game? It's probably closer to the first one, as Missouri usually shoots better than the 39 percent that it did against Kentucky.
But that second half did expose a glaring flaw in Missouri's game: the Tigers have had several problems with their decision making. Missouri's assist-to-turnover ratio of 0.98, not an ac-ceptable number for a Power 6 squad. That's a real problem for facing Alabama, which forces nearly 16 turnovers per game. If Xavier Pinson and Jeremiah Tilmon aren't more careful with the ball than they were against Kentucky, Missouri's going to be in trouble.
X-Factor:
The arc. Missouri and Alabama are two of the best in the SEC at defending the 3-point arc, with both teams only allowing opponents to shoot 30.5 percent from the perimeter. Given the way these teams are likely to play this game, there will probably be plenty of shots, which either means one of these teams will shoot better than expected, or there will be a lot of re-bounds. Alabama rebounds it better than Missouri, so the Tigers will need to make sure that they're hitting from behind the arc to neutralize the advantage the Tide will have in the low post.
Alabama will Cover If:
The Crimson Tide can hit their shots early. Alabama's shooters need to get their confidence back if they're going to attack a defense as strong as Missouri's, and the first five minutes are going to be crucial for the Tide's efforts. If Primo and Petty are still strug-gling early, this could be a challenging task for Alabama. Missouri will Cover If: The Tigers can take care of the ball while playing at Alabama's tempo. The Tigers are likely going to be perfectly willing to play at Alabama's pace, but given Mis-souri's turnover issues, the Tide's pace could be more than the Tigers are capable of handling. Missouri has to clean up its mistakes if it's going to get a victory here.
Dan's Pick to Cover the Spread
Given how well Alabama has survived without hitting the deep shot in its most recent games, I think the Tide can handle the Tigers' defense. Throw in the tempo and Missouri's recent turno-ver issues, and I think Alabama can keep its momentum and its unbeaten run in the SEC going. It's a small line here, and I think Alabama can handle it. Give me the Tide.