Alabama Crimson Tide vs. UCF Knights Pick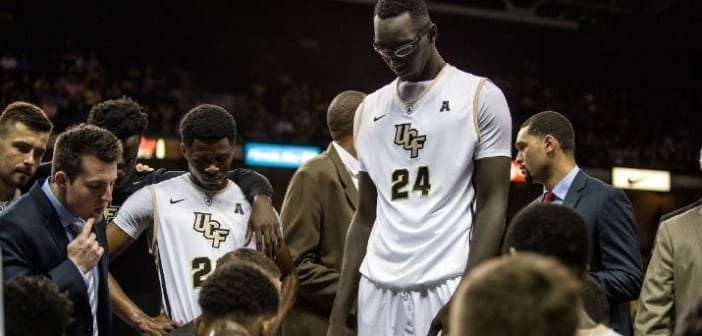 Alabama Crimson Tide (5-1 SU, 1-5 ATS) vs. UCF Knights (5-1 SU, 5-1 ATS)
When: Wednesday, November 29, 2018 – 7 PM ET
Where: CFE Arena, Orlando, Fla.
TV: ESPNU
By: Dan Jamison, College Basketball Handicapper, Predictem.com
Point Spread: ALA +6/UCF –6
Total: O/U 134
Last Time Out: Alabama defeated Murray State 78-72; UCF knocked off Northern Kentucky 66-53.
Analyzing the Crimson Tide:
Kira Lewis Jr. is proving to be the real deal in his freshman campaign, taking smart shots when he has an opening and making good decisions with the basketball. In six games, he's scored at least 20 points on three occasions, including in each of Alabama's past two contests.
Today's NBA Pick: GSW vs. Raptors
But there's danger in his success: the Crimson Tide might be a little bit too dependent on him and his high-scoring abilities. Their need for Lewis was evident in their lone loss of the season, a 16-point defeat against Northeastern. When a freshman takes over early in the season, it's impossible to predict just how much the older players will accept the new leader, but Alabama seems to have placed all of its trust in Lewis, for better or for worse. Should Lewis find himself unable to get going against the Knights, only sophomore guard John Petty has shown an ability to shoulder the scoring load, making the Tide vulnerable to a bad night.
Analyzing the Knights:
UCF spreads its scoring pretty well, and it's long on experience, which sets this up as a chance for coach Johnny Dawkins to reach a breakthrough in Year 3 in Orlando. The Knights get strong contributions from B.J. Taylor and Aubrey Dawkins, but it's the play of Tacko Fall that catches the attention of most people Specifically, it's the height of Fall that gets attention, as the center is 7'6" and usually unmatched in terms of size and power in the paint.
Thursday Night Football: Saints vs Cowboys
What the Knights have going for them is their patience. UCF ranks in the bottom 50 of possessions per game but still ranks in the top 100 in offense, suggesting that they take smart shots and make the most of every possession, a must when you play slower than your foes.
X-Factor:
The endgame. This kind of matchup sets itself up for a backdoor cover given how poor the Knights are at shooting free throws. As a team, UCF shoots just under 56 percent from the charity stripe, a percentage that encourages teams to foul late and put them on the line if necessary. Alabama has a bright coach in Avery Johnson who knows how to exploit a team's weakness, so look for Alabama to start fouling early if it feels UCF starting to pull away.
Alabama Will Cover if:
The Tide can get smart shots away from the basket. As imposing as Tacko Fall is, he's only one of five players on the court at any one time. If the Tide can work the ball around properly and take good looks at the basket, they'll get their offense going early and set the tone for the rest of the contest.
UCF Will Cover if:
The Knights can take advantage of their height on the glass. UCF has a big advantage in height with Fall down low against guard-heavy Alabama, and the Knights need to exploit that in this situation. Alabama doesn't have a player over 6'11", giving UCF a major opportunity to dominate the inside glass and limit the Tide to one shot per trip.
Dan's Pick to Cover the Spread:
We finally have the matchup that college football has been waiting two years to see: Alabama against UCF. However, this meeting is taking place on the basketball court, not the gridiron, and rather than a pair of top-10 squads, we'll instead get a game between two squads that think they can be tournament teams this year if they get a few breaks in their favor.
While Alabama was an NCAA tournament squad a year ago, the Tide don't really feel like they're likely to return to the Big Dance this season, especially with star Collin Sexton now in the NBA. Conversely, UCF looks like it has some momentum on its side and has shown it during a 5-1 stretch where the Knights haven't often been challenged.
Given that the Knights also won this game a year ago in Tuscaloosa, there seem to be more reasons to take the Knights than there are to go with the points. Even though Alabama's the power conference team, I just can't see a good enough reason to go for the six points, and I'll lay them with an underrated UCF.
<h4 class="widgettitle">NFL Picks</h4><!-- [et_pb_line_break_holder] -->
<div style="width:340px; margin: 0 auto;"><!-- [et_pb_line_break_holder] --> <a class="twitter-timeline" data-width="340" data-height="500" data-link-color="#008156" href="https://twitter.com/PredictemPicks?ref_src=twsrc%5Etfw">Tweets by PredictemPicks</a> <script async src="https://platform.twitter.com/widgets.js" charset="utf-8"></script><!-- [et_pb_line_break_holder] --></div>