[et_pb_dcsbcm_divi_breadcrumbs_module hide_homebreadcrumb="off" homebreadcrumbtext="Home" separator="sep-raquo" hide_currentbreadcrumb="off" homebreadcrumborientation="left" _builder_version="3.8″ fontsbreadcrumbs_font="Lato||||||||" fontsbreadcrumbs_text_color="#000000″ fontsbreadcrumbs_font_size="15px" fontsbreadcrumbs_line_height="16px" fontsseperator_font="||||||||" fontsbreadcrumblinks_font="||||||||" fontsbreadcrumblinks_text_color="#2567cf" custom_margin="25px|||" custom_margin_phone="30px|||" custom_margin_last_edited="off|desktop" custom_css_main_element="font-family: Helvetica Regular;" disabled="on" global_module="3641″ saved_tabs="all"][/et_pb_dcsbcm_divi_breadcrumbs_module]
Golden State Warriors vs. Toronto Raptors Pick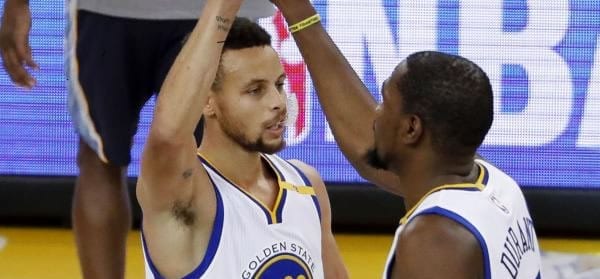 Golden State Warriors (15-7, 9-13 ATS) vs. Toronto Raptors (18-4, 11-10-1 ATS)
When: Thursday, November 29th, 2018 – 8:00 pm ET
Where: Scotiabank Arena – Toronto, Ontario
TV: TNT
By: Kyle Cash, NBA Basketball Handicapper, Predictem.com
Point Spread: Raptors -8 (Bovada Sportsbooks)
Last Night in the NBA
Predicting a game almost to perfection is a bittersweet feeling. It's a bit like watching a "whodunnit" movie, guessing who the murderer is and then turning out to be correct. You're happy that you figured it out, but at the same time, sometimes it's nice to be caught off-guard. Let's just say that the New York Knicks' games are not exactly written by M. Night Shyamalan. At least we can profit off of their predictable misery.
Its Tacko Thursday! Bama vs UCF Pick
I would love to look at the Clippers versus the Kings. I really would. Those are two of my favorite teams in the league to watch right now. But I'm an East Coast plebe, and I prefer to actually watch the game that I write about to enjoy the fruits of my labor. There are worse things in life than previewing a potential NBA Finals match-up, and that's what we're dealing with here. The Golden State Warriors are packing their Visas for a trip to the frozen North to take on the Toronto Raptors in their home arena. With questionable tags for marquee players on both sides, Vegas has yet to release a line, but let's keep our thoughts generic and you can go from there. I'm trusting you.
Golden State of the Union
Everyone in the Bay Area right now is walking on egg shells. They have all of the pieces to win the NBA Championship again; having two of the best three and four of the top twenty-five players in the league typically lends itself to winning basketball. But it takes more than talent to grind out an entire NBA season. Can you imagine working on a group project with a bunch of people that you didn't get along with for 8 straight months? That's where the Warriors find themselves right now, and they need Stephen Curry to come back quick. It looks as though he will be making his triumphant return this weekend, and they better hope that he catapults them back to the top of the West. Winning cures everything, and right now, the Warriors are sick.
Thursday Football Action: Saints versus Cowboys
For tonight's game, the burden again falls heavy on the shoulders of Crybaby Durant. Wah – no one appreciates me. Wah – no one thinks I'm the best player in the league. Wah – coming to a 73-win team was a brave thing to do because the NBA is hard. Cry me a river, loser.
Regardless, he's shaking himself out of his funk, and he faces a true test when he takes on Kawhi Leonard on Thursday night. While it's the match-up that will most determine the outcome of the game, there are still other players that the Raptors will have to stop. Klay Thompson has been performing a Lite Version of Steph's dazzling shooting performances, but he's just not as good of a creator off-the-dribble. Without Draymond, the Warriors are playing guys like Damion Lee and Marcus Derrickson, and they are basically traffic cones attached to Roombas. They move around and bump into things sometime, but mostly you just forget about them. Against a team as deep as Toronto, I'm not sure that the KD-Klay combo is enough.
Running Through the East With My Woes
I'll be the first to admit that I was dubious about the prospects of Kawhi Leonard returning to his MVP-level form after going through the weirdest non-Markelle Fultz story in NBA history. It seems as though Kawhi's quad may not have been as big of a hindrance as his out-of-nowhere contempt for Coach Popp. He's still working his way back to full health by picking and choosing which games he plays, but he's still in the conversation for MVP. With a 0.818 winning percentage and a likely #1 overall seed, it's going to be hard to find another contender. Maybe the meteor isn't coming for the Raptors as soon we thought.
Best Betting Sites Ranked by Category! 
Unless, of course, that meteor is being guided by Stephen Curry. Luckily, Toronto will not be able to fall victim to his wrath; Steph has a knack for sucking the soul out of opposing arenas with his three-point sorcery (just ask the Knicks, Thunder, or Wizards – and those three are just off the top of my head). Toronto is the most dangerous team in the league, and they have insane fans (3rd in the league in home game attendance). This game will feel like a playoff game. It's not often that I have this feeling about the greatest basketball team ever assembled, but I'm a little worried about the Warriors getting blown out. Pascal Siakam, Serge Ibaka and Jonas Valanciunas are a revolving door of headaches for the Warriors' frontcourt, Kyle Lowry is going to old-man punk Quinn Cook out of the gym, and Kawhi Leonard is a sociopath. He's the Dexter of the NBA, and he might be cleaning up Kevin Durant's blood spatter by the time he's done with him.
Four Factors of Winning
Since we're all about finding the edge here at Predictem.com, let's take the time each day to dive into the stats that lead to winning basketball games. According to a theory posited by Dean Oliver, a win in basketball can be narrowed down to four factors: shooting, turnovers, rebounding and free throws. Each day, I will take a look at the areas that each team excels at or is susceptible to, and we will see if we can find a specific reason why Team A will beat Team B.
Talk about "imitation is the sincerest form of flattery." The Warriors and the Raptors are bunched together in basically every important statistical category. These are the 2nd and 3rd best shot-making teams in the league, and are both top-10 in the shot-contesting metric. The Warriors shoot less 3s than they used to (at least with Steph out), but they've made up the difference by getting to the line and lead the league in True Shooting Percentage. Both teams do a halfway decent job of hitting the glass on both ends, and the Raptors are only slightly more likely to force an opponent turnover. Quantitatively, we're looking at a dead-even draw. If we want to think more holistically, let's factor in home-court advantage, injury concerns, and reasons to win, and I think we can safely give the edge to Toronto.
TIRED OF YOUR CREDIT CARD NOT WORKING AT SPORTSBOOKS? IT WILL AT BOVADA + GET A 50% CASH BONUS!
Best Bet
Without a line posted, it's tough to handicap this one. Some reports are indicating that the Warriors will be sans Steph and Draymond in this one, so let's assume that Toronto is going to be favored by a couple of points. People love to bet the Warriors, and people love to bet the underdog – both of those are great news for our purposes. It really comes down to this: who has more to gain, and who has more to lose? This is almost a throw-away game for the Warriors. Durant and Klay have been holding up the sky while Steph and Draymond lick their wounds, and a reprieve is finally in sight. Kerr is a disciple of both Phil Jackson and Gregg Popovich, so he's going to play this one close to the vest. There won't be any creative line-ups or plays or defensive looks for Toronto to study tape on if they meet again in June. The Warriors are going to roll the ball out and say, "Klay and KD – go win this for us. If you can't, no big deal. Tomorrow is another day." And tomorrow is another day – another day for us to continue our good fortune after Toronto safely covers the number. Raptors prevail, and we carry a 3-game win streak into the weekend. I guarantee it.
Final Score Prediction: Toronto Raptors 110 – Golden State Warriors 95
<h4 class="widgettitle">NFL Picks</h4><!-- [et_pb_line_break_holder] -->
<!-- [et_pb_line_break_holder] --><div class="widget-footer"><a href="https://www.predictem.com/nfl/">See all the NFL picks.</a></div><!-- [et_pb_line_break_holder] --><hr><!-- [et_pb_line_break_holder] --><style><!-- [et_pb_line_break_holder] -->ul.postsbycategory {list-style-type: none; margin:0; padding: 0; margin-left: -3px}<!-- [et_pb_line_break_holder] -->.postsbycategory li {padding: 5px 0px; display:block; clear: both; border-bottom: 1px solid #ccc;line-height:16px!important; min-height: 50px;}<!-- [et_pb_line_break_holder] -->.postsbycategory li a{color: #000; font-size: 14px!important;}<!-- [et_pb_line_break_holder] -->.postsbycategory img {width: 85px!important; height: 40px;<!-- [et_pb_line_break_holder] -->float:left; <!-- [et_pb_line_break_holder] -->padding:0px;<!-- [et_pb_line_break_holder] -->margin: 0px; margin-right: 8px;<!-- [et_pb_line_break_holder] -->border: 1px solid #EEE;<!-- [et_pb_line_break_holder] -->}<!-- [et_pb_line_break_holder] --> .widget-footer a {color: #666;}<!-- [et_pb_line_break_holder] --> .widget-footer a:hover {padding-top: 2px;}<!-- [et_pb_line_break_holder] --></style>
<div style="width:340px; margin: 0 auto;"><!-- [et_pb_line_break_holder] --> <a class="twitter-timeline" data-width="340" data-height="500" data-link-color="#008156" href="https://twitter.com/PredictemPicks?ref_src=twsrc%5Etfw">Tweets by PredictemPicks</a> <script async src="https://platform.twitter.com/widgets.js" charset="utf-8"></script><!-- [et_pb_line_break_holder] --></div>