[et_pb_dcsbcm_divi_breadcrumbs_module hide_homebreadcrumb="off" homebreadcrumbtext="Home" separator="sep-raquo" hide_currentbreadcrumb="off" homebreadcrumborientation="left" _builder_version="3.8″ fontsbreadcrumbs_font="Lato||||||||" fontsbreadcrumbs_text_color="#000000″ fontsbreadcrumbs_font_size="15px" fontsbreadcrumbs_line_height="16px" fontsseperator_font="||||||||" fontsbreadcrumblinks_font="||||||||" fontsbreadcrumblinks_text_color="#2567cf" custom_margin="25px|||" custom_margin_phone="30px|||" custom_margin_last_edited="off|desktop" custom_css_main_element="font-family: Helvetica Regular;" disabled="on" global_module="3641″ saved_tabs="all"][/et_pb_dcsbcm_divi_breadcrumbs_module]
New Orleans Saints vs. Dallas Cowboys Picks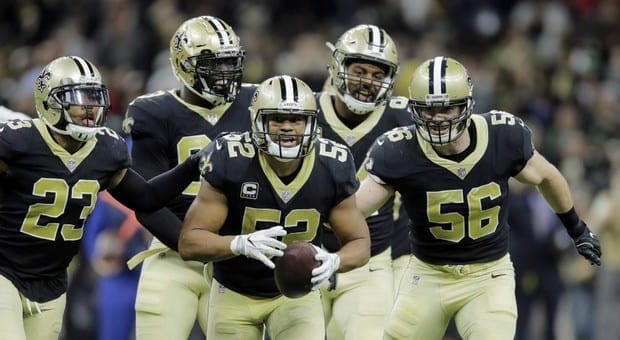 New Orleans Saints (10-1 SU, 9-2 ATS) vs. Dallas Cowboys (6-5 SU, 6-5 ATS)
Date/Time: Thursday, November 29 8:20 PM EST
Where: AT&T Stadium, Arlington, Tx
TV: NBC
By: Keith Allen, Football Handicapper, Predictem.com
Point Spread: NO -7 / Dal +7
Over/Under Total: 53
Two NFC division leaders meet on Thursday night to kick off NFL week 13 in the Big D. New Orleans will put their 10 game winning streak (9 game winning streak ATS) to the test against the Cowboys who have a modest 3 game winning streak of their own which also includes 3 ATS covers. One of these streaks will come to an end on Thursday. Here are three reasons to lay the 7 points and play the Saints.
Saints Freight Train is in High Gear       
New Orleans is simply running over everything that is in their way. Over their 10 game winning streak, they have outscored their opponents by 161 points, and they are averaging covering spreads by 10 points per game. In a season of historically great NFL offenses, the Saints are the best of the best. They are first in points scored by 5 points, but are first in points per drive by a wide margin. The Saints average 3.5 points per drive with Kansas City second at 3.2 points per drive. Drew Brees is playing at an MVP level, completing over 75% of his passes with 29 touchdowns and only 2 interceptions. Michael Thomas has established himself as one of the top receivers in the league, and Alvin Kamara has followed up his outstanding rookie season with an equally impressive sophomore season. Thomas has caught 88% of his targets for over 1000 yards while Kamara is averaging over 100 scrimmage yards per game. With complementary players all across the offense, opposing defenses have not had an answer yet for Sean Payton's offense. They have scored over 30 points in 9 of their 11 games and over 40 in 3 of their last 4.
The Dallas defense has played well during their 3 game winning streak. They have held opponents to 20 points per game during the stretch while taking the ball away 5 times and recording 8 sacks. First round draft pick Leighton Vander Esch has stepped in for injured linebacker Sean Lee and he and Jaylon Smith are proving to be one of the best linebacking tandems in the league. Dallas has taken down opposing quarterbacks 31 times on the season, led by 8.5 sacks by Demarcus Lawrence. The improved Dallas defense could make fans of America's Team believe they can slow down the vaunted Saints' offense, but it's not very likely. Over the last 3 games the Dallas D is giving up over 365 yards per contest and will not be able to count on pressuring the Saints QB. Brees plays behind the best offensive line in the league and has only been sacked 10 times on the season. Mark Ingram has reestablished himself as the between-the-tackles runner for New Orleans, averaging over 6.5 yards per carry over the last 3 games. The Saints offense is balanced and can attack the whole field.
The Saints offense in firing on all cylinders and Dallas is not the defense that will slow them down. Look for the Saints to put points on the board and put the pressure on the Dallas offense to keep up.
Dallas Offense Can't Keep Up
Amari Cooper has played 4 games with the Cowboys and the offense has played better, especially in the last 3 contests. They have averaged right at 380 yards per game, with quarterback Dak Prescott completing 70% of his passes and throwing for 3 touchdowns and 0 interceptions. Although Cooper's numbers were nothing special prior to last week's coming out party on Thanksgiving Day, his presence has made defenses respect the pass. It has opened up the passing game for other Cowboy receivers and Ezekiel Elliott is averaging 130 rushing yards per game and 6 catches during the last 3 games. Jason Garrett's squad has averaged 27 points per contest over the last 3 after averaging less than 20 points in the first 8 games. The offense is playing much better recently but it doesn't mean they can keep up with the Saints.
New Orleans defense has also been playing much better. In their last 7 games, they have only allowed more than 20 points twice, and one of those was to the Rams. The Saints have sacked opposing QBs 31 times, and now with Marcus Davenport back from a toe injury the pass rush will be more prepared to get after Prescott. Dak has been sacked 10 times over the last 3 games as the Dallas offensive line has been playing through some injuries. New Orleans front 7 held the Eagles and Falcons to an average of 42 rushing yards over the last 2 weeks. Elliott will probably get more than 42 yards, but likely will not run wild as he has done against depleted Eagles, Falcons and Redskins defenses over the last 3 weeks. Marshon Lattimore has raised his level of play in November and should be able lock down Cooper. If Elliott and Cooper don't move the chains for the Cowboys, Prescott will have to work with Cole Beasly and Michael Gallup to keep up with Brees and the Saints attack. Prescott has not proven that he is able to put a team on his back yet, and it likely won't start this week against the Saints.
Saints Have the Coaching Advantage
Payton is pulling all the right strings so far in 2018 for the Saints and will outcoach Garrett. The Saints are converting 47% on 3rd down compared to only 38% for the Cowboys and the Saints are scoring touchdowns on 73% of their trips in the red zone compared to 53% for the 'Boys. These stats are the differences between touchdowns and field goals and help to explain why the Saints have scored the most points in the league, and Dallas is in the middle. Payton will have a game plan that will keep the chains moving while the Saints have the ball and will take Dallas out of rhythm when they have the ball. Payton has proven he will keep his foot on the gas and stay aggressive even if his team is up in the second half. Garrett on the other hand has proven to be conservative, which doesn't work in the 2018 NFL against a great offense like New Orleans features. If Garrett lets the Saints get a lead and makes his team playing from behind, they have no chance to stay with Brees and the Saints.
Ride the Saints Train
New Orleans is 9-0 ATS since week 2 and have won their last 5 games by more than a touchdown. There is no reason to over-think this game trying to figure out how the Cowboys might keep it close. Lay the 7 points with Saints.
<div class="widget105"><!-- [et_pb_line_break_holder] --><h4 class="parlays">Best Sportsbooks for Parlays</h4><!-- [et_pb_line_break_holder] --><!-- [et_pb_line_break_holder] --><table id="parlay"><!-- [et_pb_line_break_holder] --> <tr><!-- [et_pb_line_break_holder] --> <th><span class="team"></span></th><!-- [et_pb_line_break_holder] --> <th>2 Team Parlay</th><!-- [et_pb_line_break_holder] --> <th>3 Team Parlay</th><!-- [et_pb_line_break_holder] --> <th>4 Team Parlay</th><!-- [et_pb_line_break_holder] --> </tr><!-- [et_pb_line_break_holder] --> <tr><!-- [et_pb_line_break_holder] --> <td><a href="https://www.predictem.com/out/SportbetP"><img src="https://www.predictem.com/wp-content/uploads/2018/06/sportbet-sm.png"></a></td><!-- [et_pb_line_break_holder] --> <td>2.74 to 1</td><!-- [et_pb_line_break_holder] --> <td>6.24 to 1</td><!-- [et_pb_line_break_holder] --> <td>13 to 1</td><!-- [et_pb_line_break_holder] --> </tr><!-- [et_pb_line_break_holder] --> <tr><!-- [et_pb_line_break_holder] --> <td><a href="https://www.predictem.com/out/BovadaP"><img src="https://www.predictem.com/wp-content/uploads/2018/06/bovada_sm.png"></a></td><!-- [et_pb_line_break_holder] --> <td>2.64 to 1</td><!-- [et_pb_line_break_holder] --> <td>6 to 1</td><!-- [et_pb_line_break_holder] --> <td>12.3 to 1</td><!-- [et_pb_line_break_holder] --> </tr><!-- [et_pb_line_break_holder] --> <tr><!-- [et_pb_line_break_holder] --> <td><a href="https://www.predictem.com/out/MybookieP"><img src="https://www.predictem.com/wp-content/uploads/2018/06/mybookie-sm.png"></a></td><!-- [et_pb_line_break_holder] --> <td>2.64 to 1</td><!-- [et_pb_line_break_holder] --> <td>6 to 1</td><!-- [et_pb_line_break_holder] --> <td>12 to 1</td><!-- [et_pb_line_break_holder] --> </tr><!-- [et_pb_line_break_holder] --></table><!-- [et_pb_line_break_holder] --><div class="widget-footer"><a href="https://www.predictem.com/best-sportsbooks/parlays-odds/">See all Sportsbook Parlays</a></div><!-- [et_pb_line_break_holder] --></div><!-- [et_pb_line_break_holder] --><!-- [et_pb_line_break_holder] --><!-- [et_pb_line_break_holder] --><style><!-- [et_pb_line_break_holder] --> #parlay {border-collapse: collapse;<!-- [et_pb_line_break_holder] --> width: 100%; border: 0px;<!-- [et_pb_line_break_holder] --> font-size: 14px!important;}<!-- [et_pb_line_break_holder] --> #parlay td, #parlay th {<!-- [et_pb_line_break_holder] --> border: 0px;<!-- [et_pb_line_break_holder] --> padding: 8px;<!-- [et_pb_line_break_holder] --> text-align: left;}<!-- [et_pb_line_break_holder] --> #parlay th {<!-- [et_pb_line_break_holder] --> padding-top: 5px;<!-- [et_pb_line_break_holder] --> padding-bottom: 5px;<!-- [et_pb_line_break_holder] --> font-weight: bold;<!-- [et_pb_line_break_holder] --> line-height: 14px;<!-- [et_pb_line_break_holder] --> text-align: center;<!-- [et_pb_line_break_holder] --> color: #000;}<!-- [et_pb_line_break_holder] --> #parlay tr {border-bottom: 1px solid #edeef0;}<!-- [et_pb_line_break_holder] --> .team {font-size: 16px;}<!-- [et_pb_line_break_holder] --></style>
<h4 class="widgettitle">NFL Picks</h4><!-- [et_pb_line_break_holder] -->