Auburn Tigers vs. Virginia Cavaliers Pick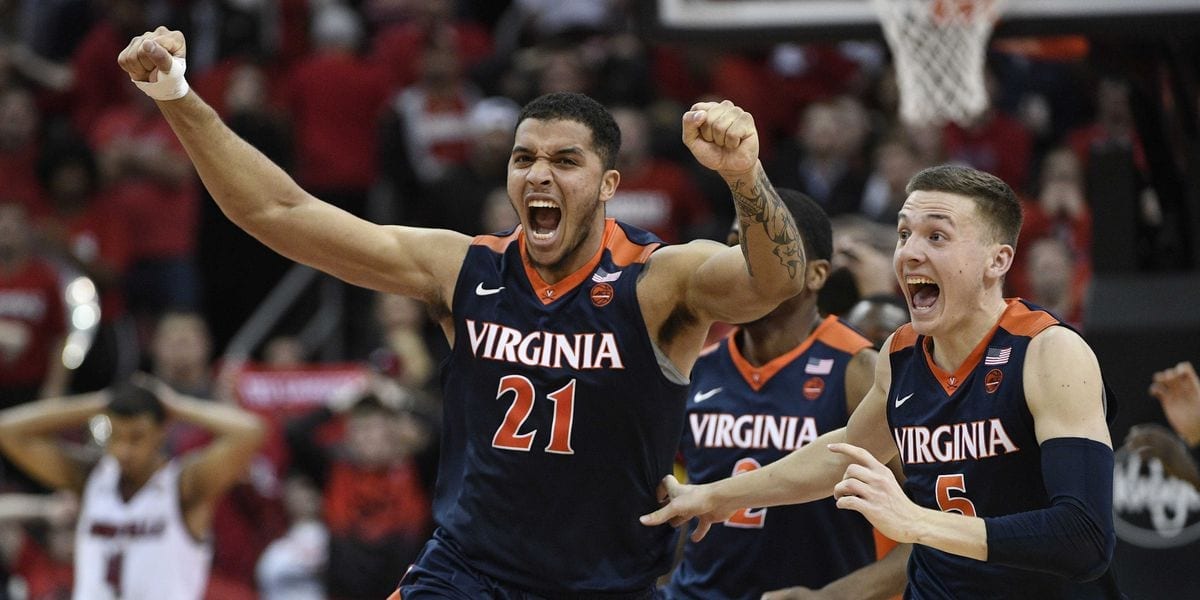 Auburn Tigers (30-9 SU, 22-15-1 ATS) vs. Virginia Cavaliers (33-3 SU, 25-11 ATS)
When: Saturday, April 6, 2019 – 6:10 PM ET
Where: U.S. Bank Stadium, Minneapolis
TV: CBS
By: Dan Jamison, College Basketball Handicapper, Predictem.com
Point Spread: AUB +5.5/UVA -5.5 (SportsBetting Sportsbook)
Total: O/U 131
Last Time Out: Auburn beat Kentucky 77-71 in overtime; Virginia beat Purdue 80-75 in overtime
Scouting the Tigers:
This was so unexpected that even Auburn superfan and alum Charles Barkley didn't think it was possible, but here they are. What's really been impressive is the path that the Tigers have taken to get to this level. After getting through the first round by the skin of their teeth against New Mexico State, Auburn has taken its game to another level by ripping through three different college basketball blue bloods, including SEC rival Kentucky.
What's gotten the Tigers to this point is their guard play. Bryce Brown and Jared Harper have showed what experience can do for a team by providing quality scoring and leadership throughout Auburn's run. Against Kentucky, the duo combined for 50 points, helping neutralize Kentucky's rebounding edge.F
Scouting the Cavaliers:
This is what playing as a team can get you. In its biggest moment of the year, Virginia knew exactly how to handle things and saved its season with perfect execution down the stretch, creating one of the most memorable plays in tournament history. Now, can the Cavaliers build on it and slow down the hottest team in the nation? Virginia passed its first real test of the tournament by digging deep and coming up with a huge play on offense, and the Cavaliers will need their offense to be in top shape to make sure they have an answer for Auburn's attack. Specifically, they need to get contributions from Kyle Guy, like they did in the second half against Purdue. When Guy is on, good things usually happen for Virginia.
Want More Basketball Picks? Today's Free NBA Predictions
X-Factor:
Mental freedom. How do these teams react to the biggest state now that they're into the Final Four? In many cases, it might be cause for concern to have a team competing at their first Final Four, but in this case, it might actually be a major advantage for Virginia.
For years, the Cavaliers have been hearing about how they're built for regular season success and nothing else under Tony Bennett, and last year's first round loss only underscored the views of their critics. This time, however, the Cavaliers have played some of their best basketball in March, and they find themselves in the Final Four for the first time since 1984.
When a team finally does break through after several instances of failure, it often leads to them playing a relaxed style when they're able to compete again and putting their absolute best on display. When Virginia has been able to focus and play its game, there hasn't been anyone in the country who's been better, and now that the Cavaliers know that they won't be hearing about UMBC anymore, it's likely that they'll be able to play with nothing to lose. Not only does that make Virginia more dangerous, but a mentally freed Cavaliers team that's feeling no pressure takes away one of Auburn's biggest advantages: that the Tigers were playing with nothing to lose. If that's also true of the Cavaliers, being loose won't be enough for Auburn to come away with a win.
Auburn will Cover if:
The Tigers can use their quickness to put Virginia in a deep hole. The Cavaliers' strength — their ability to methodically bury an opponent over time — can and has become a weakness if the opponent can jump out to an early lead and force Virginia to play from behind. Unlike past Cavalier squads, this team can come back if it needs to, but Bennett's style remains one that's built to play with the lead and not overcome a lead, so Bruce Pearl's best bet is for his team to get off to a good start and force Virginia to play its game.
Virginia will Cover if:
The Cavaliers can turn Auburn's inexperience with their style of basketball into their strength. What makes Virginia so difficult for Power 6 teams to play against is that the Cavaliers' style is so different from what most power conference teams try to do. When a team sees Virginia for the first time, it usually isn't sure how to handle being forced into a patient, deliberative style.
That's an edge for the Cavaliers in this game because Auburn hasn't seen anything like what Virginia does. While the Big Ten has Michigan and Wisconsin and the Big 12 has Kansas State to help prepare its members for a squad like Virginia, the SEC might as well be called the Speed Everywhere Conference. Only one of the 14 SEC schools plays a slow, defensive game: Florida, and although the Tigers beat the Gators twice this year, that was in large part because Florida turned it over 19 times in one meeting and 17 times in the other. Virginia isn't Florida and isn't going to beat itself the way the Gators did. This is a challenge Auburn has not seen this year, and the adjustment might prove too much. 
Texas Tech vs. Michigan State Pick
Dan's Pick to Cover the Spread:
Auburn has done brilliantly to get this far, but a look at the Tigers' run shows that they've been facing teams that were a fairly good matchup for them up to this point. Auburn's guard-heavy game emphasizes steals and matches up well against teams that are comfortable pushing the tempo.
That's not Virginia and never will be Virginia. For the first time in its run, Auburn finds itself matched up against a patient team that will not be pushed into a track meet. The Tigers haven't shown the patience that's needed to take down the likes of Virginia, and I don't think they have that patience. I think the Tigers' run ends here as the Cavaliers finally break through in a Final Four game and reach the national title game. Give me Virginia to cover.