Baylor Bears vs. Florida Gators Prediction 1/25/20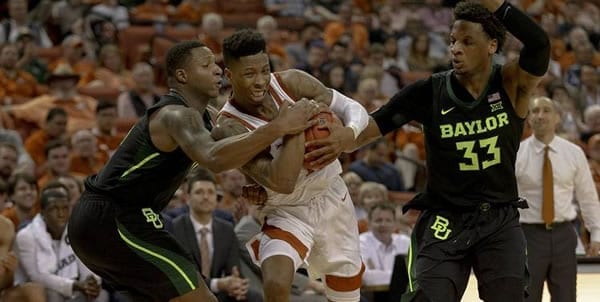 Baylor Bears (16-1 SU, 12-5 ATS) vs. Florida Gators (12-6 SU, 7-10 ATS)
When: Saturday, January 25, at 8 p.m.
Where: Exactech Arena, Gainesville, Fla.
TV: ESPN
Point Spread: BAY +2/FLA -2 (BetNow - Deposit $100 get a FREE $50 Bet!)
Total: O/U 130.5
Last Time Out:
Baylor handled Oklahoma 61-57; Florida lost to LSU 84-82.
Scouting the Bears:
Baylor hasn't missed a beat since Alaska and hasn't lost to anyone in a true home or road game, with the only setback coming against Washington at the start of the season. Since then, Baylor has ridden its excellent guard play and tough defense to the top of the Big 12, and the Bears appear poised to win the league title for the first time in history. Before getting to that point, there's the matter of continuing to get their defense back on track. The Bears looked good against the Sooners on defense, and have to continue that trend moving forward, as the Bears are at their best when the opponent gets held under 65 points a game. As long as that magic number is hit, Baylor has more than enough room to count on Jared Butler and Freddie Gillespie to take care of the scoring.
More Picks: Illini at vs. Wolverines Predition 1/25/20 >>>
Scouting the Gators:
A solid stretch of wins nearly extended itself to three, but Florida couldn't close the deal in Baton Rouge and ended up with a two-point loss. The good news for Mike White is that his team appears to know precisely who and what it is at this point: a six-man rotation that features one excellent player in Kerry Blackshear and several complementary players who can serve as Blackshear's wingman on any given night. It was Keyontae Johnson who did that most often against LSU, but four Gators now average in double figures in scoring, meaning that the points really can come from anywhere on the floor.
The challenge now is getting them to come consistently. Florida did it well enough against Auburn and Mississippi, but the Gators couldn't do it at all against Missouri, as the defense let them down, and the Columbia Tigers raced off to a 16-point win. Florida has to consistently get the ball into the paint to Blackshear and either let him go to work or find the open man. The Gators have the personnel to be great, but they have to piece everything together.
X-Factor:
The top spot. How is Baylor going to handle the pressure of the expectations that come with being No. 1? The ranking has been something that nobody wants this season, but the Bears have handled expectations beautifully so far, as they now carry a 15-game winning streak into this matchup. Florida, on the other hand, faces a task it has never accomplished: beat the No. 1 team in the nation in the regular season. The Gators are 2-16 all-time against No. 1, having bested Duke in the 2000 NCAA tournament's Sweet 16 on its way to an appearance in the national title game and defeating Ohio State to win the 2007 crown. None of the players in this game were even in middle school for that game, however, and many weren't even born yet when Florida beat Duke. This is new territory for the Gators, and it's a question of whether they can rise to the moment.
Baylor will Cover if:
The Bears can continue to play the lockdown defense that has been their staple throughout the win streak. Baylor wins because it knows how to keep points off the scoreboard, and it plays in a league that is the exact opposite of its football counterpart. The win over Oklahoma was a perfect example of Baylor's type of basketball game, as the Bears held the scoring down, kept their opponent under 40 percent from the floor and grabbed the rebounds needed to win the game. That formula can and must be replicated in Gainesville.
Florida will Cover if:
The Gators can force the Bears out of their comfort zone. Florida has to find a way to make life tough for the Bears in a different way than it did against Mississippi and Auburn. Florida tends to be at its best when it plays a faster team and gets it to slow down, but the Gators prefer to play a high-scoring style that often leads to them getting burned. The way Florida wins is it makes you feel uncomfortable, but that doesn't always work against a team that naturally plays slow as Baylor does. Florida has to do it by getting rebounds.
Dan's Pick to Cover the Spread:
Early in the season, when people were still very high on Florida as a potential sleeper pick for the Final Four, I made the mistake of backing Florida against Florida State, thinking the Gators were for real and the Seminoles would struggle, considering Florida State was coming off a loss to Pittsburgh.
Yeah, I couldn't have been more wrong on that one. The Seminoles completely shut the Gators down and forced them to play at their pace, completely throwing off Florida's game plan. Other slow-paced teams, such as Butler and Connecticut, have also managed to slow the Gators down and forced them out of their comfort zone. Baylor can do the exact same thing, and Florida hasn't shown the ability to best a defense-first squad this season. It's not often you get points with the No. 1 team in the land, but I recommend grabbing them here. I will take Baylor. Where are you betting your sports picks? Did you know that you could be betting your very same bets for a cheaper price? You're laying -110 at your book. Did you know that there's -105 odds out there? This may not sound like much but it adds up to thousands of dollars in savings. Especially for a guy who bets a lot! Dump your overpriced bookie today and start saving big money by wagering on games at -105 odds at 5Dimes Sportsbook! You'll be so glad you did!