Big 12 Tourney Picks: Iowa State vs. Oklahoma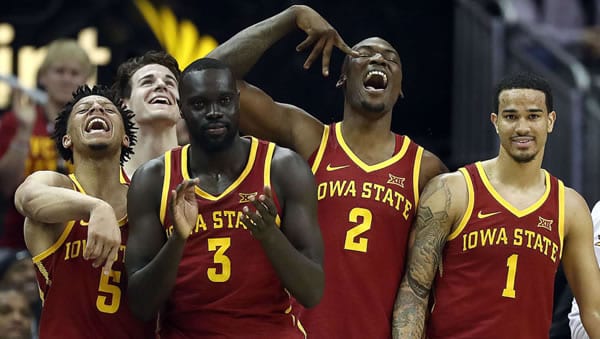 Iowa State Cyclones (2-21 SU, 8-14-1 ATS) vs. Oklahoma Sooners (14-9 SU, 12-11 ATS)
When: Wednesday, March 10, 9:30 p.m.
Where: Sprint Center, Kansas City, Mo.
TV: ESPN
Point Spread: IAST +12/OKLA -12 (BetNow)
Total: 138.5
Last Time Out:
Iowa State lost 61-56 to Kansas State; Oklahoma lost 69-65 to Texas.
About the Matchup:
Much like Ohio State's four straight losses, the Sooner Swoon looks a lot worse than it really is. Yes, Oklahoma has lost four in a row, but the Sooners have only one bad loss in that stretch, a five-pointer at Kansas State. Otherwise, they've lost by four to Texas and by four twice to Okla-homa State, both of whom will be NCAA tournament teams.
Iowa State has to be the most snakebitten team in the country, as the Cyclones should have stumbled into a win by now somewhere with how tough they've played some teams. The Cy-clones had reasonable hopes of winning at Texas, Baylor, Oklahoma, West Virginia, and TCU, as well as some tight home games. They managed to lose all of them, and despite losing eight games by seven points or less, the losses all count the same, and the Cyclones arrive in Kansas City with an 0-18 record in the Big 12.
So, this game's a walkover, right? Not even close. Iowa State hung around in both games against the Sooners, losing by seven in Norman and by 10 in Ames. This is not a good basketball team, but on the right day, it can catch anyone by surprise, and if the Sooners aren't careful, the Cy-clones have the potential to pull off a true stunner.
Scouting the Cyclones:
Iowa State's not going to shoot the ball much better than it has all season, so the Cyclones have to go in a different direction, and that means defense. The Cyclones' defense did a solid job against Oklahoma in Norman, but the defense allowed too many good looks in the first half when the Sooners came north to Ames, leading to Oklahoma controlling the game for the rest of the way.
Getting Rasir Bolton back on the floor should go a long way toward helping at both ends of the floor, as Iowa State has seemed lost without him in uniform. The guard has been the Cyclones' leading scorer this season, but he's missed the past three games, and Iowa State has been blown out twice in those contests. If nothing else, having Bolton on the floor should help Iowa State take better care of the basketball. The Cyclones had 19 turnovers combined in two games against Oklahoma this season, but they coughed it up 17 times against Texas and 16 against Kansas State without Bolton on the floor. Given that Iowa State doesn't score a lot to begin with, giving away possessions to any decent team is detrimental to the Cyclones' chances.
Scouting the Sooners:
The biggest issue for Oklahoma is whether it's ready to face off with a lesser team in this event. The Sooners have mostly been the kind of team that rubber-bands to their opponent, hanging with and even beating the good teams while letting the lesser teams hang around them. Very rarely does Oklahoma blow anyone out, but the Sooners also very rarely end up on the wrong end of a bad scoreline.
But lately, the biggest problem has been that Oklahoma can't shoot the ball well enough. The Sooners have shot 41 percent or worse in three of their past four games, and the one exception didn't work because Oklahoma State pounded them on the glass. The Sooners are not a great rebounding team, so confidence is a critical part of any success they might have, and right now, Austin Reaves seems to be lacking in that department. The Sooners' leading scorer has hit un-der 40 percent of his shots in three consecutive games, and that cannot continue if Oklahoma is going to do anything when it matters most.
X-Factor:
Nothing to lose. Iowa State knows that its next loss will be the end of its season, and the fact that the Cyclones carry a 2-21 mark into this game means that nobody is expecting an-ything from them. That kind of situation can work either for or against a team, depending on its own approach.
The question is, does Iowa State play this game more like Miami or Boston College? In the ACC tournament, both the Hurricanes and the Eagles came in beaten down by the long season, but Miami played with enthusiasm while BC looked like it just wanted to go home. Iowa State has played well enough to scare some talented opponents at times, but the Cyclones have also had instances where they were blown down almost from the opening minute. Whichever squad shows up will help determine whether Iowa State can play with Oklahoma a third time.
Iowa State will Cover If:
The Cyclones decide to band together and play the way they can. Iowa State should not be 0-18 in the Big 12. The Cyclones realistically should have finished around 5-13, which isn't great but would earn them a bit more respect than they have right now. If Iowa State plays the way it can, the Cyclones can absolutely stay in this game for 40 minutes.
Oklahoma will Cover If:
The Sooners can rediscover their touch. Oklahoma needs to have a game where it can build its confidence back up, and this might be the one, as it's a no-pressure situation against a weaker foe. Losing to Iowa State would be bad, but not season-ending, so the Sooners can focus simply on building confidence in their shots, so they're ready for sterner tests.
Dan's Pick to Cover the Spread
A decade ago, when Oklahoma's football team faced Idaho State, my colleague David Ubben described it as a "get-well game" for the Sooners. This is not the same thing for Oklahoma's basketball squad, but I do think the Sooners will bounce back eventually in this contest. Iowa State is good enough to challenge Oklahoma, but not good enough to win, and in conference tournaments, a team that isn't good enough to win tends to fade in the second half (see: Wake Forest, Boston College). Give me the Sooners to cover here. Bet your Iowa State/Oklahoma pick FREE by scoring a 100% real cash bonus on your first deposit of $100 to $300 at MyBookie Sportsbook! (Must use bonus code PREDICT100).