Boston College Eagles vs. Duke Blue Devils Pick 12/31/19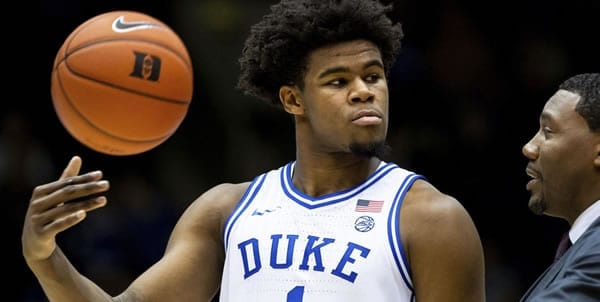 Boston College Eagles (8-5 SU, 6-7 ATS) vs. Duke Blue Devils (11-1 SU, 7-5 ATS)
When: Tuesday, December 31, 6 p.m.
Where: Cameron Indoor Stadium, Durham, N.C.
TV: ACCN
Point Spread: BC +23/DUKE -23 (BetNow)
Total: O/U 140.5
Last Time Out:
Boston College defeated California 64-60; Duke routed Brown 75-50.
Scouting the Eagles:
It's hard enough to win at Duke when you're completely healthy, and BC is not. The Eagles had a pretty solid thing going with Nik Popovic establishing himself as a senior presence in the low post, but Popovic is out indefinitely with back spasms, robbing point guard Derryck Thornton of one of his top offensive options. So the Eagles are down to either letting Thornton do the job himself or finding Steffon Mitchell, which have both worked reasonably well against lesser competition this season. However, there really isn't much in the way of "lesser competition" when you get inside the ACC. The Eagles do have two ACC games under their belts and will play a third in December thanks to the league's insistence on making the ACC Network a thing and sacrificing this season's scheduling to do so (granted, there's no regular-season title in the ACC to worry about anyway, so this isn't that big of a deal), so they've got a chance to go 3-0 in the league here and win their fifth consecutive game at the same time.
To do so, they'll have to keep up the hard-nosed defense that has been a staple of the past four wins. They won't hold Duke in the 60s like they did California, a team Duke throttled earlier this year, but they can keep the game in the 70s if things go well, and that would give them a chance to win.
More Picks: Badgers vs. Ducks Pick ATS >>>
Scouting the Blue Devils:
Duke appears in a foul mood right now. The Blue Devils have been kind of missing something for a good chunk of this season, and even a loss to Stephen F. Austin didn't really wake Duke out of its funk. It seems that what really did it for the Blue Devils was pulling away from Virginia Tech in Blacksburg, a place that has been anything but lucky for the Blue Devils. Unlike Boston College, which has seen no success against Duke as an ACC member, Virginia Tech has been a consistent thorn in the Blue Devils' sides. Earning a win over the Hokies by stepping on the gas at the end seems to have ignited the Blue Devils to push forward. They followed that by routing a good Wofford squad and eased past Brown, and now they sit at 11-1 and are coming off back-to-back 20+ point blowouts.
There's a good chance that they can make it three straight, even if Tre Jones doesn't end up playing for the third consecutive game. I don't think this is addition by subtraction the way benching Greg Newton was in 1997 for Duke, but it is interesting that the Blue Devils have stepped up with Jones on the shelf with a foot sprain. However, I think it's the younger players starting to grow up for Duke, and Jones getting back will only help Vernon Carey and friends.
X-Factor:
The familiar. This is a weird situation for these teams, as BC point guard Derryck Thornton was once a member of the Blue Devils back in 2016. He started 20 games for Duke before transferring to Southern California for his sophomore season but has since left Los Angeles as a graduate transfer and made a return to the ACC. Most of the Blue Devils, of course, will have never played with or against him because the majority of Duke's lineup is filled with underclassmen, but Mike Krzyzewski certainly knows Thornton and his strengths and weaknesses well. How well Thornton adjusts to being back where his college career started and how he adjusts to what Krzyzewski throws at him will go a long way toward deciding if the Eagles have any chance.
Boston College will Cover if:
The Eagles can keep themselves from getting overwhelmed by the challenge ahead of themselves. BC hasn't had that many opportunities to play at Duke since joining the ACC in 2005, thanks to the league's unbalanced schedule, but every time the Eagles have made the trip to Durham, they've left beaten. Boston College didn't play at Duke in its debut season in the league, which was easily their best chance to actually be able to win at Duke. Instead, the Eagles had to wait until the next season and lost by 14 in Durham, which is one of their closer results there. In eight trips to Cameron as an ACC member, BC has yet to come closer than a 90-80 loss in 2008. Last year, the margin was 25, and it's been 20 or more in three of BC's past four visits. The Eagles have to keep their wits about them and avoid getting overwhelmed by the atmosphere.
Duke will Cover if:
The Blue Devils can get easy baskets. Duke is a team built to both score quickly and defend well, and BC is not the type of team that can compete in a scoring contest. Duke needs to get off to a fast start and convince the Eagles that this trip to Cameron isn't going to go any better than the first eight did. If the Blue Devils can crush the Eagles' hope right away, this game is going to end up as one-way traffic.
Dan's Pick to Cover the Spread:
Do I think Duke is a great team? No. Do I believe Duke is good enough to handle this Boston College squad? Yes. BC is still very much a work in progress and has a long way to go before it's ready to challenge the top tier of the ACC. The Eagles have two wins in the league, but those were against Notre Dame and Wake Forest, both of whom will be lucky to be around by quarterfinal day of the ACC tournament in March. They haven't seen anyone of Duke's caliber yet, and they're coming off a tight battle against California, a game in which they edged the Golden Bears by four points.
Duke played California too. That game finished 87-52. That gives you a pretty good idea of how this one's going to go. Don't overthink this; give me the Blue Devils.
STOP LOSING TODAY! START WINNING WITH DOC'S TEAM OF PROFESSIONALS! GET A FREE NO STRINGS ATTACHED $60 FOR THIS WEEKEND'S GAMES!