Boston College Eagles vs. Duke Blue Devils Pick 2/5/19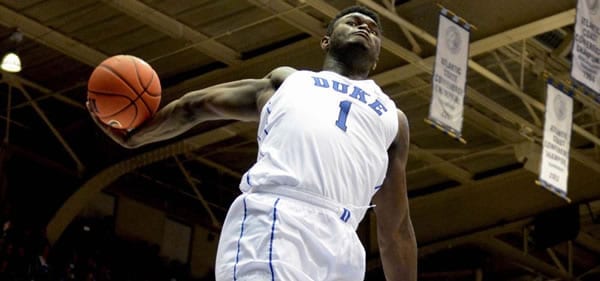 Boston College Eagles (11-9 SU, 10-10 ATS) vs. Duke Blue Devils (19-2 SU, 13-8 ATS)
When: Tuesday, February 5, 2019 – 7 PM ET
Where: Cameron Indoor Stadium, Durham, N.C.
TV: ESPN
Point Spread: BC +24/DUKE -24 (Bookmaker)
Total: O/U 157
Last Time Out: Boston College lost 79-73 to Notre Dame; Duke beat St. John's 91-61.
Scouting the Eagles:
For all of their struggles in recent years, Boston College has tended to play Duke closer than people expect. The Eagles haven't been to the NCAA tournament since 2009 and won't be going there this year either, barring a run through the ACC tournament, but they've managed to keep things more respectable against the Blue Devils than one would expect for a team that's won 15 ACC games in the past five seasons. Under Jim Christian, BC is 1-3 against Duke and has kept the margin under 20 points in all but one matchup.
That said, this time might be different given the Eagles' personnel on hand — or lack thereof. Ky Bowman has proven himself a genuine star for BC, but his running mate Wynston Tabbs has been hampered with a knee injury and has missed five of the Eagles' eight ACC contests, four of them going in the loss column. The last time Tabbs played, Boston College upset then-No. 11 Florida State, but he has missed the Eagles' past three games.
Scouting the Blue Devils:
This is when Mike Krzyzewski's teams really start to hit their stride, and this year's outfit is proving to be no exception. The Blue Devils have won five straight since the loss of Tre Jones, as R.J. Barrett has proven himself capable of distributing the ball as well as putting up huge scoring numbers. Duke has proven itself dangerous in any situation, and the adversity of losing Jones seems to have pulled the Blue Devils closer together, creating a frightening situation for their opponents.
X-Factor:
Revenge. None of Duke's superstar freshmen were around last season when the Blue Devils went to Chestnut Hill and left with a stunning 89-84 loss to BC, but Duke's upperclassmen and Krzyzewski certainly remember the feeling of taking a defeat against the Eagles, who were coming off a 2-16 campaign in the ACC the year before. Boston College has made some strides under Christian, but the Eagles aren't anywhere near Duke's talent level, and a motivated and angry Duke squad can cause severe problems for BC. It's highly probably that Krzyzewski has regularly reminded his team of last year's debacle, and that could leave BC to bear the brunt of that exercise.
Boston College will Cover if:
Duke either gets caught looking ahead to Virginia or Krzyzewski pulls his stars early in an effort to save their energy for the Cavaliers. Realistically, BC has little chance to stay in the game against this Duke team at Cameron, especially with Tabbs either sidelined or limited. However, the large spread and the fact that Duke has its biggest game of the year coming up on Saturday in Charlottesville creates the genuine possibility of a backdoor cover if BC can stay within shouting distance long enough until Krzyzewski declares victory and puts in his reserves. This is a dangerous prospect because Duke is good enough to blast the Eagles out of the water in the first half (and will likely be motivated to do exactly that), but if BC can weather that storm, the Eagles will be in prime position to make you money.
Duke will Cover if:
The Blue Devils want to cover. This game is going to come down to how motivated Duke really is to make a statement against a hopelessly outmatched opponent. There is no way that Duke should even come close to losing on its home court to this BC team, so the real question is whether Duke is content to earn a comfortable double-digit win and conserve its energy for Virginia or whether the Blue Devils really want to make a statement after last season's failure.
Dan's Pick to Cover the Spread:
I hate spreads of 20 or more points, but that's what happens when you have Duke playing at home against one of the dregs of the ACC. The simple fact is that it's so hard to bet against the Blue Devils because they're good enough to embarrass 300 teams in the nation, but it's also hard to bet on them because their ceiling is so high that they seldom get a good number.
However, there's just no way to trust BC in this situation. If Tabbs were 100 percent, I could see BC hanging around, making Duke work a little bit into the second half and then finally succumbing in a 15-point loss. But on his own, Bowman just isn't enough to compete with the Blue Devil Big Three, and the Eagles don't have much else in the way of help to keep this game from getting out of hand. Be wary of a backdoor cover, but I think Duke will do just enough to cover the huge margin.