Boston College vs. Duke Total & Spread Pick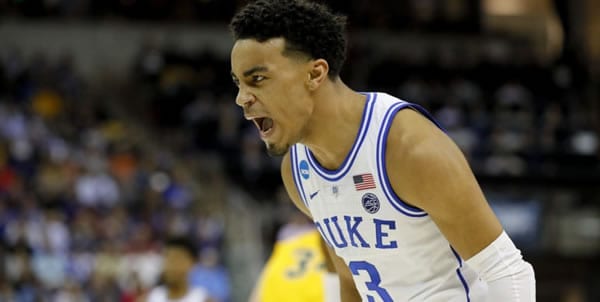 Boston College Eagles (4-15 SU, 8-10-1 ATS) vs. Duke Blue Devils (11-11 SU, 7-15 ATS)
When: Tuesday, March 9, 4:30 p.m.
Where: Greensboro Coliseum, Greensboro, N.C.
TV: ACC Network
Point Spread: BC +12/DUKE -12 (BAS)
Total: 153.5
Last Time Out:
Boston College lost 80-76 to Miami; Duke lost 91-73 to North Carolina.
About the Matchup:
Losing three straight wasn't the ending Duke wanted for its regular season, and now the Blue Devils likely have to run the table in Greensboro to keep their streak of consecutive NCAA tour-nament appearances intact. Duke hasn't missed an NCAA tournament since 1995, which was the year that Mike Krzyzewski had back surgery and missed the final 19 games of the season.
They've got the right opponent, to begin with, in the ACC tournament, as Boston College hasn't been to the NCAA tournament since 2009 and hasn't won a game in the ACC tournament since 2018. The Eagles' season has been such a disaster that coach Jim Christian actually got fired during the pandemic, and things have been no better under interim coach Scott Spinelli. But despite that, BC has reason to hope, as the Eagles matched Duke basket for basket when the teams met at Cameron Indoor Stadium, ultimately succumbing in an 83-82 loss. With a little improvement from that game, BC can get out of the first round for the first time in three years, and in doing so, end any hope Duke has of making the NCAA field.
However, history's not on the Eagles' side. Since joining the ACC, Boston College is 2-20 against the Blue Devils and hasn't beaten Duke anywhere, but Massachusetts since the schools met in the 1985 NCAA tournament in Houston. In other words, logic says this should be Duke's game, but logic has said that all season.
Scouting the Eagles:
First rule of a Boston College game: defense is optional. Actually, in most cases, the defense is non-existent. The Eagles have managed to hold six teams under 76 points all season, and hold is used loosely because one of those was slow-paced Virginia, which slowed the game down itself and held BC to 49 points. In the past three games, the Eagles gave up 80 or more each time, including a 94-90 win over Notre Dame.
What the Eagles need is to have Jay Heath take over the game, something he's capable of doing but failed to do when the teams met at Cameron. Heath was about the only one doing any scor-ing when the Eagles got drilled at Florida State, as he scored 28 of the Eagles' 64 points in that contest. But against Duke, Heath had a rough shooting night, going just 3-for-10 in a game that the Eagles lost by a point. The Eagles' defense isn't likely to stop anything, so getting a little more offense is critical to BC's hopes.
More Picks: BYU vs. Gonzaga Pick ATS >>>
Scouting the Blue Devils:
Things would have been a lot more straightforward for Duke if the Blue Devils had managed to hold their leads against either Louisville or Georgia Tech. Still, both games resulted in an over-time loss, turning two potential profile boosters into missed opportunities.
Now Duke has to do it the hard way, which means the Blue Devils have to find a way to win five games in five days. If they do it, it's probably going to be with a combination of forcing turno-vers and getting a high volume of shots. In their win over BC, Duke ended up taking 67 shots from the field, in large part because they had 14 steals. Duke hasn't shown anything resembling consistency from anyone but Matthew Hurt, so the Blue Devils will take the contributions when-ever they come. In a free-flowing game like this one, that might not be a bad thing.
X-Factor:
Pressure of expectations. Duke has the weight of the country's expectations on it here, as the Blue Devils haven't been in a situation like this in an ACC tournament since the 1980s. Most years, Duke arrives in Greensboro (or wherever the ACC tournament takes place, but it should always be Greensboro) with a bid locked up and a reasonable shot at a No. 1 or No. 2 seed. This time, the only way Duke has a hope is if it runs through at least four wins in five days, and the Blue Devils might really need all five.
BC, on the other hand, doesn't have anyone expecting anything in this game. The Eagles didn't win a game outside of New England all year (three home games and a win in Bubbleville) and their best win of the season is over Notre Dame, not an accomplishment in 2020-21. However, that means that the Eagles can truly throw caution to the wind because they have absolutely nothing to lose here. If BC loses, it's supposed to do that. But if the Eagles keep the game close, it's very likely that Duke panics because this one is supposed to be a gimme for the Blue Devils.
Boston College will Cover If:
The Eagles can avoid giving Duke free possessions. The Blue Devils actually sank two fewer baskets than the Eagles when the teams met in Durham, but they won anyway because they had more possessions and thus more chances to get to the line. That's not going to work for BC, as more possessions only mean more chances to attack a notoriously soft defense. The Eagles cannot afford to throw the ball away in this one.
Duke will Cover If:
The Blue Devils get someone other than Matthew Hurt to provide some of-fense. Wendell Moore delivered 25 points in the first meeting with the Eagles, but his lack of consistency is very well known, as he's been held to eight or less in three of Duke's past five games. If the Blue Devils can count on anyone besides Hurt, they have the edge.
Dan's Pick to Cover the Spread
This spread's a little worrisome. On the one hand, Duke has its entire season on the line and almost always brings its best to the ACC tournament, especially when it's played in Greensboro. The last time the Blue Devils didn't win their first game at the ACC tournament was in 2013 against Maryland, who's not even in the ACC anymore. On the other hand, Duke has been a lousy bet all year long, and it's been especially poor when expected to cruise. Duke is 0-5 ATS when favored by 10+ this season, and the Blue Devils even managed to lose one of those games outright to Miami.
I think the total's a bit too high, and I'll take the Eagles and the points here. Given that Duke has hit the over in 10 of 11 and BC can't play defense, I'll also back the over. Bet your college hoops picks FREE this week by taking advantage of a 100% real cash bonus offer on your first deposit of $100 to $300 at one of the web's best basketball betting sites —> MyBookie Sportsbook! (Must make sure PREDICT100 is populated in the promo/bonus code box to receive bonus).