Brigham Young Cougars vs. Saint Mary's Gaels Pick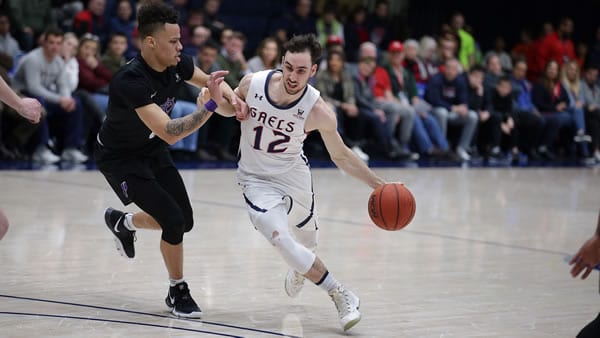 Brigham Young Cougars (9-3 SU, 5-8 ATS) vs. Saint Mary's Gaels (9-3 SU, 6-5 ATS)
When: Thursday, January 14, 11 p.m.
Where: University Credit Union Pavilion, Moraga, Calif.
TV: ESPN2
Point Spread: BYU +1.5/SMC -1.5 (GTBets - Deposit $100 get $100 FREE! Deposit $250 and get $250 free! Deposit $500 get $500 free!)
Total: 132.5
Last Time Out:
Brigham Young fell 86-69 to Gonzaga; Saint Mary's lost 66-64 to Santa Clara.
About the Matchup:
The race for second place in the West Coast Conference (because we all know Gonzaga's going to finish first) hit an early snag for Saint Mary's, as the Gaels couldn't hold the lead against San-ta Clara and fell to a deep shot in the final 15 seconds. BYU's loss was expected, as the Cougars got one of their two required meetings with Gonzaga out of the way, but the loss had to be a tad discouraging for the Cougars, given that they trailed by 23 at halftime.
Prior to that game, BYU had actually been playing pretty well, as the Cougars had won four straight contests, including a win at San Diego State. With one home game already blown and Gonzaga coming to Moraga on Saturday, Saint Mary's really can't afford to drop this one on its home court too. Can the Gaels find a way to get a win they desperately need?
Scouting the Cougars:
Take a look at the Cougars' past five games, and the first thing you'll notice is that BYU has had a different leading scorer in each of them. The Cougars are the rare team that can reliably count on contributions from all five players on the court, which makes them a difficult offense to slow down.
So how have they lost three games this season? BYU's problems are twofold. First, they've got a problem with turnovers, as they showed by coughing up the ball 16 times against Gonzaga. The Bulldogs boast a top 25 defense and make teams play faster than they want to, but 16 turnovers is too many no matter who you're facing. Second, the trade-off that comes with having five players who can provide contributions at any time is that you never know who the points are going to come from.
That's tough for a defense to prepare for, but it's also tough for an offense because the Cougars have to adjust to the flow of the game and figure out who's got the hot hand. There's a reason that BYU has been behind at halftime in all three of its losses: when it takes too long to figure things out, the Cougars are in trouble.
More Picks: Rams vs. Packers Odds & Predictions >>>
Scouting the Gaels:
One of the biggest problems for Saint Mary's is that Randy Bennett hasn't been able to send his preferred lineup out on the court very often. If it isn't Logan Johnson missing multiple games, it's been Alex Ducas and Leemet Bockler on the shelf. Ducas missed the loss to Santa Clara, which offset Johnson's 26-point performance.
The two constants for the Gaels are patience and Tommy Kuhse, but the latter has been having his own problems as of late. Kuhse has shot 37 percent or worse in each of Saint Mary's past four games, and the Gaels really don't play at a fast enough pace to withstand too many bad shooting nights. Unless the defense is on point — which it has been in each of its past two wins, as the Gaels gave up just 78 points total to Sacramento State and Colorado State — it's hard for Saint Mary's to get a victory.
X-Factor:
The WCC standings. Playing in a league that's Gonzaga and everyone else places a lot of pressure on you should you lose a home game to anyone not named Gonzaga, and that means the pressure is really on for Saint Mary's. BYU doesn't have anywhere near as much to worry about yet, as the Cougars' only loss was to the Bulldogs and in Spokane to boot.
As such, this is more of an opportunity than a pressure spot for the Cougars. With a win here, BYU can essentially put a quality team behind the eight-ball in this race while giving itself a big edge. Saint Mary's will be the more desperate team here, which can work either way in terms of pressure.
BYU will Cover If:
The Cougars can get off to a good start. The first 10 minutes are going to be absolutely critical for the Cougars because they'll establish how the rest of the game is going to go and what strategy they're going to go with for the rest of the game. With how slow-paced the Gaels like to play and what their defense is capable of (this is a team that scored 53 points in a game and won by 20), shots won't be easy to come by. BYU cannot afford another slow first half.
Saint Mary's will Cover If:
Kuhse turns in a strong performance. The last time Saint Mary's won a game that wasn't de-fense-heavy was Dec. 15 against Eastern Washington, and that was because Kuhse shot 61 per-cent from the floor and scored 34 points. The only real paths to a win for Saint Mary's are de-fense or a great scoring show from Kuhse, as the Gaels aren't built to win any other way.
Dan's Pick to Cover the Spread
BYU's loss was to Gonzaga, while Saint Mary's got picked off by an average Santa Clara squad. Nothing against the Broncos, but they're a middling squad that shouldn't be beating a good team on the road unless something went wrong. BYU losing to Gonzaga in Spokane is just ex-pected, and the Cougars have already been to San Diego State and picked up a win.
The Cougars are the better team here, and if they can avoid a slow start, they should be the team that comes out on top. I don't think I need the free 1.5 points; give me BYU to win. Note: Did you know that you could be wagering on sides and totals at -105 instead of -110? By spending 5 minutes to make the switch, you'll save hundreds of dollars a year in vigorish! Be smart! Paying more for odds is ridiculous! Click here to sign-up at BetAnySports now!