Butler Bulldogs vs. Marquette Golden Eagles Pick 2/9/20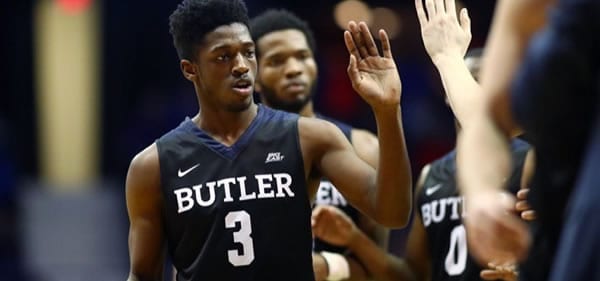 Butler Bulldogs (18-5 SU, 13-9-1 ATS) vs. Marquette Golden Eagles (16-6 SU, 14-8 ATS)
When: Sunday, February 9, Noon
Where: Fiserv Forum, Milwaukee
TV: FS1
Point Spread: BUT +3/MARQ -3 (Best Basketball Lines)
Total: O/U 140.5
Last Time Out:
Butler beat Villanova 79-76; Marquette outlasted DePaul 76-72.
Scouting the Bulldogs:
There's some good and some bad with Butler. On the good side, the Bulldogs picked up a solid win over Villanova when Kamar Baldwin drilled a 3-pointer at the buzzer to earn the victory. On the negative side of the ledger, however, the Bulldogs' defense has really struggled as of late. Butler's defense had been the reason that it got off to a 15-1 start, but the Bulldogs have only won three of their past seven games because they suddenly can't get stops. In those seven games, the only teams that Butler managed to stop were Georgetown and Providence, holding them to 64 and 65 points each. In the other five games, however, they've given up no fewer than 76 points, and the Villanova game was the second one all year (along with Marquette), where Butler gave up at least 70 points and still managed to win.
That's put a lot of pressure on an already overworked starting lineup that is having to do far too much on offense to keep the Bulldogs in games. Butler's starters got all but one of their 61 points against Providence, and the Bulldogs' bench managed just two points against Villanova. For better or worse, Butler is going to lean heavily on its starting five the rest of the way, a dangerous prospect.
Get our experts Daily CBB Picks Against the Spread>>>
Scouting the Golden Eagles:
The fact that Marquette managed to lose to Butler in Indianapolis despite 26 points from Markus Howard was a bit surprising, until you look into the box score. Take a closer look, and the fact that Marquette didn't get blown out of the building with Howard shooting 8-for-27 is what's incredible. The Golden Eagles only got to overtime because Kamar Baldwin wasn't hitting his shots either, which allowed both teams to create a wealth of chances at both ends of the floor.
While that's the kind of game Marquette likes to play, the Golden Eagles are at their best when Howard is hitting. When he's not, Marquette is very vulnerable because defense really isn't part of their game plan. The Golden Eagles are more about running and getting good shots, which usually come from either Howard or Sacar Anim. What Marquette can't afford is for Anim to have a game as he did against DePaul, where he managed just four points in a game that the Golden Eagles won by four. If one of Howard and Anim isn't scoring, Marquette can be easily beaten.
X-Factor:
Letdowns. Will either team suffer one hereafter what they've done recently? Marquette had to have the overtime win over Xavier, earning a critical sweep of the Musketeers that could prove rather important given that the Golden Eagles' profile was looking very flimsy. Marquette then followed that up with a narrow escape of DePaul, which could be an example of the Golden Eagles getting a bad game out of their way. If so, that would go a long way toward Marquette being more ready to play than Butler is. The Bulldogs got a massive win against long-time conference kingpin Villanova, and they have not played since that game. There's a decent chance that they don't have that game out of their system to the extent that Marquette will, and if that's the case, the Bulldogs might take too long to get themselves on track and give the Golden Eagles the edge they need.
Butler will Cover if:
The Bulldogs can win the battle on the glass. One of the reasons Butler fell to Providence despite holding the Friars under 40 percent from the floor was that Providence snagged 11 offensive rebounds. Butler cannot allow Marquette to dominate the glass if it wants to get the sweep, as a repeat of the 57.7 percent it shot against Villanova is unlikely.
Marquette will Cover if:
The Golden Eagles get both Anim and Howard scoring. Marquette needs to push the tempo and take Butler out of its comfort zone early, and the best way to do that is to get its scorers going early. If the Golden Eagles can build a good lead early in the first half by getting one or both of their top options hot from the field, it'll be very difficult for the Bulldogs to respond.
Dan's Pick to Cover the Spread:
Here's a play I haven't recommended before that I will for this game: Take a shot on the over for the first half of the game. Marquette ranks 18th in the nation in points per game in the first half, and I think Butler might not be ready to go from the opening tip in this contest. With an over/under total at 140.5, expect the first half to play at around 70, which should be in line with these teams' abilities.
As for the spread, I have to go with the Golden Eagles here. Marquette needs to get this game to take the guesswork out of its postseason fate, and given that they still have to go to Villanova and got drilled by Creighton in their first meeting, this appears to be their best shot at getting that signature win that would lock up their spot. I also think Markus Howard is going to shoot a little better than he did last time, which would make a world of difference. Give me the Golden Eagles.
STOP LOSING TODAY! START WINNING WITH DOC'S TEAM OF PROFESSIONALS! GET A FREE NO STRINGS ATTACHED $60 FOR THIS WEEKEND'S GAMES!