Cal-Santa Barbara vs. Cal-Riverside Pick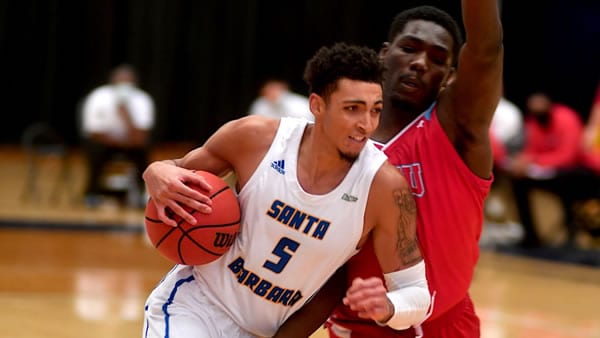 Cal-Santa Barbara Gauchos (16-3 SU, 11-6 ATS) vs. Cal-Riverside Highlanders (10-6 SU, 9-6-1 ATS)
When: Friday, February 26, 11 p.m.
Where: Student Recreation Center Arena, Riverside, Calif.
TV: ESPN2
Point Spread: UCSB -2/UCR +2 (Find the best sportsbook bonus - 100% Real Cash Bonuses! Double your deposit before March Madness!)
Total: 131
Last Time Out:
Cal-Santa Barbara defeated Cal State-Bakersfield 63-44; Cal-Riverside lost 83-82 to Cal-San Diego in overtime.
About the Matchup:
With a 12-game winning streak to their name, the Gauchos just might be the class of the Big West. I said "might" because UCSB hasn't exactly played a murderer's row of a schedule since dropping its first two league games of the season to UC-Irvine, which currently sits second in the league. Getting a win over Riverside, the league's third-place team would serve as notice that the Gauchos are to be taken seriously. More than that, it would also set the team up to qualify automatically for the NIT if it's held. UCSB's dream is the NCAA tournament, of course, but seeing as how the Gauchos haven't played in the postseason since 2016 despite three straight 20-win seasons, any postseason tournament would be a thrill for UCSB.
Riverside's thinking NCAA or bust, as it can't catch UCSB for first place. What it can do is use this game and Saturday as a measuring stick to determine where it stacks up against UCSB, giv-en that the Highlanders will almost certainly have to beat the Gauchos and/or UC-Irvine to earn their first-ever trip to the NCAA tournament. In a typical year, this would be a pressure situation for the Highlanders, given that they start three seniors, but with COVID granting everyone a free year, there's no pressure at all on Riverside at the moment. How will that work in this late-season matchup?
Scouting the Gauchos:
For the Gauchos, it's all about the number 66. When UCSB holds teams to that number or less in regulation, it's 15-0. When the Gauchos fail to do so, they're just 1-3. That kind of mark both speaks to how good the UCSB defense is and how dependent the Gauchos are on playing good defense, as holding teams under 66 isn't the norm for most teams in the country. Even simplify-ing it to 66 doesn't fully tell how good the UCSB defense is, as six of the Gauchos' past nine wins have seen the opponent fail to break 60 points entirely.
The defensive approach works so well because the Gauchos are patient with their shots and knock them down when they get good looks. JaQuori McLaughlin and Ajare Sanni are confident 3-point shooters, and Amadou Sow provides an intimidating and reliable presence in the interi-or. The Gauchos have another key edge: they play so slowly and shoot free throws so well that they're almost impossible to come back on at this level. Three of the five Gaucho starters shoot better than 80 percent from the line, and they aren't likely to get flustered into late turnovers.
Scouting the Highlanders:
You can live by the three or die by the 3, and Riverside has been living by the three this season. First, the Highlanders believe that there's no such thing as a bad look from behind the arc, as they lead the Big West in 3-pointers attempted despite playing fewer games than five other teams. (For comparison's sake, the Highlanders have 46 more attempts than Cal State-Bakersfield despite playing seven fewer games than the Roadrunners). Second, Riverside actu-ally hits those 3's. The Highlanders shoot just under 40 percent from the arc as a team and four of their six players who average 20 minutes or more shoot above 40 percent from the arc on their own.
But the Highlanders' style is a risky one because, on a day when the 3's aren't dropping, they can be easily beaten. Plus, closing out games is a real weakness for this team. Riverside doesn't go inside unless it has to, in large part because it tends to get shoved around pretty easily in the frontcourt. UC-Irvine took full advantage of this in the teams' second meeting by winning the rebounding edge 45-30, crippling Riverside's ability to get its nose in front. Unlike the Gauchos, this is not a good free-throw shooting team, so a tight game doesn't really favor Riverside; the Highlanders really need to knock down 3's early and hope.
X-Factor:
Planning ahead. Riverside has nothing to lose or gain from this game. The Highlanders aren't going to be improving their seed in the Big West tournament and have zero chance of getting a bid to the NCAAs without winning the league tournament. That should allow them to play loose and could give them an opportunity to earn a big victory.
UCSB, however, can't afford to do that because it's got more to play for. The Gauchos can lock up no worse than an NIT spot (if the NIT is played, of course) by getting a win here, and after missing out on so many trips to the postseason, UCSB is one team that would practically walk to play in the NIT if it had to. That puts the pressure squarely on UCSB, and that might be trouble.
UCSB will Cover If:
The Gauchos can get the lead at the 30-minute mark. That's about the time that superior foul shooting tends to make a big difference, and a 10-minute foul shooting con-test is absolutely the way UCSB wants this game to play out. If the Gauchos can stick their noses in front and stay there, their foul shooting prowess should allow them to control the game.
UC-Riverside will Cover If:
The Highlanders can get hot early from the arc. Riverside has no choice but to fire away and hope that the rebounds are kind to them because they can't change what they are at this point in the year. UCSB hasn't been playing tough competition as of late, so a punch in the mouth from Riverside could end that 12-game win streak rather effectively.
Dan's Pick to Cover the Spread
UCSB hasn't exactly been playing tough teams during this stretch, so I really don't know what's going to happen now that they've got a potential real challenge on their hands. Riverside is a tough team for anyone to play against because they are never truly out of a game. But UCSB is playing very well and has covered the first meeting in these two-game sets in five of its past six Big Sky matchups.
This bet is dangerous because Riverside is talented enough to start hitting and turn the game around from anywhere. But the UCSB defense likely holds this score down and forces the High-landers to look for more desperate shots. I'll take the Gauchos to limit the scoring from the out-side and come out with the cover. Bet your pick LIVE in-progress at the best live betting platform on the planet! — Bovada Sportsbook! Credit cards work there for depositing, they'll give you a 50% real cash bonus on your first deposit of $100 to $500 AND you'll receive rebates on ALL of your bets; win, lose or draw! Click here to start wagering at a better sportsbook TODAY!