CBB Picks: Boise State vs. Nevada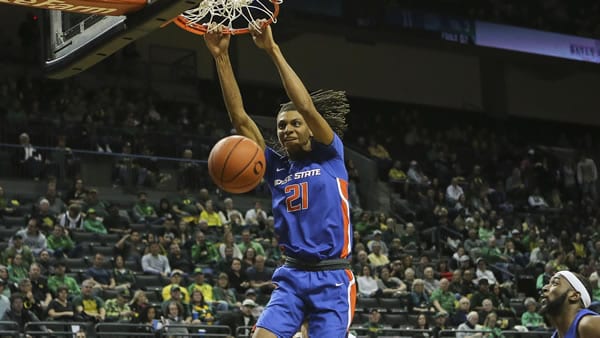 Boise State Broncos (14-2 SU, 10-4-1 ATS) vs. Nevada Wolf Pack (12-7 SU, 13-5 ATS)
When: Friday, February 5, 9 p.m.
Where: Lawlor Events Center, Reno, Nev.
TV: FS1
Point Spread: BSU -4.5/NEV +4.5 (Risk less per bet >>> Why lay -110 on games when you could be saving money by laying only -105???)
Total: 145
Last Time Out:
Boise State beat Colorado State 85-77; Nevada handled UNLV 72-62.
About the Matchup:
The Mountain West got a reminder that Boise State is beatable when the Broncos dropped one of two at Colorado State, thanks to a truly nightmarish shooting effort from Boise. While the Rams blistered the nets, the Broncos shot just 38.2 percent from the floor, setting themselves up for a rather one-sided defeat. Given that the Broncos have played a relatively soft schedule to this point, there are now real questions about whether Boise State's strong start to the Mountain West is really for real.
Nevada probably isn't one of the doubters, but given how the Broncos have fared when they've made the 420-mile journey from Boise to Reno, the Wolf Pack could easily be in that category. Boise has dropped four straight in Reno, failing to win in western Nevada since 2016. There's also the fact that Nevada's coming into this matchup playing pretty well. Other than a pair of slip-ups at Wyoming, the Wolf Pack have been fairly dominant for bettors in Mountain West play. Nevada's 9-3 ATS against the Mountain West this season and has covered in five of six on its home court. Can the Wolf Pack come up with a win and pull themselves to within shouting distance?
Scouting the Broncos:
One of the biggest things Boise State has going for it is that it's a fairly deep squad that gets contributions throughout its starting lineup. The Broncos don't really have one single player who opposing defenses have to stop, as five different players average double figures. Derrick Alston Jr. is the closest thing Boise has to a must-stop player, as he leads the Broncos in points per game and has taken 45 more shots than anyone else on the roster, but otherwise, oppo-nents can never be sure where the points might come from.
For the most part, that formula has worked out fairly well for Boise, but when a team is able to force the Broncos into turnovers and bad looks, disaster can strike for the entire team. In the loss to Colorado State, Boise collapsed because three starters shot under 50 percent, and a fourth was 1-for-2. The Broncos' equation works as long as Alston and one other starter are scoring, but if all but one player gets shut down, they can be easily beaten.
Scouting the Wolf Pack:
Nevada is a far more conventional squad that focuses its attack on two players: guards Grant Sherfield and Desmond Cambridge. Beyond that, though, they've got three capable starters who can chip in when needed and an excellent sixth man in Zane Meeks, who willed the Wolf Pack to the finish line in the win over UNLV. With Cambridge having an off-day and UNLV hang-ing around a lot longer than anyone expected, Meeks came off the bench to score 19 points, allowing the Wolf Pack to finish off their in-state rival.
When things do go badly for Nevada, it's likely because the offense just doesn't have it. The Wolf Pack aren't really a team that's built for defensive struggles, as only three of their 12 wins have seen them score fewer than 70 points. For Nevada to have success, it's got to keep the of-fense up.
X-Factor:
Guard play. As deep as Boise State is, it's still a guard-heavy team that doesn't have much in the way of height. Mladen Armus is the only Bronco who plays regularly and stands above 6'7", which often leads to Boise having trouble down low. As such, that means the Bron-cos have to have great play from their guards, but Nevada is one of the few teams in the Moun-tain West who can actually match them in terms of guard play. Whichever team gets more from its backcourt should win here.
Boise State will Cover If: The Broncos can hit shots early. Boise has yet to lose when it scores at least 70 points, but the Broncos also don't face a lot of offenses that can actually hang with their scoring and pace. Nevada does have that ability, which means Boise has to hit its shots early and establish that it's the better team right away.
Nevada will Cover If: The Wolf Pack can get the ball inside. As much as Nevada likes to run play through its guards, the fact is that the Broncos have no real answer for Meeks and Warren Washington, the latter of whom has two inches on Armus and five inches or more on everyone else that Boise is likely to put on the court. Nevada might be wise to use its talented guards as a decoy and pound the inside with its bigs.
Dan's Pick to Cover the Spread
It's been a while since Boise has been good enough to play in a game like this against a team of Nevada's caliber, but the reality is that this does not appear to be a good matchup for the Broncos. The Wolf Pack have too much bulk down low, and unless the Bronco guards shoot lights out, I can see Nevada shoving Boise around, especially in this first meeting.
I'll take the Wolf Pack and the points, and there's a real chance Nevada wins this outright. Bet your pick for FREE + build your Super Bowl bankroll by taking advantage of a 100% real cash bonus on your first deposit of $100 to $300 at MyBookie Sportsbook! (Must use bonus code PREDICT100)
Get $60 of FREE member picks & predictions
(NO commitments. NO Credit Card. NO Salesman.)