CBB Picks: Indiana Hoosiers vs. Wisconsin Badgers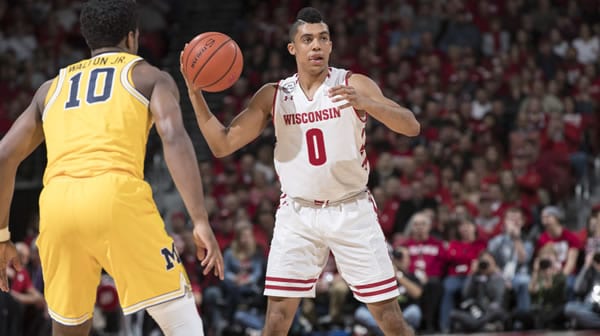 Indiana Hoosiers (7-4 SU, 7-4 ATS) vs. Wisconsin Badgers (9-2 SU, 5-5-1 ATS)
When: Thursday, January 7, 7 p.m.
Where: Kohl Center, Madison, Wis.
TV: FS1
Point Spread: IND +7.5/WIS -7.5 (BAS)
Total: 129.5
Last Time Out:
Indiana defeated Maryland 63-55; Wisconsin handled Minnesota 71-59.
About the Matchup:
A pair of weak-shooting teams try to keep their momentum going with defense, as Indiana seems to finally be back on track, and Wisconsin threw its biggest rival for a loop with its defen-sive efforts. The Hoosiers really had no right to win against Maryland, but a combination of Trayce Jackson-Davis and the Terrapins going ice cold against their fierce defense made all the difference, as Indiana overcame a double-digit deficit to end up winning comfortably.
But a matchup with Wisconsin is about the last thing that a team who's struggling to shoot needs to face. The Badgers remain as defense-focused as ever, and the fact that they held a Minnesota squad that had cracked the century mark against Iowa to a mere 59 points says that their defense remains as strong as ever. With these two teams playing tough defense and hav-ing their sights set on the Big Ten title, which one will be able to control the game and pick up a crucial win?
Scouting the Hoosiers:
If not for Jackson-Davis, Indiana is easily 0-4 in the Big Ten right now. To its credit, Indiana has played well enough to win its two most recent league encounters against Penn State and Mary-land, but that was almost entirely because Jackson-Davis established himself as one of the best players on the court in each game.
Beyond that, Indiana really cannot shoot. The Hoosiers managed to hit just 37 percent for the game and were just 4-for-22 from behind the arc. Had it not been for Jackson-Davis and Race Thompson making themselves monsters in the low post, the Hoosiers wouldn't have had much of a hope in overcoming their deficit and choking off Maryland's comeback attempt. In order for Indiana to compete over the course of the rest of the season, the Hoosiers are going to need more from Rob Phinisee and Armaan Franklin, especially Franklin. The Hoosiers have very little depth, so if they're not getting much from a guy who plays over 30 minutes, it's hard to get a result.
More Picks: Bears vs. Saints O/U Pick >>>
Scouting the Badgers:
Low scoring games are no big surprise for Wisconsin, which has been used to slow-paced bas-ketball for the better part of a quarter-century. One difference this year is that Wisconsin actu-ally can score when the situation calls for it, but the Badgers are much more comfortable slow-ing the tempo and getting a final score in the 60s, as long as that's where the opponent finishes as well.
For the most part, that's exactly where the opponent has finished, with the exception being Michigan State and the Maryland team that couldn't hit anything against Indiana (figure that one out). The Badgers showed they can score against Michigan State when they put up 85 on the Spartans, but a much more typical Wisconsin game would be the game the Badgers played against Minnesota. In that game, Micah Potter went for 18 points, and the Badgers' defense did the rest.
Wisconsin does have other critical weapons, such as leading scorer D'Mitrik Trice, but even though the Badgers can shoot and actually connect regularly from the arc, that's more of a "Break Glass in Case of Emergency" situation for them. When all is going well, Wisconsin will try to score inside — which could be a problem against Jackson-Davis.
X-Factor:
Defense. The way these teams like to play, it could be the first team to 60 is the win-ner. Wisconsin and Indiana have both had their problems with putting up points this season, and both are up against a defense that knows exactly what it needs to do to keep opposing scores low.
Because of that, defense and a defensive mindset will be a crucial part of this game. There aren't likely to be many possessions available for either team, so each team is going to have to make sure that it plays fierce defense from the first minute to last. Even a small lead can be-come huge when a game is played at this likely pace.
Indiana will Cover If:
The Hoosiers actually get some offense from someone other than Jackson-Davis. As great as he's been in the past few games, opponents are eventually going to focus on taking him out of the equation. Someone else has to step up if Indiana is going to build on its newfound momen-tum.
Wisconsin will Cover If:
The Badgers can keep the Hoosiers' offense from getting on track. Wisconsin has two ways it can approach this game. The Badgers can either focus everything on stopping Jackson-Davis and make Indiana find a second option, or they can concede 25 to Jackson-Davis and focus on keeping the Hoosier guards off-balance. Either choice makes sense, but the important thing is for Wisconsin to keep up the defensive effort that has been its calling card.
Dan's Pick to Cover the Spread
It's a large spread to cover with no home-court advantage, but the reality is that Indiana can't shoot the ball outside of Jackson-Davis. The offense just isn't there for the Hoosiers, and there's little chance that it's going to be there against a team that plays defense as well as Wisconsin does. I'll take Wisconsin to keep the momentum going and cover the number at home.