CBB Picks: Iowa State vs. Kansas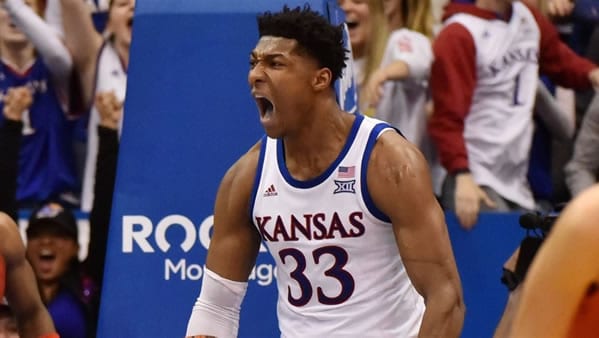 Iowa State Cyclones (2-12 SU, 6-8 ATS) vs. Kansas Jayhawks (13-7 SU, 8-11 ATS)
When: Thursday, February 11, 7 p.m.
Where: Allen Fieldhouse, Lawrence, Kan.
TV: ESPN
Point Spread: IAST +14.5/KU -14.5 (BetNow) - Deposit $100 to $1000 and they'll match you with a 100% REAL CASH bonus!
Total: 143.5
Last Time Out:
Iowa State lost 79-76 to TCU; Kansas defeated Oklahoma State 78-66.
About the Matchup:
Here's something that you might not know about Iowa State: The Cyclones have covered the over in each of their past seven contests. Iowa State has been decimated by injuries all season, which is a big reason why Steve Prohm's team has been getting blown out for most of the year. The Cyclones are now back to full strength, and teams in the Big 12 are learning to underesti-mate Iowa State at their own peril.
If there's any team that cannot afford to underestimate anybody right now, it's Kansas. The Jayhawks have reached a point in their season where there is absolutely no margin for error because Kansas is still slated to play Baylor, Texas, and Texas Tech before this season is over, and a 16-10 mark would make Kansas a dicey proposition as an at-large selection. 15-11 or worse, with a loss to Iowa State, would be an incredibly hard sell to the selection committee. Given that these teams are scheduled to head back up Interstate 35 and play in Ames on Satur-day, Kansas has two land mines to avoid here. Can they keep their momentum going and avoid disaster?
Scouting the Cyclones:
There are two reasons why the Cyclones are 0-9 in the Big 12: they can't play defense, and they can't rebound. If they could do either one even remotely well, they would have found a way to win one of their past three contests, which they lost by a combined 14 points.
What the Cyclones can do better than anyone in the league except Baylor and Oklahoma is make 3-pointers. That's one reason why Iowa State scores as many points as it does: the Cyclones have no choice when they're giving up 77 points per game. Their only strategy to offset that is to keep shooting, and lately, they've been somewhat successful at that. Rasir Bolton has now topped 20 points in each of his past two games, and he's getting some help from fellow guard Jalen Coleman-Lands. If Tre Jackson can rediscover his touch after missing several games with injuries, the Cyclones will be a team nobody wants to face.
Scouting the Jayhawks:
It took a half against Oklahoma State, but Kansas finally proved that I occasionally do have a clue as to what I'm talking about by getting the ball inside to David McCormack. McCormack led the Jayhawks with 23 points, scoring 21 of them in the second half and allowing the Jayhawks to emerge with a comfortable win over the Cowboys.
The question here is, will Kansas keep going to the well or return to what has already shown itself not to work that well? Against Iowa State, Kansas should pound the ball inside and let McCormack go to work again. The Cyclones don't have anyone who can match up with him down low (which is why they're so bad at rebounding), and McCormack should be able to score at will as long as the Jayhawks make a conscious effort to get him the ball.
Kansas should also have the edge on the perimeter, but the Jayhawks don't need to and should-n't try to win the game that way. Shooting 33 percent from the arc simply isn't a great way to win games, especially when you've got the edge in the frontcourt.
X-Factor:
Back-to-back meetings. How will these teams approach this game, knowing that they're going to be facing each other again in less than 48 hours? Usually, this scenario presents itself before a conference tournament, but thanks to COVID, these teams had to make up this game before their regularly scheduled game in Ames. That means there won't be many se-crets, if any, in the return game, which can either lead teams to play cautiously in this game or go for broke.
Given that Iowa State has zero delusions about making the NCAA tournament at 2-12, I expect the Cyclones to just go for broke, which means the Jayhawks have to match that energy.
Iowa State will Cover If:
The Cyclones can come out hot and build confidence. This is not the kind of game that Kansas wants to play. It's February, players are sick of dealing with the season and COVID, and this game can only hurt the Jayhawks, not help them. If the Cyclones can stick with Kansas in the first five minutes, the Jayhawks will likely get frustrated and doubtful, which would open the door for Iowa State to make this a tight game. If the Cyclones aren't hitting, Kansas will cruise.
Kansas will Cover If:
The Jayhawks can exploit the advantages they have inside. It doesn't mat-ter who Iowa State goes up against in Big 12 play; the Cyclones consistently get slaughtered on the glass. This is a team that lost a rebounding battle 49-19 to Oklahoma State, and the last time they actually won the rebounding battle was against Jackson State. In other words, Kansas needs to go inside early and often.
Dan's Pick to Cover the Spread
Kansas hasn't covered consecutive games in 2021, and Iowa State is better than most bettors think. No, the Cyclones probably aren't going to go into Lawrence and win, but they probably aren't going to embarrass themselves either. Iowa State is fully healthy now and is staying competitive against some quality teams, and I think the line is set too high for where the Cyclones are at the moment. Give me the Cyclones and the points here. Bet this game and ALL your sports picks each day at -105 odds (instead of the spendy -110 your bookie is socking you) at the web's best priced sports betting site: BetAnySports!
100% REAL CASH up to $300

USE BONUS CODE:
PREDICT100