CBB Picks: Kansas vs. West Virginia 2/12/20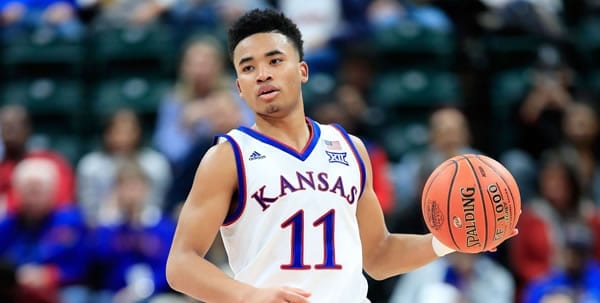 Kansas Jayhawks (20-3 SU, 13-10 ATS) vs. West Virginia Mountaineers (18-5 SU, 13-10 ATS)
When: Wednesday, February 12, 7 p.m.
Where: WVU Coliseum, Morgantown, W. Va.
TV: ESPN+
Point Spread: KU -1/WVU +1 (Intertops - Get a 50% real cash bonus from the oldest and most trusted book on the internet! Stability matters! No games here, just professional service/treatment!)
Total: O/U 132.5
Last Time Out:
Kansas knocked off TCU 60-46; West Virginia lost 69-59 to Oklahoma.
Scouting the Jayhawks:
The fact that Bill Self ripped his team after a 14-point road win says a couple of things. One, TCU isn't all that good. Two, Kansas remains stuck in neutral on offense, and that's being kind. The Jayhawks haven't put much of anything together on the offensive side of the ball this season. The truth is that they're a more talented version of Virginia at this point. The Jayhawks aren't quite as inept as the Cavaliers on the offensive side of the ball (and that's not me being gratuitous; Self literally said the Jayhawks had been inept on offense outside of easy layups), but they're still not a great scoring team.
Now, how can that be when the Jayhawks rank ninth in the nation in field goal percentage? Simple: the Jayhawks rank 342nd in the country in field goals attempted. You have to give Kansas credit for its discipline in not taking bad shots, but at the same time, it means that the Jayhawks often end up wasting possessions. What saves Kansas is that Devon Dotson is an excellent guard, Udoka Azubuike dominates the paint like nobody in the Big 12 and three of Kansas' top six players shoot 78 percent or better from the free throw line. That makes it very difficult for opponents to come back on the Jayhawks. Plus, the Kansas defense is absolutely for real: the Jayhawks rank sixth in the nation in defensive field goal percentage and are in the top 50 in steals.
Get all of our handicapper's Free Daily College Hoops Plays >>>
Scouting the Mountaineers:
One interesting thing about West Virginia: the Mountaineers really don't play close games. There are no instances of games where the offense played well, but the defense flopped, or vice versa. It's been either sugar and daisies for West Virginia, or the entire night goes down the tubes. So far, the closest game West Virginia has played out of 10 league games was the seven-point loss at Kansas. Otherwise, the average margin of victory or defeat in the Big 12 has been 17.1 points, and only three games out of 23 have been decided by two possessions or less (Northern Iowa, Rhode Island, and St. John's). The point of that exercise was to emphasize that if you like the Mountaineers, you'd better really like them because history says that they're either going to beat Kansas straight up or lose by double digits.
If West Virginia is going to win this game, it's going to have to shoot one heck of a lot better than it did in Norman, where the Mountaineers missed more shots than Oklahoma even attempted. West Virginia got 76 attempts at the goal against the Sooners, but could only get 24 of them to drop and ended up with a 10-point loss. Shots are likely to be much harder to come by against Kansas, which means West Virginia has to be more selective.
X-Factor:
Shot selection. These two teams know how to play defense very well and have done it all season, including the 60-53 Kansas win in Lawrence. Both sides have been very stingy compared to the oddsmakers' expectations, as the over/under is a combined 14-32 in the two teams' games this year. Given that West Virginia isn't a great shooting team and Kansas won't take bad shots, this game is going to come down to who can actually find the rare good looks at the basket and step up and hit. There's a good chance that these teams are going to be very patient and wait for the perfect look to come.
Kansas will Cover if:
Dotson can carry the load on offense enough for the Kansas defense to win the game. The Jayhawks are simply not going to outscore their opponents at this point. They are what they are, and what they are is a ferocious defense that can knock an opponent out of its game plan. Kansas has one genuine star in Dotson and a strong presence in Azubuike, but this game will likely see the Mountaineers try to use their size to stop Azubuike from beating them, meaning that Dotson will have to be the one to put up points.
West Virginia will Cover if:
The Mountaineers can keep Oscar Tshiebwe out of foul trouble and neutralize Azubuike. Azubuike was able to stay on the floor for 32 minutes in Lawrence, which led to him producing a double-double and preventing West Virginia from ever getting control of the game. The Mountaineers are one of the best rebounding teams in the Big 12, and if they can get Azubuike off the floor and use their big men to keep him from taking over the game, they can get extra chances at the basket and take over the game.
Dan's Pick to Cover the Spread:
As I stated earlier, West Virginia does not play close games, so there's little reason for taking the points here. You either want to play on the Jayhawks to cover or take the Mountaineers to win the game straight up. The way you should play this depends on whether you think West Virginia can control the paint and keep Azubuike from becoming a factor in the game. If you believe that Azubuike won't have a good game, you should go with West Virginia. If you think that Kansas' defense can keep West Virginia missing shots, you should take the Jayhawks.
From my point of view, any team that can miss 52 shots against Oklahoma is going to have a tough time getting going against Kansas' top-rated defense. Shots don't come easily against the Jayhawks, and shots won't come easy at all for the Mountaineers. Give me Kansas here. Where are you betting your college basketball picks? Does your bookie allow you to bet at discounted odds? Of course he doesn't! Get rid of him TODAY and start saving HUGE money by betting on sports at -105 odds instead of -110. This will save you oodles of money and trumps any sign-up bonus you can get! Find this great money saving offer at BetAnySports!
STOP LOSING TODAY! START WINNING WITH DOC'S TEAM OF PROFESSIONALS! GET A FREE NO STRINGS ATTACHED $60 FOR THIS WEEKEND'S GAMES!