CBB Picks: VCU vs. Davidson 3/6/20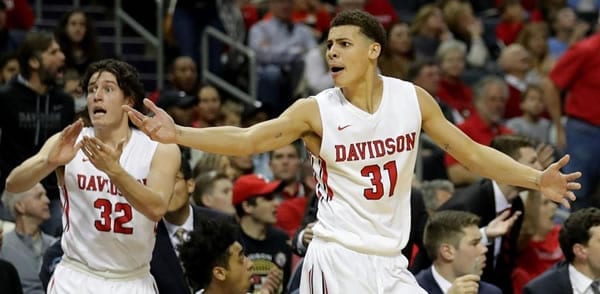 Virginia Commonwealth Rams (18-12 SU, 10-20 ATS) vs. Davidson Wildcats (15-14 SU, 12-17 ATS)
When: Friday, March 6, at 9 p.m.
Where: Belk Arena, Davidson, N.C.
TV: ESPN2
Point Spread: VCU +3.5/DAV -3.5 (BetNow - Deposit $100 get $50 FREE! Real Cash Bonus!)
Total: O/U 136.
5
Last Time Out:
Virginia Commonwealth lost 80-77 to Duquesne; Davidson lost 80-63 to Richmond.
Scouting the Rams:
There's no sugarcoating it: February was a disaster for the Rams. In fact, VCU hasn't been right since the last time it saw Davidson on Feb. 7. Since that game, VCU has played seven games and lost six of them, including a 1-6 record ATS. Taking a loss to Dayton by five points was more than reasonable, but the Rams sandwiched that with an 18-point loss at rival Richmond and another 18 point loss at Saint Louis. They've also managed to fall to a bad Massachusetts squad, so there's not really much here to suggest that VCU is capable of pulling itself out of this death spiral that it's put itself in.
To get a result here, VCU has to get back to creating offense out of its defense. Playing good defense is not and never has been the problem for the Rams, who rank 10th in the nation in steals per game. The problem is that the Rams usually don't find a way to turn those steals into points. VCU averages just over 70 points per game, and that's not enough to get it done in the A-10. The Rams need to get Marcus Santos-Silva going, as he provides quality size and rebounding skills that could make a huge difference if he can bring his best game.
Find
Superior Sportsbooks
for bonuses, lines, parlay and teaser payouts and more! Don't settle for anything less!
Scouting the Wildcats:
If there's a team that's a bigger basket case than VCU in the Atlantic 10, it might very well be Davidson. The Wildcats are no longer the only team in the A-10 to lose to St. Joseph's, but they've still got a few royal head-scratchers in there, such as defeats against the likes of Vanderbilt and George Washington. But when the Wildcats are on, they can play with just about anyone in the country. Kellen Grady looks a lot like Stephen Curry and plays like a junior version of him too as of late, scoring 20-plus points in each of the Wildcats' past five contests.
When Grady isn't scoring, Jon Axel Gudmundsson is usually the man the Wildcats turn to. But beyond those two, there isn't a lot there as far as scoring options for the Wildcats. That's put a lot of pressure on their defense, and when they allow an opponent to shoot better than 40 percent from behind the arc, as they did against Richmond, the results usually aren't pretty.
X-Factor:
Mentality. Which team is mentally strong enough to fight through their recent adversity and get back on track? These have not been great teams for the past month, but the beauty of March is that anyone can save their season if they can start playing winning basketball at the right time. Both of these teams actually do have a fair amount of talent and are perfectly capable of winning a few games and stealing the Atlantic 10's tournament bid. They've got to find a way to overcome their issues and get some momentum before Atlantic City.
VCU will Cover if:
The Rams can turn steals into easy baskets. VCU is at its best when it's turning possessions into turnovers by its opponent, and the Rams simply haven't done enough of that lately. Part of that is because the Rams just haven't been scoring, but part of that is because VCU just doesn't play as fast as it once did. Havoc that's slowed down tends not to be anywhere near as effective, and VCU has to manage to make it work.
Davidson will Cover if:
The Wildcats can establish one of their scorers early and handle the pressure from the Rams. Davidson can score the ball pretty well and is comfortable playing at a slower tempo, so this is more about whether the Wildcats can avoid mistakes against the Rams' guards. If they can get through the VCU defense, there are plenty of points to be had.
Dan's Pick to Cover the Spread:
For all of Davidson's struggles this year, and there have been plenty, there's one thing that the Wildcats really don't do. They don't lose in Belk Arena. Davidson has lost just one game at home all year, and that was a close battle against Richmond, which has emerged as the second-best team in the Atlantic 10 to Dayton. Losing to the Spiders by six isn't a bad loss at all, and that was back in January. Davidson has won six in a row at home since then, and they've got payback on their minds after losing to VCU by 11 in Richmond.
VCU just hasn't been the same as of late no matter where the game is played, and I'm probably going to be fading the Rams in Atlantic City. This looks like a team that has gone as far as it wants to go. Give me the Wildcats. March Madness is here! Instead of re-depositing at your vanilla sportsbook that is giving you -110 odds, it'd be wise to consider betting cheaper at -105 odds! Making the switch to reduced odds sports betting will save you TONS of $$$ over time! Find this great offer at 5Dimes Sportsbook!