CBB Picks: Virginia Commonwealth vs. Rhode Island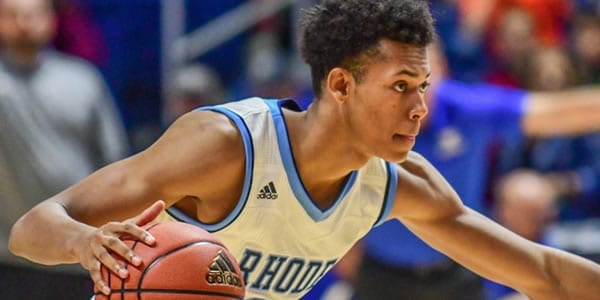 Virginia Commonwealth Rams (16-5 SU, 8-13 ATS) vs. Rhode Island Rams (15-5 SU, 11-9 ATS)
When: Friday, January 31, 7 p.m.
Where: Thomas M. Ryan Center, Kingston, R.I.
TV: ESPN2
Point Spread: VCU +1/URI -1 (Intertops - Oldest and most trusted sportsbook; Deposit $20 get a free $20 bet!)
Total: O/U 141
Last Time Out:
VCU slammed Richmond 87-68; Rhode Island handled George Mason 78-64.
Scouting the Rams:
The Virginia Rams have long been known for HAVOC, and things haven't changed at all in Richmond, even with Mike Rhoades now well established as the man in charge. This is still a squad that likes to play fast and counts on its defense to produce results for its offense. In particular, VCU is outstanding at making its own breaks with the ball, as it averages 9.6 steals per game, good for 10th in the nation.
The extra possessions are vital in making up for the fact that VCU isn't a team of great offensive talent. The Rams don't shoot the ball particularly well, shooting only 43.4 percent from the field, and their best scoring option, Marcus Santos-Silva, prefers to do all of his scoring inside. Even with Santos-Silva scoring 13.2 points a game in the paint, he makes less than 60 percent of his shots, and he's the only real rebounder the Rams have, making it challenging to keep possessions going. This is a team that doesn't like to take long to get going and wants to punish its opponents for making the wrong decision with the ball, a strategy that has masked its genuine flaws.
More Picks: Ted's Super Bowl 54 ATS Pick >>>
Scouting the Rams:
It seems like Fatts Russell has been in Kingston forever, but he's only a junior, which speaks to just how ridiculous the one-and-done trend in college basketball is. However long he's worn the light blue of the Rhode Island Rams, Russell has emerged as perhaps the best mid-major scorer in the nation, averaging 19.7 points per game and scoring in double digits in all but two Rhode Island games this season. One a surprising loss to Richmond that saw him shoot 1-for-12, and a 1-for-8 night at Maryland, one of the tougher assignments for an offensive star.
But for the most part, whenever Rhode Island has needed a big play, Russell has been the one to provide it. The exception was the first meeting with VCU, a game that saw Russell contribute but ultimately cedes the spotlight to Jeff Dowtin, who scored 21 points and hasn't slowed down since. In the New England Rams' past five games, Dowtin has averaged 15.8 points per game and has come off the floor a grand total of 12 minutes. That's a real concern for David Cox's crew because Rhode Island has left itself susceptible to a team that can wear them down with depth, a squad exactly like Virginia Commonwealth. But Rhode Island handled things well last time and likes to play fast itself, and so far, the six-man rotation Cox is using hasn't backfired on him.
X-Factor:
Pressure. The Atlantic 10 can usually be counted on to send three to five teams to the NCAAs, but generally, at least two are left sweating out every second until the selection show begins. VCU and Rhode Island represent the best chances the A-10 has to earn an at-large bid behind Dayton, which is one of the best teams in the nation and a sure thing to make it. The problem is that other than the Flyers, there are not many opportunities for quality wins in the league.
VCU, in particular, has that concern because it has already used up one of its two opportunities against Dayton this year (and lost by 14) and carries a nine-point home loss to Rhode Island. VCU has one excellent win at home against LSU, but otherwise, the Virginia Rams let all of their other chances for a quality win (Purdue, Tennessee, Wichita State) slip away, and the rest of the schedule includes only land mines and their home game with Dayton. This game represents the last chance for VCU to get a quality win outside of Richmond. In contrast, it represents a significant opportunity for Rhode Island to establish itself as the No. 2 team in the league.
VCU will Cover if:
The Richmond Rams can asphyxiate Rhode Island by making their shots and running them to death. VCU is a very deep team that will be fresher at the end, and both sides played Tuesday night and had to travel north from different parts of Virginia. VCU will still be well-suited to play its game, and it has to make more shots than it did in the first meeting. VCU shot 31.3 percent the first time against Rhode Island, and it cannot afford a similar performance. Where are you betting your college hoops picks? Does your book allow you to bet on games at -105? Offer progressive parlays where some of your picks can lose and you still cash? 20 point teasers? 25 team parlays? No, of course he doesn't! Make the switch today to start saving big bucks and enjoying more options at the web's best sportsbook: 5Dimes! 
100% REAL CASH up to $300

USE BONUS CODE:
PREDICT100
Rhode Island will Cover if:
The Kingston Rams can win the turnover battle. Rhode Island likes to play a steal-heavy game itself, and while it isn't in the top 10 of steals per game, it still forces more than eight thefts per game, and it managed to lose the turnover battle by just one at 15-14 when the teams met in Richmond. Rhode Island plays good enough defense, and VCU's shooters are poor enough that Rhode Island can count on being able to hold VCU to about 35 percent shooting. Throw in a few steals, and the Kingston Rams would be golden.
Dan's Pick to Cover the Spread:
Both teams are tired, and both sides are defense-first, so why in the world is the "under" so high? Six of Rhode Island's eight league games and five of VCU's have come in under the projected total for this game, and the teams combined for 121 points the first time around. My theory here is that it's recency bias, as both teams went over the total in their most recent game. But Richmond's defense is not very good, which allowed VCU to score 87 points. That probably won't happen against Rhode Island. By the same token, don't expect Rhode Island to repeat the 51 percent it shot against George Mason last game (and even that only beat the current total by one point).
The under is just crying out to be bet on here, and it's a good thing because it's a tough call as to which side wins out between Rhode Island's offensive stars or VCU's depth. In the end, although VCU is deeper, I think I have to side with the team that I think is more talented. Rhode Island showed once that it could handle the VCU pressure, and I will trust the Kingston Rams to do it again. Give me Rhode Island to win this ovine offensive.
STOP LOSING TODAY! START WINNING WITH DOC'S TEAM OF PROFESSIONALS! GET A FREE NO STRINGS ATTACHED $60 FOR THIS WEEKEND'S GAMES!