Davidson Wildcats vs. Dayton Flyers Pick 2/28/20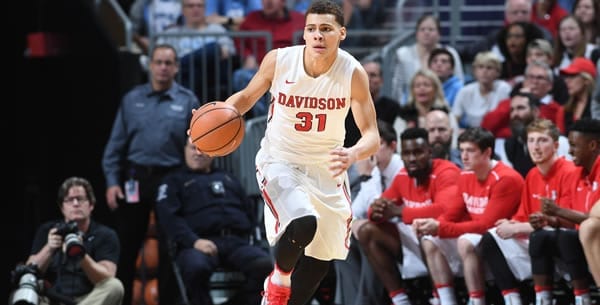 Davidson Wildcats (15-12 SU, 12-15 ATS) vs. Dayton Flyers (26-2 SU, 14-14 ATS)
When: Friday, February 28, 7 p.m.
Where: UD Arena, Dayton, Ohio
TV: ESPN2
Point Spread: DAV +11/DAY -11 (Bookmaker)
Total: O/U 140.5
Last Time Out:
Davidson beat La Salle 74-49; Dayton handled George Mason 62-55.
Scouting the Wildcats:
Figuring out the Wildcats is pretty close to impossible right now because Davidson could beat anyone in the league and could lose to anyone in the league. The Wildcats have shown the former quite well against the likes of Rhode Island and St. Bonaventure in recent games, as both have a top-four spot in the league, and both fell to the Wildcats. However, Davidson is about the only team in the league that has problems with Saint Joseph's, the league's worst team, as it lost one meeting and needed overtime to avoid defeat in the other. In Kellan Grady and Jon Axel Gudmundsson, the Wildcats have a nice pair of scorers who can also rebound pretty well despite both being 6'5". Over the past 13 games, Grady or Gudmundsson have led the Wildcats in scoring on all but one occasion. Gudmundsson has taken it upon himself to do as much as possible in his senior season, as he led Davidson in points, rebounds, and assists last week in the overtime win over Rhode Island.
Find the
Top Sportsbooks
for bonuses, lines, parlay and teaser payouts and more!
Scouting the Flyers:
Dayton's doing enough to win, but it's not really putting teams away. The Flyers have been outstanding all season, and it's starting to become a question as to how motivated the Flyers are in facing competition that is clearly a lesser level to their own. Dayton has been allowing weaker teams such as George Mason and Massachusetts to hang around with them, winning both games by single digits. Granted, that also comes with taking everyone's best shot night in and night out, especially when you're in a league like the Atlantic 10, which doesn't have anywhere near as many big names to shoot at as a league like the Big Ten or SEC. Everyone is focused on Dayton, and the Flyers are going to ride Obi Toppin for as long as he can carry them. So far, that's been 17 straight games and zero losses in an actual college gym, as both of the Flyers' losses have come on a neutral floor against NCAA-bound competition in Kansas and Colorado.
X-Factor:
The pressure of expectations. Dayton is dealing with much of the same situation that Massachusetts faced 24 years ago when the Minutemen boat raced the A-10 and lost only one game all season. A team from the A-10 isn't supposed to be good enough to challenge for a No. 1 overall seed, yet here the Flyers are, proving themselves night in and night out to be one of the nation's best. Things are a little different because Dayton did lose two in the nonconference, but the Flyers are still facing the pressure of getting everyone's best shot, which definitely weighs on a team as the season nears its end. Can they keep this rolling?
Davidson will Cover if:
The Wildcats can both get to the free-throw line and hit from behind the arc. Nobody shoots it better from deep in the A-10 than Davidson, which has connected on 37 percent of its downtown shots and leads the league in free throw percentage as well. This is not a team that will beat itself, which has long been a staple of Bob McKillop's squads. One thing is always going to be true about Davidson: it's going to be one of the most well-coached teams in the nation.
Dayton will Cover if:
The Flyers can penetrate the Davidson defense and get good shots. This is a case of strength on strength, as Davidson has the best defense inside the perimeter of anyone in the conference. Dayton, however, has simply been otherworldly from inside the arc, hitting 61 percent of its shots from close range. If the Flyers are hitting their shots, the Wildcats won't be able to keep up.
Dan's Pick to Cover the Spread:
With high expectations come high spreads, and the reality is that Dayton's spreads have just been too high as of late. The Flyers are only 2-6 ATS in their past eight games, and that's in large part because Dayton has often had to deal with double-digit spreads. In their previous six games as a double-digit favorite, the Flyers covered just once, beating Rhode Island by 14. Other than a true head-scratcher at Saint Joseph's, where the Wildcats not only blew a 19-point lead but managed to become the Hawks' only victim in A-10 play, Davidson has been playing reasonably well lately. Three of their past four wins have been by at least 25 points, and the lone exception was at home against a good Rhode Island squad. Given that and the fact that they nearly pulled off the upset in the first meeting between these teams, I think Davidson can keep this under 11 points. Give me the Wildcats.
STOP LOSING TODAY! START WINNING WITH DOC'S TEAM OF PROFESSIONALS! GET A FREE NO STRINGS ATTACHED $60 FOR THIS WEEKEND'S GAMES!