Elite 8 Picks: Oregon State Beavers vs. Houston Cougars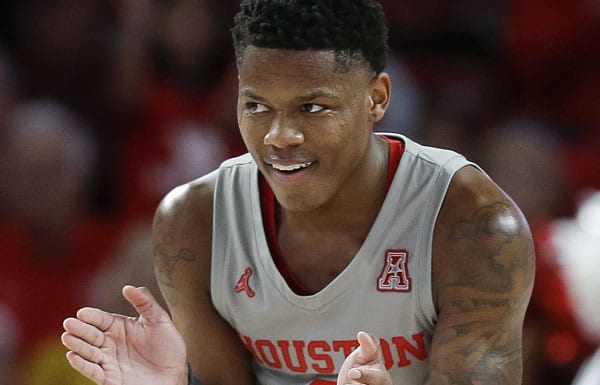 Oregon State Beavers (20-12 SU, 21-9-1 ATS) vs. Houston Cougars (27-3 SU, 20-9 ATS)
When: Monday, March 29, 7:15 p.m.
Where: Lucas Oil Stadium, Indianapolis
TV: CBS
Point Spread: ORST +7.5/HOU -7.5 (BetNow - Double your bankroll with a huge 100% real cash signup bonus! Free loot is good loot!) 
Total: 129.5
Last Time Out:
Oregon State defeated Loyola-Chicago 65-58; Houston beat Syracuse 62-46
.
About the Matchup:
Love high-scoring action? Shield your eyes from this one, as these teams specialize in keeping their opponents' scores as low as possible. So far in this tournament, Houston has given up an average of 54 points per game, and Oregon State has been nearly as good by holding oppo-nents to 61.33 points a game. Yet both sides have shown that they can score when the situation calls for it, as each has one game in this tournament in which they've scored 80 or more points.
Whichever side does advance to the Final Four will be in new territory, as Houston hadn't made it this deep in the tournament since 1984, when Hakeem Olajuwon was the center for the Cou-gars and Phi Slamma Jama. Oregon State's gone even longer without a Final Four trip, as the Beavers' most recent visit to the Final Four was in 1966, the year coach Wayne Tinkle was born. Which team has enough to break through and reach college basketball's grandest stage?
Scouting the Beavers:
Defending the 3-point line was what got Oregon State here in the first place, but the Beavers showed Loyola that they could defend the interior pretty well too, as the Ramblers ended up shooting just 33.3 percent for the game. Loyola ended up forcing just about everything against Oregon State, and despite not relying on the 3-pointer against Illinois, the Ramblers felt they had no choice against the Beavers and tossed up 23 of them. Only five went in, showing just how difficult it is to get anything going against Oregon State.
The defense and the free-throw shooting were what saved the Beavers against Loyola, as they easily could have been run out of the game had the Ramblers gotten off to a better start on of-fense. Instead, Loyola allowed Oregon State to hang around long enough for Ethan Thompson to shoot the Beavers back into the game. However, Houston's offense has been much more effi-cient, and if Oregon State gets off to another slow start, it's going to be a lot harder for the Beavers to find their way back into this game.
More Picks: Get the Rest of Dan's Tournament Picks >>>
Scouting the Cougars:
You'd never know it from watching the Cougars work, but this is actually an excellent offensive squad with a fair amount of weapons. But because Houston is so suffocating on defense, the Cougars completely overshadow everything they do on offense. Buddy Boeheim of Syracuse found out the hard way just how efficient the Cougars are on defense, as he ended up shooting 1-for-9 from behind the arc in a game where the Orange ended up shooting 28 percent and scoring just 46 points in the contest.
The worry for Houston is that they shot a fair amount of 3-pointers against Syracuse, and nei-ther Quentin Grimes nor Marcus Sasser were accurate from behind the arc. Of course, shooting the 3-pointer makes perfect sense against the Syracuse zone, but if you're not able to do better than 6-for-21 from behind the arc against the Orange, you're likely to end up doing even worse than that against Oregon State. If the Cougars can't get their shooters going, they'll have to re-bound the ball well, or they're in real peril.
Oregon State will Cover If:
The Beavers can get themselves to the free-throw line. Houston is only average at shooting from the line, while Oregon State used its trips to the charity stripe to keep itself afloat against Loyola. The Beavers have to make sure they're actually getting some-thing out of their possessions because against Houston; every possession is critical because there are so few of them.
Houston will Cover If:
The Cougars can control the glass and get second chances. Oregon State won't mind playing at Houston's place, but if the Cougars can rebound it well and extend their possessions, they'll have this game where they want it. If the Cougars aren't grabbing rebounds, it's going to be difficult to hold Oregon State at bay and build a lead.
Dan's Best Prop Bets
Oregon State has been dominating the first half of its games, and Houston isn't the kind of team that gets off to great starts. The Cougars might have buried Cleveland State in the first round, but they allowed the Vikings to stay within eight points in the first 20 minutes before they got rolling and cruised to a victory. Houston does its best work by frustrating opponents and even-tually pulling away in the second half, and getting Oregon State +4 in the first 20 minutes seems like a solid bet.
Dan's Pick to Cover the Spread
Oregon State has just kept winning as an underdog, and it's done so by beating nothing but NCAA tournament teams. The Beavers have been a dog of 5.5 points or greater in six straight games, and only one of the six was against a team that didn't reach the second round of the NCAA tournament (because Tennessee lost in the first round to Oregon State). A 12 seed has never reached the Final Four, but Oregon State is no ordinary 12 seed, and the Beavers are playing with house money here.
I think Houston's the better team, but I think Oregon State grinds this out enough to stay close and have this one come down to the final possession. Give me the Beavers and the points. Note: There's a 99% chance that when you bet, you're laying -110 odds. Did you know that you could be laying -105? This saves you $5 per $100 you're trying to win! Whether you bet $1,000 per game or $1 per game, 5% savings adds up HUGE over time! Dump your overpriced bookie TODAY and start saving big money (that you could be using to bet MORE!) by making the switch to reduced juice sports betting at BetAnySports Sportsbook! A business we've advertised for more than 10 years with ZERO complaints from our readers! Click here to register!