Georgia Tech vs. Wake Forest Analysis & Picks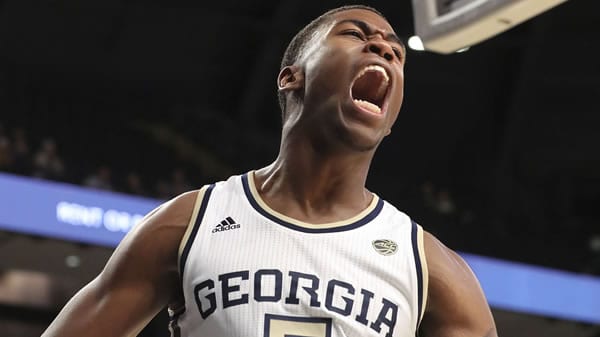 Georgia Tech Yellow Jackets (14-8 SU, 13-9 ATS) vs. Wake Forest Demon Deacons (6-14 SU, 10-9 ATS)
When: Friday, March 5, 8 p.m.
Where: Lawrence Joel Memorial Coliseum, Winston-Salem, N.C.
TV: ACC Network
Point Spread: GT -9.5/WAKE +9.5 (Bet this game at -105 >>> Making the switch to reduced juice betting will save you $5 per hundred that you're trying to win. This adds up to HUGE savings over the long haul. Even for small bettors!)
Total: 137.5
Last Time Out:
Georgia Tech edged Duke 81-77 in overtime; Wake Forest lost 70-57 to Pittsburgh.
About the Matchup:
One team is peaking at the right time, while the other seems just to want to get the season over with. For Georgia Tech, this game is nothing but a land mine, as the Yellow Jackets won't do their profile any good by winning but could do a lot of damage if it manages to lose.
However, with literally no bad losses on their profile in ACC play (Florida State, Clemson, Duke, and Louisville away and two to Virginia), the Jackets have done enough for their resume that they don't have to worry about finding quality wins. All they have to do is avoid bad losses, which means a win here and winning their first game at the ACC tournament (or not having to play against one of the bad teams in the ACC tournament) could be enough to send Tech to the NCAA tournament for the first time since 2010.
Wake Forest is going nowhere unless it wins five games in five days in Greensboro, and that's not likely to happen because the Demon Deacons have barely managed to win five games all season. The staggering thing is that the Deacons seem to have given up and just want to go home, as they haven't looked like an ACC-caliber team at all since losing to Florida State three weeks ago.
The Deacons showed plenty of fight that day in Tallahassee, overcoming a 12-point deficit to force overtime before succumbing to the Seminoles. But since then, Wake Forest has given eve-ry indication that that game was its last gasp. The Deacons followed with three home games against Duke, N.C. State and Clemson and weren't competitive in any of them, with the closest being an 18-point loss to the Wolfpack. With Tech riding a five-game winning streak and brim-ming with confidence, does Wake have anything left to possibly play spoiler?
Scouting the Yellow Jackets:
Moses Wright can come back to school if he wants, thanks to NCAA COVID policies, but if this is his true senior year, the forward from Raleigh is doing everything he can to make darn sure that he ends his college career in the NCAA tournament. After a relatively quiet start to the ACC season, Wright has put the Jackets on his back by shooting the lights out and getting win after win against every bubble competitor on the Jackets' schedule. In three games against fel-low bubble squads Duke and Syracuse and tournament lock Virginia Tech (boy, does that sen-tence look weird to write), Wright averaged 28.7 points per game, and the Jackets put all three in the win column.
The Jackets are still a flawed team that has virtually no rebounding ability or depth and turns the ball over too much, but when everything clicks, they can scare a lot of people. If Tech keeps getting these performances out of Wright along with the consistency of Jose Alvarado and Mi-chael Devoe, this team has all the characteristics of an 11 seed that absolutely nobody wants to see in its bracket.
More Picks: Visit and bookmark for free college baketball picks >>>
Scouting the Demon Deacons:
Since Tallahassee, Wake Forest has played five games and hasn't come within 13 points in any of them. The Deacons' offense seems to have simply stayed in the Florida panhandle and head-ed for spring break, as Wake Forest has been absolutely wretched at shooting the ball as of late. The Deacons aren't good shooters in the best of circumstances, as they shoot just 41 percent as a team (dead last in the ACC), but things have only gotten worse in recent weeks, as Wake has failed to top 40 percent in four of its past five games.
Worse, the defense has been just as nonexistent. Three of Wake's past five opponents hit 80 or more against the Demon Deacons, including a Virginia Tech squad that had failed to hit 80 in nine of its previous ten games before getting healthy against Wake. The one time where Wake managed to play some defense against Clemson, the Deacons wasted the effort by scoring just 39 points for the entire game. That's a bad sign for a team that managed to lose by 16 to Geor-gia Tech back when it was playing as if it actually cared.
X-Factor:
Motivation. Does Wake have any? Georgia Tech has plenty of it, but Wake has looked like a team that's decided the sooner this year is over, the better. The Deacons don't have a ri-valry with the Yellow Jackets and won't have reason to fight hard to ruin their season (not that a rivalry did anything for Wake against either Duke or State), and the Yellow Jackets already proved themselves perfectly capable of running over Wake Forest back at the start of the ACC campaign. If Wake plays disinterested basketball again, this could be ugly.
Georgia Tech will Cover If:
The Yellow Jackets keep doing what they have for the past month. Georgia Tech is the better team, and as long as the Jackets play their game and don't take the Deacons lightly, they shouldn't have any trouble with this one. The big weaknesses that Tech has (no rebounding and no depth) are things Wake can't exploit, as the Deacons can't rebound the ball either and have enough trouble putting a decent starting five on the floor.
Wake Forest will Cover If:
The Deacons actually play like they care. It's easy to forget, but this team had the talent and desire to play tough against the likes of Virginia, Virginia Tech, and North Carolina, all of whom beat Wake by nine or less when ACC play was getting started. Such is life when your past seven losses have come by an average of 20.2 points, and that's with the seven-pointer in Tallahassee counted.
Dan's Pick to Cover the Spread
This line seems way too low. Wake Forest appears to have no interest in playing basketball in a pandemic for one second longer than absolutely necessary. The Deacons have been such a dis-aster for the past three weeks that I honestly wouldn't be shocked in the slightest if Wake chose to opt-out of the ACC tournament and just end the season after this game.
Tech already won by 16 earlier in the season, and the Jackets have improved a lot since that game, while the Deacons have regressed. This line actually seems so low that I'm wondering if it's a trap because whenever something seems too good to be true, it usually is. But we've hit a couple of gift spreads this week (see: Illinois at Michigan and Villanova vs. Creighton), so I'm going to choose to throw a saddle on what I think is a gift horse rather than look it in the mouth. I'm taking the Jackets to cover in a game I expect Tech to win comfortably. Bet your March Madness picks for FREE by taking advantage of a HUGE 100% real cash bonus on your first deposit of $100 to $500 at BetNow Sportsbook!
100% REAL CASH up to $300

USE BONUS CODE:
PREDICT100